Los Angeles To Pay $5M To Family Of Brian Beaird, Who Was Shot Dead By Police Officers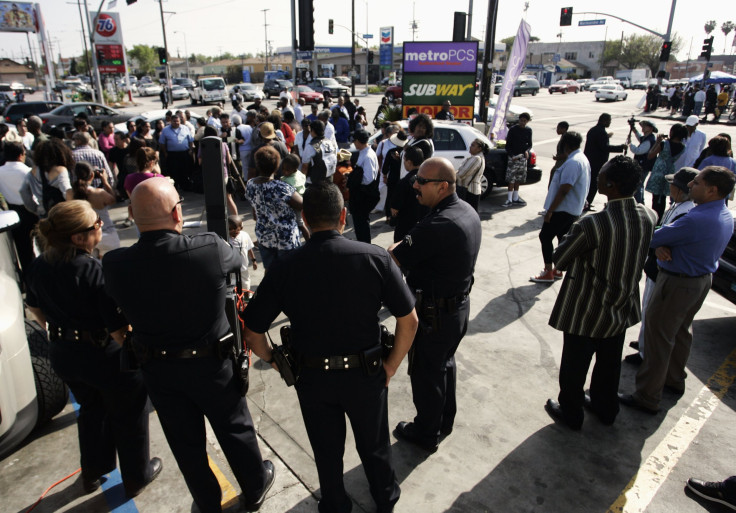 The Los Angeles City Council has agreed to pay $5 million to the family of an unarmed, disabled man, who was killed in December by local police. The settlement comes at a time when another city in the country is dealing with the fallout of a shooting death of an unarmed black teenager by local police.
Officers from the Los Angeles Police Department, or LAPD, had chased Brian Beaird's silver Corvette for nearly an hour, after he ran several red lights and stop signs, and hit another vehicle, injuring the driver. The police then shot him several times after Beaird had stepped out of the car and briefly raised his hands. Beaird, who was a National Guard veteran until 1988, was reportedly under constant medical care after he underwent a surgery for brain tumor. Beaird's family had sought $20 million in the lawsuit.
"It implicitly says they acknowledge that the shooting was inappropriate and should not have happened," Dale K. Galipo, the Beaird family's lawyer said, according to the Associated Press, or AP, adding that the family was grateful that the council agreed for a settlement. "It seems to take a video to really force their hand in settling a case like this," Galipo added, referring to the live broadcast of the incident on television, which was watched by several people, including Beaird's father.
Beaird was reportedly paranoid at the time of the chase and dealing with several emotional problems after his brain surgery, including the loss of six of his close friends in a helicopter crash.
"He couldn't understand why the police were chasing him, and he didn't know what to do," Galipo said, according to AP, adding: "He called his family during the pursuit and asked what he should do. And they told him he should pull over ... and he said 'I'm afraid' and kept going."
The lawsuit, which was filed against the LAPD by Beaird's parents, charged the police to be inadequately trained, of using excessive force, and committing battery and negligence.
"It's very unfortunate on everyone's part, on the driver's part, and the officers involved," Joe Buscaino, a former Los Angeles police officer, said according to AP, adding: "In this case, you had a pursuit that lasted a long time, involved three agencies, and I felt that there's an opportunity to proceed and challenge the case."
The settlement comes at a time when hundreds of protesters have taken to the streets of Ferguson, Missouri, to protest against the shooting death of an unarmed, black teenager -- 18-year-old Michael Brown -- by a police officer on Aug. 9. A federal investigation has been launched into the incident, which has triggered a nationwide wave of indignation over police behavior.
© Copyright IBTimes 2023. All rights reserved.