Louisiana Republican Primary Results 2012: Where To Watch Live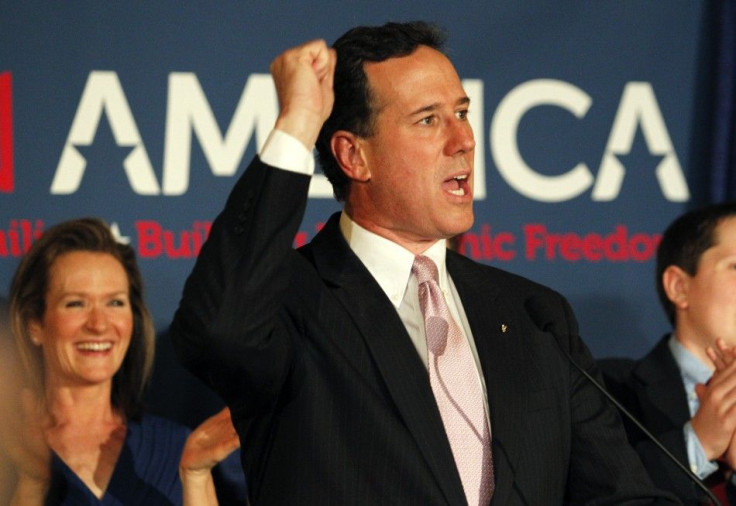 Twenty of Louisiana's delegates to the Republican National Convention in August are up for grabs in the state's presidential primary election Saturday, with candidates Mitt Romney, Rick Santorum, Newt Gingrich, and Ron Paul all eager to add the state's offerings to their tally.
But, according to Louisiana GOP Chairman Roger Villere, something more important than delegates is at stake in the primary: perception of momentum.
Romney, the former governor of Massachusetts, continues to blaze ahead in the overall race, with almost twice as many delegates as the candidate with the next highest tally, Santorum, the former U.S. senator from Pennsylvania. Yet, despite his advances, Romney still has yet to win any state in the South other than Florida, and he has yet to win a single state in what is considered the Deep South, a core area of the GOP base.
Recent polls indicate Santorum has a 13 percentage-point lead in Louisiana, with 40.7 percent support compared with Romney's 27.7 percent. Gingrich, the former speaker of the U.S. House of Representatives from Georgia, is third with 18.3 percent, and Paul, the U.S. representative from Texas, is fourth with 5.3 percent.
Romney's shut-out in the Deep South, Alexander Burns wrote for Politico this week. But if Santorum is to hold his momentum as the man who can not only not challenge but actually surpass Romney, he will need to make his victory in Louisiana a big one, proving he is the uncontested favorite of the party's base.
Meanwhile, Gingrich, who at one time expected to be Romney's main threat in the South, has so far won only South Carolina and Georgia, the latter the state where he served as a member of the House for 20 years. [If Gingrich can't] do well in Louisiana, then it's pretty much finished, Ed Chervenak, an assistant professor of political science at the University of New Orleans, told USA Today.
Paul, who took a temporary break from the campaign trail after the Illinois primary election, has spent some time in Louisiana, but he is focusing his attention on future contests in the District of Columbia, Maryland, and Wisconsin.
Find out when to look for the results of the 2012 Louisiana Republican primary election, where to watch online and on TV, and how to follow the race on Twitter below.
When To Start Watching: Polls will close for the Louisiana Republican primary at 8 p.m. CDT (9 p.m. EDT). Results will begin to come in around 8:30 p.m. CDT.
What's At Stake: Twenty of the state's 46 delegates are up for grabs Saturday, divided proportionately among all candidates who receive more than 25 percent of the vote in the state. Louisiana hosts a closed primary, meaning only registered Republicans may vote for the four candidates in the GOP contest.
Where To Watch Live: MSNBC will feature special live coverage of the Louisiana primary beginning at 9 p.m. EDT, with Alex Wagner as head anchor. CNN will provide live updates during its regularly scheduled programs, with senior correspondent Joe Johns reporting from a Louisiana polling station and political director Mark Preston providing the latest election developments from Washington.
Right Speak, a conservative blog, will also be providing links to expected live-streamed coverage online by Fox News, C-SPAN, and CNBC.
Where To Get Live Results: Google and Politico will be providing minute-by-minute live updates for the primary, with information on which counties are reporting, what percentage of the votes are in, and which candidate is currently in the lead.
How To Get Results On Twitter: Search for hashtag #LAprimary to follow the conversation about Saturday's GOP event on Twitter.
© Copyright IBTimes 2023. All rights reserved.
FOLLOW MORE IBT NEWS ON THE BELOW CHANNELS