Louisville Sex Parties On Campus: 3 Former Cardinals Recruits Detail Events To NCAA Investigators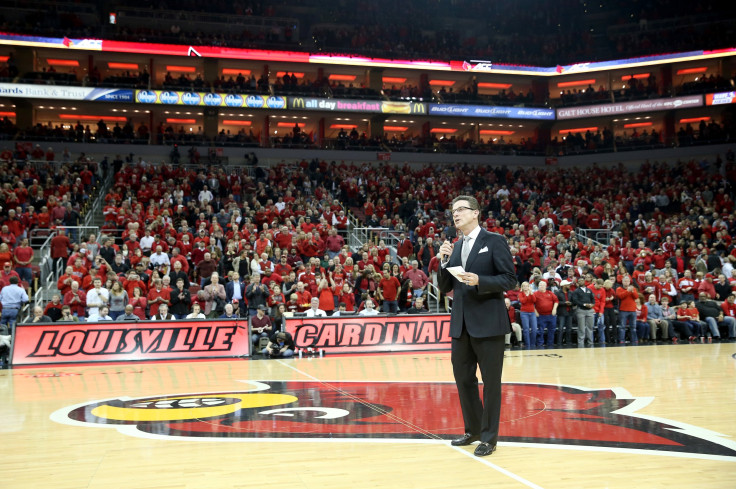 Three former Louisville men's basketball recruits reportedly told NCAA investigators they attended on-campus parties where strippers danced for them and prostitutes also had sex with them, according to a report from ESPN's "Outside the Lines."
An anonymous source familiar with the investigation told the news program the recruits met with NCAA investigators in October and November, and detailed what they claimed happened at the recruiting parties.
The report follows revelations first made in October by former escort Katina Powell, who penned and published a book called "Breaking Cardinal Rules: Basketball and the Escort Queen."
"There's no question this stuff happened," the source told OTL. "There's no question the people at the University of Louisville know this happened. Katina Powell is not an admirable person, but she told the truth."
Powell has said former Louisville graduate assistant and director of basketball operations Andre McGee paid her about $10,000 for dancers and escorts for parties that took place at a Louisville dorm and were an attempt to land recruits.
"It's a pathetic story," another source said told the ESPN program. "McGee gave the players a stack of dollar bills ranging from $200 to $500. Everybody in the room got the money -- the recruits and the current members of the team. Not only that, but McGee himself had his own stack of dollar bills. If this guy's spending $2,000 to $3,000 on a recruiting weekend, where's this money coming from?"
Previously, five recruits told OTL that they had attended the parties and that McGee gave them money to tip the dancers. OTL spoke to McGee recently and asked where he received the money, but he directed all questions to his attorney.
Louisville head coach Rick Pitino has vehemently and publicly denied any involvement with the parties, and the school punished the program with a one-year postseason ban in February. Pitino is reportedly scheduled to speak with NCAA investigators in April.
© Copyright IBTimes 2023. All rights reserved.