LSU vs South Carolina, Where to Watch Free Live Online Stream, Preview for Saturday's SEC Game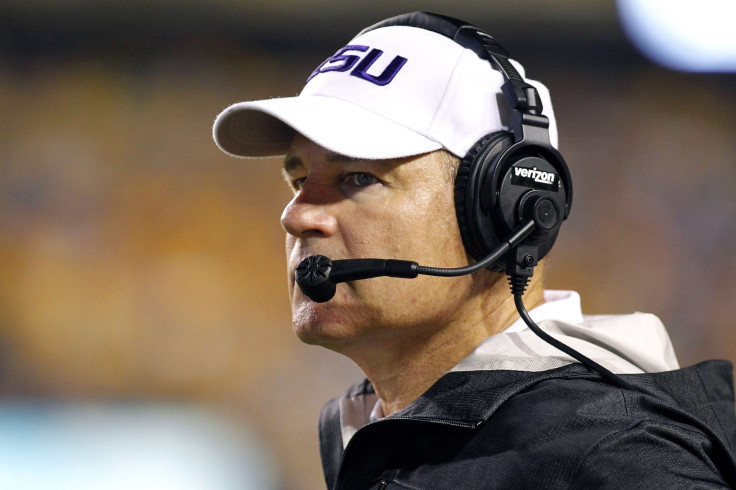 Watching their national title hopes dwindle away after one poor third quarter, the LSU Tigers look to regroup against the up-and-coming South Carolina Gamecocks at Tiger Stadium.
The Tigers are staggering after Florida dealt them a crushing 14-6 loss last week. LSU failed to score a touchdown for the first time this season and quarterback Zach Mettenberger tossed one interception, while the Tigers defense let up two 12-yard touchdown runs in the third quarter by Gators running back Mike Gillislee.
Gillislee rushed for a career-high 146 yards and two scores against LSU's usually stout defense, which was giving up about 90 yards on the ground per game and only let up three rushing touchdowns in their first six games.
LSU's offense struggled just as much, with only eight first downs and 42 rushing yards. The Tigers were averaging more than 224 rushing yards before facing the Gators.
While the Tigers try to regain their composure, head coach Steve Spurrier's Gamecocks are on a high after knocking off then-No. 5 Georgia 35-7 last week for their school-record 10th straight win.
Quarterback Connor Shaw threw two of his three touchdowns in the first quarter and Ace Sanders ran a punt back 70 yards for a 21-point lead that South Carolina would never relinquish.
Shaw also ran for another score and only had 10 passing attempts, completing six of them for 162 yards. Running back Marcus Lattimore rushed for 109 yards and a touchdown, and the Gamecocks' defense kept the Bulldogs scoreless until the fourth quarter.
"We definitely sent a message out to the whole country," Lattimore said to the Associated Press. "It's not the old South Carolina. We can play with y'all. We can play with anybody."
If victorious, the Gamecocks game against No. 4 Florida next week could decide who takes home the Southeastern Conference East division.
The match-up begins at 8 p.m. EDT and will be broadcast by ESPN, or you can watch their live stream online at Watch ESPN here by providing your cable provider information.
Prediction: LSU is favored because of home field advantage and a crowd that will surely support them after tough loss last week. Yet South Carolina is firing on all cylinders with their most complete game of the season against a Top 10 team in Georgia. This game may be won in the first half if the Gamecocks can build an early lead and make LSU claw back. Look for the Tigers to bounce back with a close win.
Betting Odds: LSU is favored by 3 points
Over/Under: 40 points
Predicted Score: LSU 20, South Carolina 17
© Copyright IBTimes 2023. All rights reserved.