Lunch in the Middle of a Long Trip Home
A Tale of Burgers, Bros and Bonding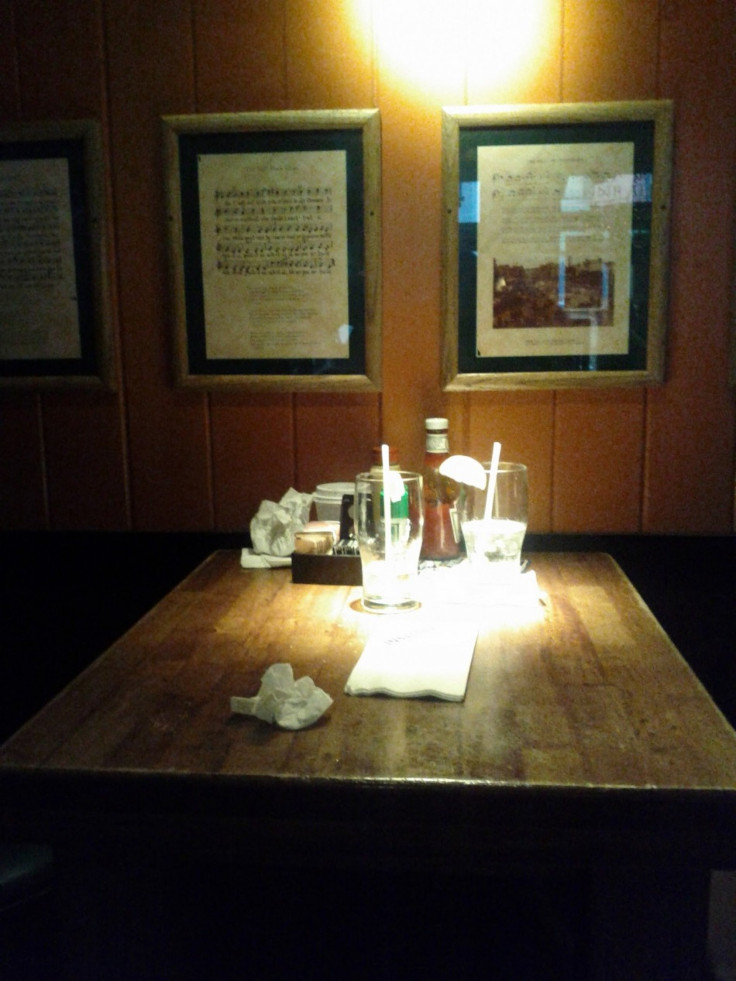 I'm at Ulysses' Folk House, a small pub in Lower Manhattan, catching up with an old high school friend from Chicago. Dim lighting, hardwood furniture and a couple of burgers. These ingredients have rarely let me down in life. And once again, they've proven that they're all anyone needs to quickly settle in somewhere.
He's on his way to Paris, luggage in tow, and we're grabbing a quick meal before he departs. The two of us, minimalists at heart, have opted against the pageantry of other options in the area. In many ways, we've always left splendor aside. We drag the luggage to the back of the room and tuck into a small two-man table.
How's work in San Fran? I ask. He explains that he's working in Mountain View, better known as Silicon Valley, rather than San Francisco, where he lives. He's a project manager at a financial software company.
It's a lot like being the director of a movie, he says, but not nearly as glamorous.
I write about startup companies here in New York. They call it Silicon Alley, I say. Not all that glamorous, either.
Ulysses' Folk House, much like our unglamorous gigs, adequately satisfies our desire for simple pleasures. The restaurant serves up a variety of food--an extensive raw bar, Irish smoked salmon and crisp semolina-crusted calamari--but for whatever reason, we've both decided to pass on the ambrosial seafood options. Instead, we settle for simpler fare. We've picked the turkey burger. The selection, in many ways, mirrors the swift nature of our meeting. We have about an hour to catch up on the fullness of each of our lives. It's not an easy feat, but one that's important to both of us.
Though it's been almost a year, our conversation seems to pick up right where it left off. We've both been known to chase some illusory dream in the past, and our recent successes at opposite ends of the country reaffirm that we're heading the right direction, though we're not exactly sure which direction that is. We're both young, but more than ever, we feel the need to do something great.
That sounds awesome, he says about my latest journalist pursuits. I echo similar praise about his recent promotion. Sounds like you're doing great out there.
As men in the thick of America's growing technology sector, we parse the differences of working in the booming start-up scene at either end of the country. He pulls out his laptop to point out the finer details of a website he likes. It's all in the details, I say to him. I've said those words to dozens of people since leaving Korea nine months ago, where I learned the importance of presentation and appearance.
At the front of Ulysses', a chef, toque blanche and all, slashes, dashes, dices and mixes what appear to be bombastic lunch options. For us, it's nice to have the character performing under the floodlights, like an actor on a Broadway stage. The chef adds a circus-like aura to our whirlwind meet-up. In many ways, we couldn't have chosen a better scene.
It's a shame you won't be here for New Year's Eve, I say.
I know, he says. You have to come to California soon.
The burgers arrive, and they're simple and chic, like most of the cuisine that can be found in pubs along Stone Street. The burgers are filling, and along with the fries, they allow my friend and me to nibble handily and take turns speaking. Our conversation lasts only an hour--my lunch break--yet it feels like an eternity. It's a dense conversation.
At Ulysses', there's plenty of elbow room. It's not like the sandwich shops nearby that seem to have endless lines of hungry workers lining up for a meal. Ulysses' is different. It's quieter. It's nicer. Even with a chef performing at the front of the room, it remains intimate. The mellow vibe at the pub allows us to settle in quickly, spill our guts, pack up and move forward with our lives.
The efficiency of our idea exchange is melodious. In the end, it's all too brief. We've only talked about technology, says my friend at the end. We could probably do this about a million other things.
At Ulysses', the waitress rings up our check using some scruffy old computer that looks like it came from the Apollo Era. Mission successful. The food was great, the environment kind and my friend and I were able to have the type of conversation typically saved for moments when we each have a whisky in hand and ample time to spare. Our lunch, like most things in the tech industry, is fleeting and enjoyable.
The long road home is never easy. That's why you take it. Ulysses, better known as Odysseus, understood that well, and it's a notion my friend and I have also learned to embrace over the years. While there's surely more to discover at Ulysess' Folk House than the turkey burger, for me, it will always be the place I sat down, had a snack and caught up with my good pal from high school, Mack.
© Copyright IBTimes 2023. All rights reserved.