Macron Contradicts His PM On Facing Down Far Right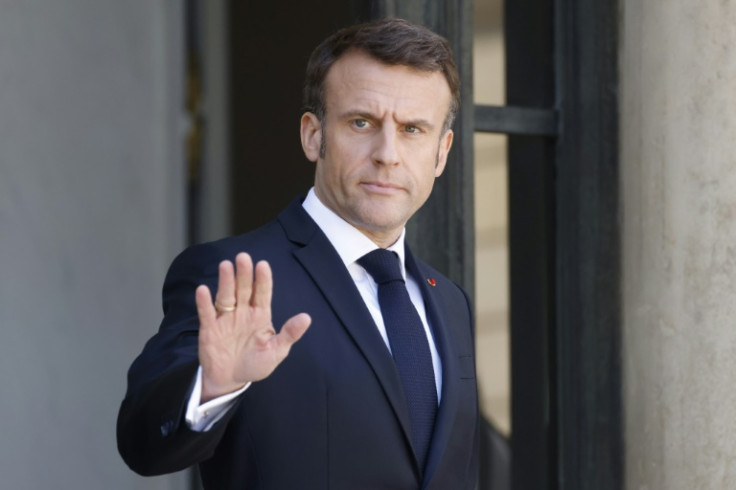 French President Emmanuel Macron on Tuesday contradicted a remark by his prime minister that the far-right party of Marine Le Pen were the heirs of Nazi-era collaborators, saying they had to be defeated on policy issues, not with such moral arguments.
Prime Minister Elisabeth Borne, who according to French media reports has an increasingly strained relationship with Macron, had said that the far-right National Rally (RN) were the "heirs of (Philippe) Petain".
Petain was the head of the Vichy French regime that collaborated with the Nazis in in World War II.
The far right has in recent years emerged as the main opposition to Macron.
Le Pen has challenged him in the run-offs of two presidential elections and is seeking to place her party in the political mainstream.
"You will not be able to make millions of French people who voted for the far right believe that they are fascists," Macron told a cabinet meeting in the presence of Borne, once of the participants told AFP.
Borne, the daughter of a Holocaust survivor who later committed suicide, had said in an interview with Radio J on Sunday she did not believe in the "normalisation" of the RN and said it still had a "dangerous ideology".
Le Pen has sought to free the party of the legacy of its former leader, her father Jean Marie Le Pen, under whom it was known as the National Front (FN) and espoused an often openly racist ideology.
"The fight against the far right no longer revolves around moral arguments," Macron told the cabinet.
He said his forces must discredit the RN on substance and by pointing out "inconsistencies" in its policies, rather than using "words from the 90s which no longer work".
Macron's comments come at a time of heightened tension in French politics after the government rammed through his flagship pension reform without a vote.
Some commentators have warned that the move has prepared a path for Le Pen to win the presidential election in 2027, when Macron is not allowed to stand for a third consecutive term.
Macron has repeatedly insisted in the past months that thwarting the rise of the RN needs to be a priority for his forces.
Le Pen will win power "if we do not know how to respond to the country's challenges and if we get into the habit of lying or denying reality".
Several French newspapers, including daily Le Monde, have reported that Borne has been unhappy with Macron's habit in recent weeks of making policy announcements which should be the prerogative of ministers.
© Copyright AFP 2023. All rights reserved.