Macron Law: French Labor Reforms Force Vote Of Confidence In Parliament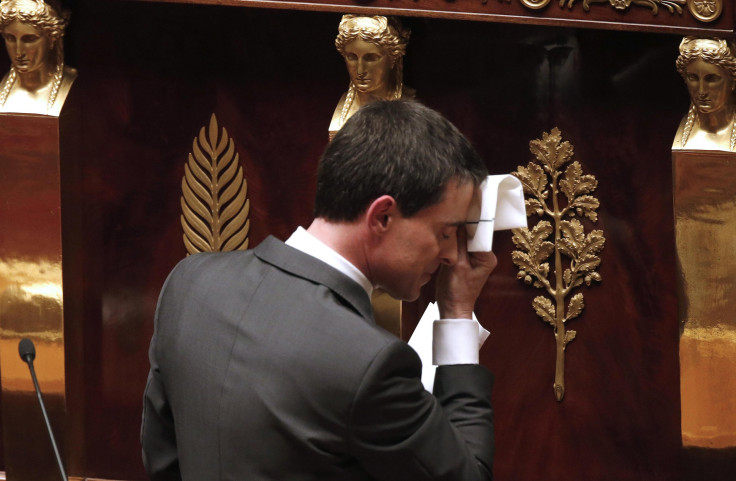 France has approved a hotly contested set of labor reforms that allow for more work on Sundays and create special international tourist zones where retail stores can stay open late.
The changes, though seemingly minor, were so controversial that Socialist Prime Minister Manuel Valls had to resort to an arcane constitutional provision that allows governments to pass laws by decree if they manage to survive a vote of confidence in Parliament. On Tuesday, Valls green-lighted the "Loi Macron," named after economic minister Emmanuel Macron; on Thursday, the Socialist government survived by 55 votes in the National Assembly, paving the way for the reforms to take effect.
Delivering a speech before Parliament entitled "Nothing stops the movement for reform," Valls declared that his government "assumed its responsibilities."
Right-wing legislators who felt the reforms didn't go far enough voted to bring down the government. And while the Macron Law has incensed the left wing-- greens, communists and a breakaway group of Socialist deputies decried the reforms, which is what pressured the prime minister to sidestep the traditional parliamentary route in the first place -- only a fraction of them voted to dissolve the government. That move would have triggered new elections, in which the left wing stood to fare poorly.
In many respects, the intensity of the debate stands in contrast to the modesty of the reforms.
About a third of the country already works on Sunday. And as it stands, retail stores in France are already allowed to open a maximum of five Sundays per year. The Macron Law increases that number to twelve, upon mayoral approval. It also maintains the current law which requires employees be paid double for such labor.
Meanwhile, in specially designated tourist zones -- which include a few shopping hotspots in Paris and the Riviera cities of Cannes and Nice -- stores can stay open every Sunday of the year. They can also operate until midnight seven days a week.
Why all the outrage then?
For one thing, it's motivated less by the content of the reforms than by the political optics of them, says Arthur Goldhammer, a translator, writer and affiliate of the Center for European Studies at Harvard University.
The Macron Law is a scaled-back version of reforms recommended by the Attali Commission, which met twice under former President Nicolas Sarkozy to examine pro-growth reforms. For its willingness to gut cherished social safety programs in the name of economic stability, the commission is something like the French version of Congress' joint deficit reduction committee, a technocratic, business-friendly body loathed by liberals.
Emmanuel Macron, a former investment banker himself, served as deputy rapporteur for the Attali Commission. Trade unionists and left-wingers are enraged those ideas have apparently found a home in President Francois Hollande's Socialist Party.
"It's an identity issue for the left," Goldhammer says. "They see this as a transformation of the identity of the Socialist Party, which has been affected surreptitiously."
Some see the reforms as a way to bring bigger targets within striking distance: slashing sacrosanct pension benefits and abolishing the 35-hour workweek, which France adopted in 2000.
The debate is fueled by another ongoing conflict in French society: The encroaching demands of the capitalist marketplace versus those of legally protected leisure time. French workers get five weeks of paid vacation, a national institution that dates to the 1930s. And while the 35-hour workweek is technically still in place, employers have increasingly used loopholes to make people work longer. Employees in France average 39.5 hours of work a week, just below the eurozone mean of 40, according to the Organization for Economic Cooperation and Development.
The outrage over Sunday labor reflects "a kind of general resistance to the commercialization of culture," says Goldhammer, even if the work-free weekend is mostly imaginary. "It harkens back to a nostalgic version of France that no longer exists. It's not like people are staying home on Sunday, going to church and eating dinner with their grandparents."
While supporters of the law say the reforms are long overdue in an overly regulated economy, opponents have flipped that line of reasoning on its head.
"The Macron law is the opposite of modernity," said Philippe Martinez, the head of the nation's largest labor union, at a demonstration last week. "Modernity is about being able to enjoy time with friends and family, to spend time in the community."
FOR FREE to continue reading
✔️ Unlock the full content of International Business Times UK for free
offer available for a limited time only
✔️ Easily manage your Newsletters subscriptions and save your favourite articles
✔️ No payment method required
Already have an account?
Log in
© Copyright IBTimes 2023. All rights reserved.