Maine Town Weighs Ban On Oil Exports In Attempt To Stop Flow of Canadian Tar Sands Crude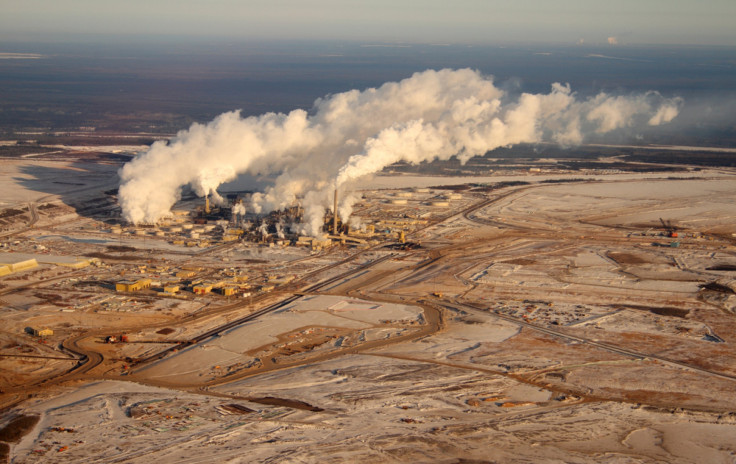 Updated 5:30 p.m. ET.
A small town in southern Maine is hoping to block the oil industry's plans to increase the flow of Canadian tar sands crude.
On Monday night, South Portland's city council is expected to approve a ban on the export of crude oil from the local waterfront. The ordinance would effectively close off the possibility of using an existing Maine-to-Montreal pipeline to ship Canadian crude through the U.S. Northeast for export.
The vote follows a year-and-a-half-long campaign by residents, city officials and local environmental groups who say they are worried that piping tar sands crude – a particularly heavy and carbon-intensive form of oil – into South Portland would dirty the local air and water and increase global emissions of heat-trapping greenhouse gases.
"South Portland as a whole doesn't want to become an export point for a crude oil product that seems to have a higher risk than traditional products," Mayor Jerry Jalbert told International Business Times.
Jalbert said he expects more than 600 of the town's 25,000 residents to attend Monday's city council meeting, which will likely run on past midnight.
For oil companies, the ordinance has two major implications.
First, it will likely galvanize efforts by local activists and national environmental groups to stop proposed pipeline projects like the Keystone XL. The $5.4 billion pipeline would carry tar sands crude over 1,179 miles from Alberta, Canada, to Steele City, Nebraska, where it would connect with an existing segment to the Texas Gulf Coast. In Nebraska, a groundswell of community opposition has helped create significant delays for TransCanada Corp. (TSX:TRP), the pipeline's builder.
The South Portland measure "will be seen across the industry as a shot in the arm for people opposing the dramatic expansion of tar sands," said Dave Stember, a national organizer at the climate advocacy group 350.org, which is part of the Tar Sands Free Northeast coalition. "This is a very encouraging sign that we're seeing at the local level."
Second, the ordinance limits oil companies' options for getting their supplies of tar sands crude out of the landlocked Alberta province. The lack of transportation pipelines has created a bottleneck that is driving down prices for Canadian crude and forcing developers to scale back their expansion efforts. In May, for instance, French energy giant Total SA (Euronext:FP) decided to shelve an $11 billion tar sands mine because of the rising cost pressures.
The U.S. oil industry and its supporters have argued that turning off the valve to new tar sands shipments will stymie economic growth in the region and limit new employment opportunities. The ordinance "endangers hundreds of jobs both directly and indirectly and sends a troubling message to business both inside and outside of our state regarding their future stability and viability," Dana Connors, president of the Maine State Chamber of Commerce, wrote in a Sunday op-ed in Bangor Daily News.
At the heart of southern Maine's tar sands debate is the 236-mile Maine-to-Montreal pipeline, which currently moves Brent crude – a type of sweet, light unrefined oil – from South Portland to East Montreal refineries.
The pipeline was built just before World War II amid concerns that German U-boat submarines could attack fuel tankers traversing the St. Lawrence River. Since then, it has pumped about four billion gallons of crude oil, but in recent years that flow has tapered off as the Canadian refineries depend more on domestic supplies. Now, the line serves about one fuel tanker per week, down from about one tanker a day three decades ago, the Los Angeles Times reported on Monday.
Reversing the pipeline's flow to deliver Canadian tar sands crude could change all of that, however. The pipeline's operator, Portland Montreal Pipe Line (PMPL), is owned by Exxon Mobil Corp. and Suncor Energy Inc., two firms with significant investment in Canada's tar sands region.
PMPL obtained local and state permits to reverse the pipeline's flow of oil five years ago, but the project didn't garner much attention until 2012. A Canadian court denied the operator's request to build a pumping station near the Quebec-Vermont border, delaying plans for the reversal and flagging the issue for local and national environmental groups, which had grown increasingly wary of Canadian tar sands crude for safety and climate reasons, the LA Times said.
This particular blend of crude oil starts with bitumen, a thick and tarry form of petroleum that is found in ancient geological formations along with sand, clay and water. Unlike conventional oil drilling, extracting bitumen often requires mining chunks of it out of the ground or injecting steam into deposits to melt the crude oil. The bitumen is then diluted with lighter oil or natural gas liquids so it can flow through pipelines.
The process of extracting and upgrading bitumen is significantly more carbon intensive per barrel of oil compared to conventional crude oil drilling, according to U.S. federal estimates. And because of its chemical differences, this diluted bitumen mix is harder to clean up than lighter blends when it spills. After a major 2010 Enbridge Inc. pipeline accident in Michigan, for instance, spilled bitumen sank to the bottom of the Kalamazoo River and accumulated into tarry balls. Four years and over $1 billion later, the Canadian company is still cleaning up the mess.
Some South Portland residents feared that reversing the Maine-to-Montreal pipeline could introduce these and other environmental concerns into their community. A citizen group, now called Protect South Portland, began rallying outside of City Hall and building support for a broad ballot measure to keep tar sands crude out of Maine's Casco Bay. The proposed amendment would have amended an existing zoning ordinance to limit the expansion of existing petroleum facilities – a necessary step for exporting Canadian oil.
The town's industrial base, led by the Maine Energy Marketers Association, vehemently opposed the initiative and earned the backing of the American Petroleum Institute (API), the U.S. oil industry's main lobby, which spent nearly $650,000 against the measure. The ballot measure lost by nearly 200 votes last November.
City councilmembers quickly mobilized to re-launch the anti-tar sands initiative. They created a volunteer committee of mostly land-use experts to devise a narrower and more politically palatable alternative to the November ballot measure. And councilmembers considered passing a temporary moratorium on any project or development that includes loading tar sands crude onto ships in the city.
In response, the API warned the council in a five-page letter that the moratorium would violate state law, federal law and the U.S. Constitution and could "face strong legal challenges." Council members passed the ban 6-1 in December.
Earlier this month, the council voted again, also 6-1, to approve the first reading of the new ordinance, which would prohibit the loading of tankers with crude oil (offloading tankers, however, would still be allowed). Jalbert, the city's mayor, explained that the ordinance wouldn't prohibit the Portland Montreal Pipe Line company from reversing its pipeline flows; it could still theoretically ship natural gas or refined products like heating oil from Canada to Maine. And the measure targets all forms of crude oil – not just tar sands crude – since it's a bigger risk legally to single out individual products.
Last week, the city's planning board voted to back the ordinance. Monday's vote is the final step before it gets signed into law.
A spokesperson for Maine Energy Marketers Association could not be reached by deadline. In an emailed statement, API spokeswoman Sabrina Fang said that, "Maine is just another example of radical activists inserting their off-oil agenda into local politics, putting jobs and energy security at risk." The ordinance, she added, "is not the American way. We need to stand up for the middle class and protect their jobs."
Proponents are already bracing themselves for legal challenges from the oil sector. But given how divisive the issue is in South Portland, the city would likely try to avoid raising property taxes to cover its legal bills, Jalbert said. One strategy the mayor and other councilmembers have been working on is a legal defense fund that would instead solicit donations from environmental groups across the United States and Canada.
© Copyright IBTimes 2023. All rights reserved.
FOLLOW MORE IBT NEWS ON THE BELOW CHANNELS