Major Corporations Like IKEA, Mars, Say They'll Use 100% Renewable Energy By 2020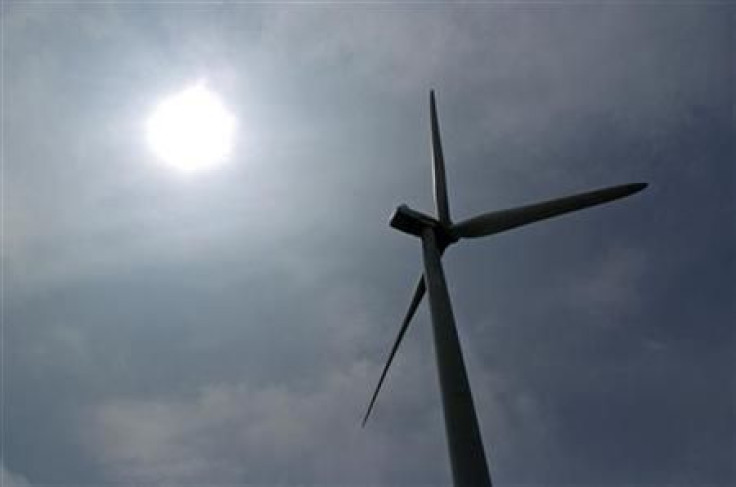 Soon your self-assembled sofa or your snack of peanut M&M's could make you feel better -- at least about its carbon footprint. Major corporations including Swedish furniture giant IKEA Group and candymaker Mars Inc. Monday promised to power all of their operations with solar panels and wind turbines within the next decade.
The RE100 campaign launched at the opening event of Climate Week NYC, an annual private-sector forum that coincides with Tuesday's United Nations climate summit. The initiative will partner 100 of the world's largest businesses with NGOs like the International Renewable Energy Agency to figure out how to trade in coal and natural gas-fired power and use 100 percent renewable energy. The Carbon Disclosure Project, addressing concerns of "greenwashing," said it would ensure credible and transparent reporting by companies.
Apple Inc., which did not sign the initiative, is separately aiming to use 100 percent renewable power at its hulking, energy-guzzling data centers. The California tech giant already powers 94 percent of its corporate facilities with clean electricity, Apple CEO Tim Cook said at the Monday event.
Worldwide, renewable energy accounts for roughly 11 percent of total electricity generation, a figure that includes hydropower, biomass, biofuels, geothermal, wind and solar, according to the U.S. Energy Information Administration.
Participants in the RE100 initiative acknowledged the significant challenge of ditching conventional energy sources for climate-friendly alternatives. Although the costs of solar and wind electricity are declining dramatically, fossil fuels are still cheaper and easier to use in many places. Government incentives, which help make clean technology more competitive, are spotty and fickle.
"Policy uncertainty slows things down," Steve Howard, IKEA's chief sustainability officer, told reporters on the sidelines of the Climate Week conference. "You know where the wind is, and you know where the sun is going to shine. The technology is extremely predictable. You know how to get the projects done. The only uncertainty is policy uncertainty."
IKEA is one of the world's largest clean energy investors, and its own projects have so far generated around 1,425 gigawatt-hours of power from renewable power -- enough juice to keep the lights on in roughly 130,000 average U.S. homes each year. The retailer said it plans to invest around 1.5 billion euros ($1.9 billion) in new projects to meet its 100 percent goal by 2020.
In the United States, the federal "production tax credit" for wind power projects is a prime example of this policy problem. The tax credit once offered operators 2.3 cents for every kilowatt-hour of wind power produced. From 2007 to 2012, it drove an average $15 billion in annual private investment in the wind sector. But after it expired in 2013 -- Congress declined to renew it -- investment fell to its lowest level in nearly a decade.
At the state level, some legislators have considered revoking or weakening clean energy requirements for electric utilities. Ohio Gov. John Kasich went through with it in June, signing a two-year "freeze" on its Renewable Portfolio Standard.
"We're finding ourselves in a situation where we're trying to time the market and land when the incentives are in place," Kevin Rabinovitch, global sustainability director at Mars, said. "Which is not the most efficient way to do it."
Mars, based in MacLean, Virginia, recently purchased a 200-megawatt wind farm in Texas that will produce enough electricity to equal the needs of its U.S. operations, including 37 factories.
On top of wavering policies, Rabinovitch said the disparate array of rules in regulations in various countries is another hurdle to the companies' climate strategies. When global businesses have to "relearn a set of rules, it slows things down and creates a burden and overhead that prevents us from going as fast as we'd like to," he said.
Corporate sustainability chiefs at Climate Week NYC said they hope some of these barriers can be erased if the world's leaders agree to adopt a price on carbon dioxide emissions. By making it costlier to extract and burn fossil fuels, governments would in turn reduce the policy hurdles and economic barriers to adopting renewables, they said.
A World Bank coalition of governments and 1,000 companies Monday called on countries to adopt either a tax on carbon emissions or a cap-and-trade emissions trading system ahead of the United Nations-led summit in New York City Tuesday. Last week, around 250 institutional investors representing $24 trillion in assets similarly called for "stable, reliable and economically meaningful carbon pricing that helps redirect investment" away from oil, coal and natural gas and toward renewables.
Pedro Faria, the technical director at the Carbon Disclosure Project, said his nonprofit organization would work to ensure that companies in the RE100 initiative develop "authentic" renewable energy sources and avoid double counting when reporting their results.
FOR FREE to continue reading
✔️ Unlock the full content of International Business Times UK for free
offer available for a limited time only
✔️ Easily manage your Newsletters subscriptions and save your favourite articles
✔️ No payment method required
Already have an account?
Log in
© Copyright IBTimes 2023. All rights reserved.