Solar Energy: Solar Panel Supply Glut Is Shrinking, Prompting Concerns Of Rising Prices And Supply Shortages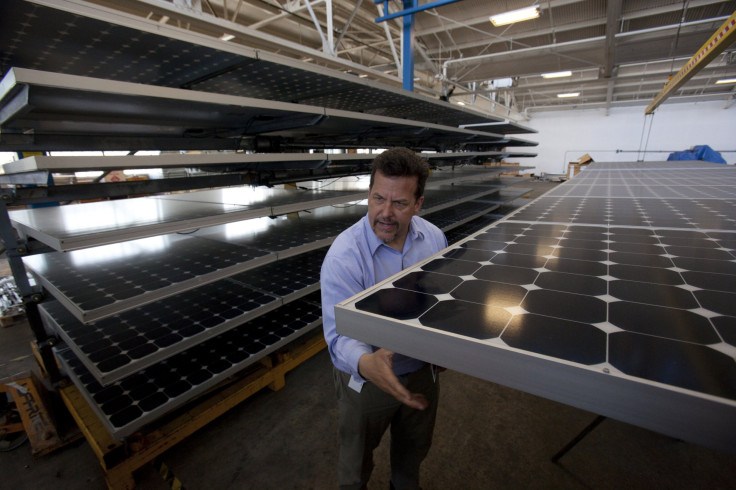 A glut of solar panels in recent years has forced manufacturers like SunPower Corp. (NASDAQ:SPWR) to idle factories and cut hundreds of jobs. But now demand is catching up with supply, and SunPower is in an unusual position: It needs more panels.
"It would be fair to say our panels are in short supply," Tom Werner, the California company's chief executive, told Bloomberg News this week. The firm's factories are running at full capacity, he said, and two new plants are slated to come online by 2017. Canadian Solar Inc. (NASDAQ:CSIQ) said it is similarly boosting production because it anticipates a panel shortage.
While individual companies need to ramp up production, analysts say an industrywide panel scarcity isn't likely: Worldwide, there's enough capacity to meet orders. But the narrowing gap between supply and demand is likely to raise panel prices, and that could hurt some developers and slow project developments.
The industry is set to install as much as 52,000 megawatts of solar this year and 61,000 MW in 2015 -- more than seven times what developers installed five years ago, Bloomberg New Energy Finance reported in London.
"Toward the end of the year, there will be pressure on supplies and probably some upward pressure on prices," Jenny Chase, the research firm's lead solar analyst, told International Business Times. Chase said the supply pressure should raise prices by "a couple of cents per watt" from about 75 cents per watt now.
The solar glut emerged several years ago when Chinese manufacturers -- bolstered by low domestic labor costs and a bundle of government subsidies -- began flooding the global market with polysilicon panels. Prices dropped precipitously, from about $2.10 per watt in 2010, and U.S. and European companies couldn't keep up. Dozens of American companies folded, partly as a result, and many of the remaining firms focused their production abroad. SunPower, the second-largest U.S. panel maker, is building its newest factory in the Philippines in 2015, for instance. It hasn't disclosed yet where it will build a second factory for 2017.
"If you look back eight to 12 quarters ago, panel prices were declining 10 to 15 percent every quarter and dropping really rapidly," Michael Barker, a senior analyst at NPD Solarbuzz, an industry research group, said in an interview.
Now, however, panel prices "are stabilizing, declining by 1 to 2 percent each quarter," he said. "That really does benefit the manufacturers, because they're able to focus on long-term cost reduction and efficiency increases, instead of adjusting prices."
The price hike will affect the "downstream" solar installation market, Chase said. Rooftop solar installers, for instance, might not feel much of an impact, since panels typically cost a bit more in the residential market because of the small project size. But for developers of large-scale projects, the higher prices could be problematic.
"Many of these larger projects may have bid for (contracts) on the assumption that they can get panels for 50 cents a watt," Chase said. If the economics don't pan out, "utility-scale projects could be pushed back or canceled altogether." The United States has about 25,000 MW of large projects under development -- more than twice the amount of solar already installed or under construction, industry statistics indicate.
Still, Chase and Barker said the biggest challenge to the U.S. market is not the shrinking panel glut but the solar trade wars between Washington and Beijing.
U.S. trade officials in June imposed duties of as much as 35 percent on Chinese solar imports to the United States after ruling that Chinese subsidies kept prices of panels and related components artificially low. The tariffs follow a 2012 ruling that levies fines as high as 36 percent on imported panels made from Chinese solar cells.
Chase said the tariffs have already increased U.S. panel prices by 5 cents a watt. NPD Solarbuzz reported about 3,000 MW of large-scale projects in the pipeline could be hurt by the tariffs.
In January, China imposed anti-dumping duties as high as 57 percent for imports of American-made polysilicon, a key raw material used in making panels. Last week, the Chinese government closed a loophole that had allowed importers to avoid the duties. The rule is meant to punish the polysilicon makers and also U.S. manufacturers with panel factories in the country. "That could increase the costs for some foreign manufacturers," Barker said.
© Copyright IBTimes 2023. All rights reserved.