Apple's Tim Cook Says New Headquarters Will Be 'Greenest Building On The Planet'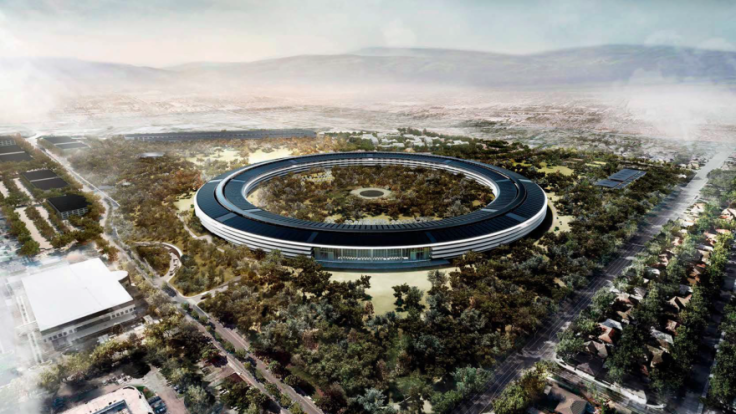 Apple Inc.'s new "spaceship" headquarters in Silicon Valley will be the "greenest building on the planet," CEO Tim Cook told an audience at New York City's Climate Week on Monday in a push to reduce the giant firm's environmental footprint and maintain its status as an innovative enterprise.
"We're building a new headquarters that will, I think, be the greenest building on the planet. It'll be a center for innovation, and it's something clearly our employees want and we want," he said. "Apple at its roots has a very core value of leaving the world a better place than we found it."
The building is scheduled to open in 2016 and would be powered exclusively by renewables like wind and solar energy, Cook said.
The company claims 94 percent of its corporate offices use renewable energy sources like solar and biogas, and it aims to move its data centers onto 100 percent renewable use soon. Most data centers use electricity to power huge air conditioners that cool servers and facilitate online transactions like video streaming. According to some reports, streaming an hour of video per week on an iPhone or iPad uses more electricity in a year than powering two refrigerators round the clock.
And Apple's offices overseas still face major challenges to reducing environmental impact and addressing human rights concerns in manufacturing centers. Apple's vice president of environmental initiatives, Lisa Jackson, has said that 70 percent of the company's carbon footprint comes from its supply chain.
Cook described an Apple data center in North Carolina that didn't have options to buy renewable energy, so the company built a 100-acre, 20-megawatt solar farm at peak output, making Apple "the largest private owner of a solar farm in the nation, maybe in the world," he said. Some solar farms in the U.S. produce more than 200 megawatts at peak operations, with the under-construction Topaz Solar Farm in Southern California set to produce 550 megawatts and become the world's largest solar photovoltaic plant. But these larger solar farms are owned by wholesale electricity suppliers.
"We're making enough energy there to power 14,000 homes," Cook said.
According to Data Center Journal, the solar farm powers about 10 percent of Apple's consumption at that data center, and the company that built the solar panels is carrying $820 million in debt, backed by a $1.2 billion federal loan guarantee, Human Events reported.
Cook said the work to clean up energy consumption is "dirty and detailed work," and the company won't make much of a difference without others joining in the effort because Apple is just "a pebble in the pond."
Since taking over from former co-founder and CEO Steve Jobs, Cook has emphasized the company's efforts in environmental sustainability.
"I have a nephew that I dearly love that's 10, and when I look at him, and when I think of leaving a world that's not as good as when I entered it, there's no bigger sin than that," he said. "That's an Apple value, that's our corporate values. We're going to do everything we can to leave the world a better place than we found it."
© Copyright IBTimes 2023. All rights reserved.