Malaysia 1MDB Scandal: Najib Razak Says He 'Will Not Surrender' To Critics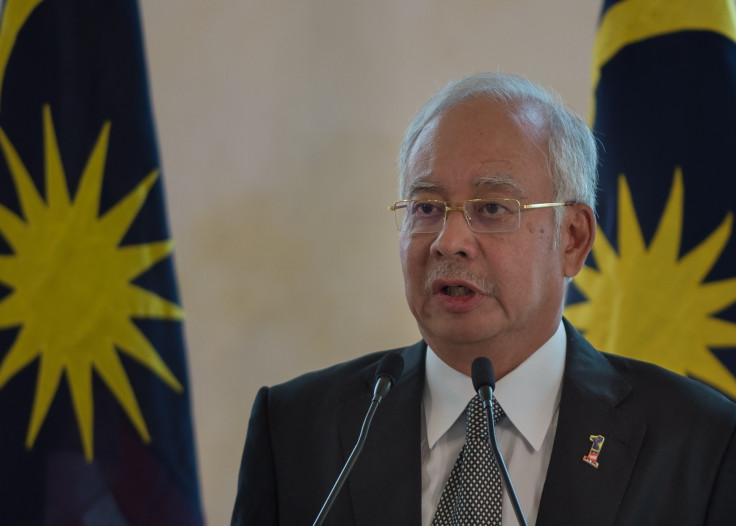 Malaysian Prime Minister Najib Razak shrugged off calls against him to step down and said Thursday that he "will not surrender" to critics. His statement comes as the leader of the opposition Wan Azizah Wan Ismail filed a no-confidence motion against him last month amid corruption allegations.
Najib, who has been accused of graft, made the comments during the annual meeting of his long-ruling United Malays National Organization (UNMO). The corruption controversy broke in July when the Wall Street Journal reported that 2.6 billion ringgit (nearly $700 million) was found deposited in the leader's personal account. The report also claimed corruption and mismanagement of the state-run fund 1Malaysia Development Berhad, which was funded by Najib in 2009 and gathered a debt of nearly $10 billion over the years. Funds from 1MDB, set up in five countries, were allegedly used to support his political campaign in 2013.
"What's important is that I am on the side of right, and the truth will prevail," Najib said, according to Reuters, adding: "I am a gentleman!"
Najib was interviewed by Malaysia's Anti-Corruption Commission (MACC) over the weekend despite the agency supporting his claim that the money came as a donation from an unidentified donor in the Middle East, and not from 1MDB. "Firstly, the 2.6 billion ringgit is neither public funds nor 1MDB's money. This was confirmed by the MACC," Najib said, in an interview earlier this week, adding: "It's a donation, a gift. A donation is not illegal under any legal provision."
The scandal's unfurling shook investors' and public confidence in UNMO, also impacting the economy. The country's currency, the ringgit, lost nearly a quarter of its value against the dollar this year.
"The fall in the currency, which has caused much worry, is not due to our failure in managing the economy but was caused by external factors, among them the fall in oil prices and other commodities," Najib said, according to Reuters.
The Malaysian government also launched a goods and services tax (GST) in April, a move that did not sit well with the local population. However, the government claimed that without the tax, the country's fiscal deficit could rise to 4.8 percent amid a fall in revenues of 30 billion ringgit due to lower energy prices. The government is currently targeting to maintain the fiscal deficit at 3.1 percent.
"In this context, it is unimaginable if the government had not had the political bravery to implement the GST," Najib said, according to Reuters.
Wan Azizah said in a news release after filing the no-confidence motion last month: "One man is the cause of the crisis of confidence in the integrity of our country's sovereignty, independence and dignity."
© Copyright IBTimes 2023. All rights reserved.