Malaysia Intercepts Migrant Vessel Turned Away By Thailand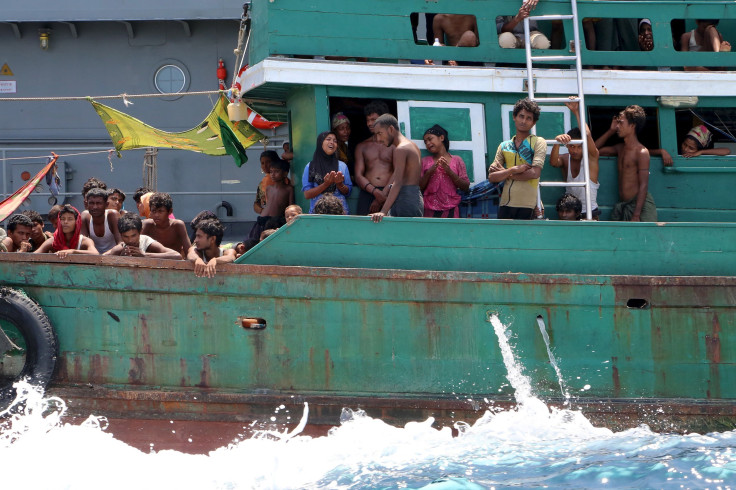 Malaysian vessels intercepted a migrant boat that was sent back to sea by Thailand on Saturday, as a growing number of nations refuse asylum seekers on boats. Thousands of people were left stranded after a boat left adrift by smugglers in the Andaman sea was turned back to sea by the Thai navy twice.
Many of those aboard the vessel were sick, thirsty and visibly distressed, Reuters reported. Thai officials repaired its engine and provided food, water and fuel on both instances.
The boat was reportedly towed into Malaysian waters, where the migrants had originally wanted to go. "We fixed their engine and showed them where Malaysia is," an anonymous Thai officer told Reuters.
While the boat's fate in Malaysia was unknown, the country had previously turned hundreds of migrants away and left thousands more stranded, expressing its unwillingness to take responsibility for the asylum seekers attempting the crossing.
Also on Saturday, Thailand discovered another group of over 100 migrants who had reached an island in the southern province of Phang Nga. It was not clear how the migrants reached the island, Reuters reported.
"Most of them are men but there are also women and children," Provincial Governor Prayoon Rattanasenee told Reuters. "We are trying to determine whether they were victims of human trafficking."
The International Organization for Migration has condemned Asia Pacific nations' policies on the matter, calling it a game of "maritime ping-pong" that endangered thousands of lives.
Thai officials have begun a crackdown on human traffickers who smuggle asylum seekers between countries, defying an order from the United Nations High Commissioner for Refugees (UNHCR) calling for regional coordination to address the unprecedented migration crisis.
"The first priority is to save lives. Instead of competing to avoid responsibility, it is key for States to share the responsibility to disembark these people immediately," UNHCR's Assistant High Commissioner for Protection, Volker Türk, said in a statement Wednesday.
A significant number of refugees are Bangladeshis and Rohingya Muslims from Myanmar. The U.N. estimates that 25,000 Rohingya and Bangladeshis attempted sea crossings between January and March this year – almost double the number over the same period in 2014.
© Copyright IBTimes 2023. All rights reserved.