Malaysia Kicks Off Talks For A Solution To Rohingya, Bangladeshi Migrant Crisis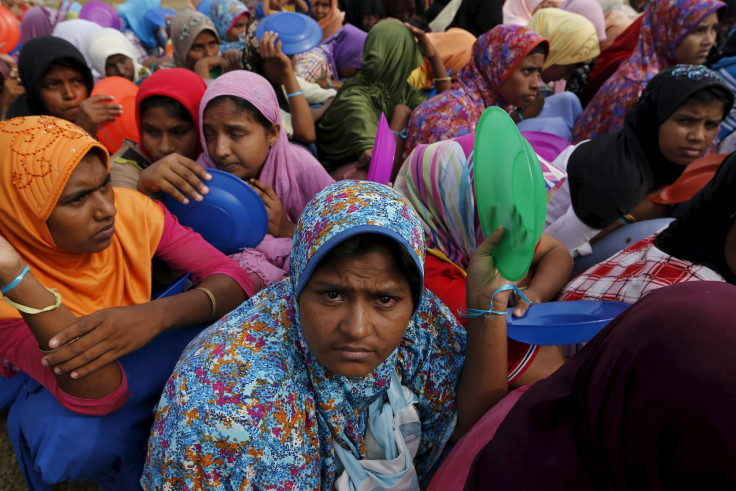 High-level talks in Malaysia kicked off Sunday to address the migrant crisis that has surged at sea in Southeast Asia. The Malaysian and Bangladeshi foreign ministers met ahead of talks planned for later in the week aimed at finding a solution to the festering problem that has left thousands from Myanmar and Bangladesh stranded at sea in recent weeks.
Malaysian Foreign Minister Datuk Seri Anifah Aman met with Abdul Hassan Mahmood Ali, the foreign minister of Bangladesh, in the state of Sabah Sunday, the Associated Press reported, a prelude to wider talks involving the Thai and Indonesian foreign ministers set for Monday and Wednesday.
Malaysia's The Star reported Anifah is hoping to work out a plan to present to the Association of Southeast Asian Nations, the 10-member regional organization Malaysia currently chairs.
Malaysia has been a major destination for the migrants, believed to be ethnic Rohingya asylum seekers fleeing persecution in Myanmar, as well as Bangladeshis escaping severe poverty at home. Malaysia is currently home to more than 45,000 ethnic Rohingya refugees and asylum seekers, according to the United Nations refugee agency. But as boatloads of migrants have turned up on Malaysian shores in recent weeks, the country says it cannot handle more.
"I have already said that we cannot afford to accept more of them, as a huge number already exist here -- and so far no countries want to settle them," Anifah said, according to Malaysia's New Straits Times.
Malaysia, Thailand and Indonesia all turned away boats of hundreds of migrants this week. Malaysian maritime officials said they would turn away foreign boats unless they were sinking. Thai Prime Minister Prayuth Chan-ocha said his country doesn't have the ability to handle a migrant surge. "I am asking if Thailand will be able to take care of them all. Where will the budget come from?" he said last week, according to the Associated Press. The International Organization for Migration estimates some 8,000 migrants are stranded at sea in the Andaman Ocean and Malacca Straits, but other estimates have gone as high as 20,000.
Myanmar has declined to participate in this week's talks, but Anifah said he hoped the country would still get involved in finding a solution. Officials there have resisted blame for the crisis despite reports many of the migrants were ethnic Rohingya escaping persecution in Myanmar.
"We will not accept the allegations by some that Myanmar is the source of the problem," said Maj. Zaw Htay, director of the office of Myanmar's presidency, the Associated Press reported. He warned Myanmar will not attend the May 29 summit in Thailand to discuss the issue because the invitation makes explicit reference to the Rohingya.
The Rohingya are denied citizenship in Myanmar under state law and have largely fled the country using maritime smuggling networks. Earlier this month Thai authorities began cracking down on human smuggling routes through Thailand, leaving the smugglers themselves to reroute boats to Malaysia and Indonesia or abandon the migrants altogether.
© Copyright IBTimes 2023. All rights reserved.