Malaysia's Minimum Wage: Boon For Workers, Obstacle For Small Businesses
ANALYSIS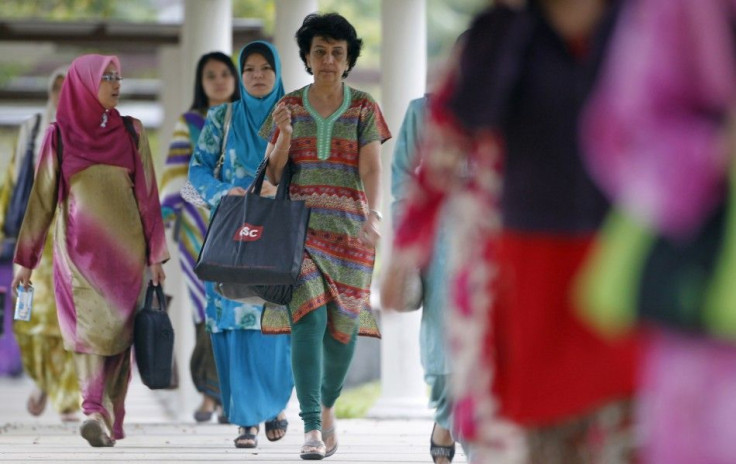 In accordance with global May Day celebrations, the Southeast Asian nation of Malaysia has introduced a minimum wage for the first time, following a decade of pressure by labor unions.
The introduction of the minimum wage is a historic moment for Malaysia, said Prime Minister Najib Bin Abdul Razak, who is seeking the support of the poor and working classes, ahead of expected elections.
The lowest-paid will now be guaranteed an income that lifts them out of poverty and helps ensure that they can meet the rising cost of living.
Under terms of the new law, workers in Malaysia's private sector will get a minimum salary of 900 ringgit ($297) per month, while laborers in the poorer, outlying states of Sabah and Sarawak on the island of Borneo will receive 800 ringgit ($260) monthly.
Businesses will have up to one year to adjust to the new payment system.
The Kuala Lumpur government estimates that about one-third (34 percent) of Malaysian workers earned less than 700 ringgit per month as recently as 2009, meaning that the new wage scheme will lift many of them out of poverty.
But some critics complain that the minimum wage will hurt small business owners and the country's competitiveness.
"Local employers have been vocal in their opposition to the introduction of a minimum wage," said Fung Siu, deputy product head for country forecasting services for the Economist Intelligence Unit (EIU).
"The Small-Medium Industry Association of Malaysia (SMIAM) claimed in March that a minimum wage of 800 ringgit ($260) per month [would lead] a large number of its members to face bankruptcy. The association stated that the worst-hit would be micro-small and medium-sized industries, which employ around 4-million workers and tend to have profit margins of only 3-5 percent."
Siu also noted that a separate organization, the Malaysian Employers' Federation, warned in March that up to 200,000 companies would find it difficult to continue operations under a uniform minimum wage.
"Employment in the commodities sector has always been vulnerable to global price developments," she said.
"The introduction of a minimum wage may have modest impact on employment levels in this particular sector when the global prices of such commodities, such as palm oil, is high, but will have a detrimental effect if global prices suffer a sharp fall."
Shamsuddin Bardan, director of the Malaysian Employers' Federation, told the BBC: The 900-ringgit level is too high for those in small towns and remote villages, adding that wages in places like Sabah and Sarawak could climb by as much as 90 percent, thereby increasing the cost of doing business.
We feel the situation will be better managed if wages are linked to productivity and skills of employees," he added.
Moreover, the opposition Democratic Action Party (DAP) has also criticized the minimum wage law, according to the Malaysian Insider newspaper.
Lim Guan Eng, the party's secretary-general, said the measure by itself will not raise standards of living nor promote economic growth unless it is accompanied by structural reforms. He called for the country's economy to become more competitive, transparent and efficient, with a concomitant reduction in corruption.
Daniel Martin, Asia economist at Capital Economics in London, said the new minimum wage policy will concurrently ease poverty in Malaysia, while squeezing the profit margins of companies, thereby pushing up inflation.
"[It is] not a free lunch," Martin cautioned. "Minimum wages can end up pricing some workers out of the market. Businesses will not hire a worker unless it is profitable to do so, and some workers will not be productive enough to justify the new wage rate."
Martin warns that unemployment (which amounted to 3.2 percent as of February, according to government statistics), could also rise as a result of the minimum wage.
"Some workers will see their wages increase, but others will find it more difficult to get a formal-sector job," he said.
Martin also points out that the new wage policy seems to be inspired by Najib's political motivations.
The next election is not scheduled until March 2013; however Najib may call a new poll as soon as June 2012. His government has already passed a series of other vote-inducing measures, including a hike in the salaries of public employees
However, Fung Siu of EIU, points out that the government has been mulling over minimum wage legislation for several years.
"The measure was given serious consideration when the government included it in its New Economic Model that was unveiled in 2010," she said.
"It can be argued that the timing of the announcement is fortuitous and adds to a whole raft of measures, such as one-off payments to low-income groups, which were outlined in a voter-friendly budget last October."
Malaysia is currently classified as an "upper middle-income" economy by the World Bank, with a mandate to reach "high income" status by 2020.
To achieve such a lofty level, the World Bank said that Malaysia will need "better skills, more competition, a leaner public sector, a better knowledge base, smarter cities and greater efforts to ensure environmental sustainability."
A new minimum wage may derail progress on those fronts.
But Malaysia is hardly the only Asian nation increasing its minimum wage. Thailand, Taiwan and Vietnam have already passed or plan to implement significant increases in this area.
"The key rationale behind the introduction of a minimum wage in these countries, as well as in Malaysia, is to tackle the issue of an increase in wage disparities and to alleviate the burden on lower income wage earners," Siu said.
"While gradual progress may have been made in these two areas in the countries that have already adopted the minimum wage, the competitiveness of exports may be adversely affected, particularly if labor-intensive businesses decide to locate to center that does not have a minimum wage policy in place."
© Copyright IBTimes 2023. All rights reserved.