Man With Bionic Leg Climbs To Top Of Chicago Skyscraper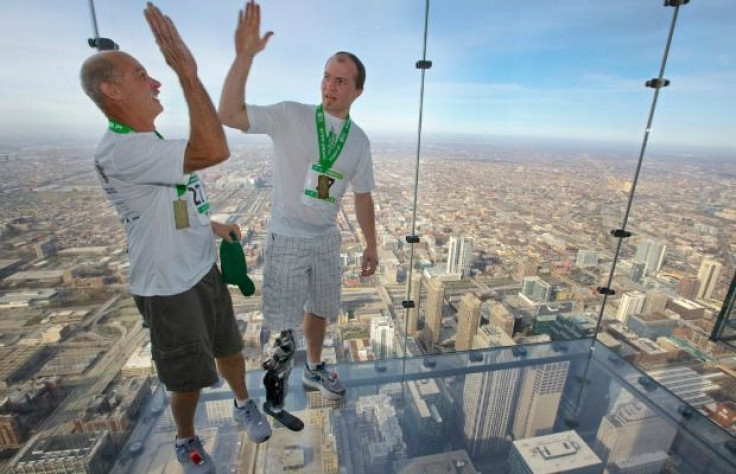 Last week, about 3,000 climbers hiked 2,100 steps each to the top of Chicago's iconic Willis Tower.
For one participant, though, nothing beyond a few steps was guaranteed, and by the time he reached the top, a record had been broken.
Zac Vawter, who lost his leg in a motorcycle accident, became the first person to reach the top of the tower—all 103 floors—using a mind-controlled prosthetic limb, according to the Associated Press.
"Everything went great," said Vawter at the event's end. "The prosthetic leg did its part, and I did my part."
"SkyRise Chicago," as the event was called, is hosted by the Rehabilitation Institute, which touts itself as the No. 1 ranked rehabilitation hospital in the U.S.
The Institute has produced bionic arms for years, but the field of mind-controlled lower limbs is much more nascent and experimental.
The device Vawter used weighed ten pounds and has two motors. When his mind thought about taking steps, the limb responded to electrical impulses from muscles in his hamstring. The motors, belts, and chains in the limb would then synchronize the movements of the device's ankle and knee.
Knowing leg amputees outnumber those who are missing hands and arms, the Institute sought to establish a foothold on creating smarter lower limb prosthesis. The stakes, of course, were much higher.
If a prosthetic arm fails, it could mean dropping an object. If a prosthetic leg fails, it might mean a traumatic fall, or worse.
"We were testing the leg under extreme conditions," said Joanne Smith, the Rehabilitation Institute's CEO. "Very few patients who will use the leg in the future will be using it for this purpose. From that perspective, its performance was beyond measure."
Vawter spent months preparing for his climb. He practiced with the bionic leg on a small escalator at his Yelm, Washington gym, while researchers back in Chicago spent countless hours tweaking the leg's engineering to ensure that it would respond to his brain's every thought.
The leg is far from a finished product. After the climb, it will remain in Chicago where the Institute will continue to refine its steering. A market release for a mind-controlled bionic leg is still years down the road, researchers say.
Vawter, though, is confident his climb is the start of something big for leg amputees.
"A lot of people say that losing a leg is like losing a loved one," he told the AP. "You go through a grieving process. You establish a new normal in your life and move on. Today was a big event. It's just neat to be a part of the research and be a part of RIC."
© Copyright IBTimes 2023. All rights reserved.
FOLLOW MORE IBT NEWS ON THE BELOW CHANNELS