Man in China Goes On Fatal Stabbing In Protest Of One-Child Policy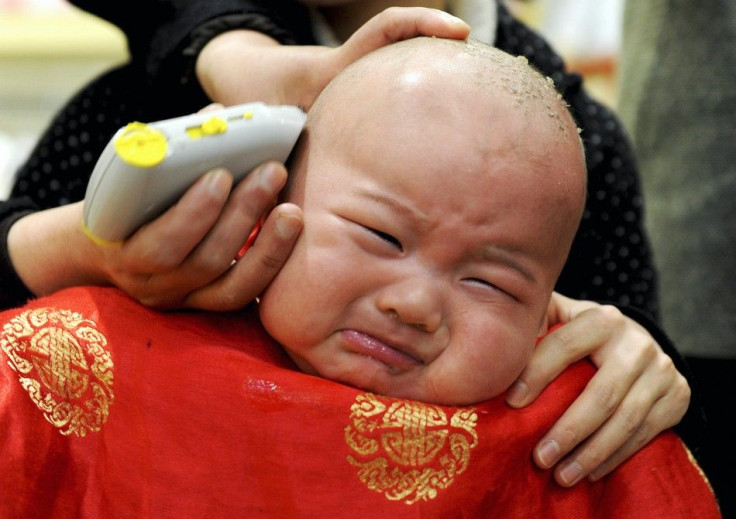 China's 30-year-old population control plan, the controversial One Child Policy, has driven a man to go on a stabbing spree in protest of the restrictions. The father of four children stabbed two government workers to death and injured four more after being told he would not be able to register his fourth child, because he did not pay the appropriate fines for breaking the nation's family planning laws.
Security footage of police trying to subdue the man, identified by his last name, He, brandishing the machete used to kill the two employees outside the family planning office in the southwestern province of Guangxi made its way around China's social media and news outlets. Though the incident is just one of a string of stabbings to occur in China this week, this attack highlights the nation's growing dissatisfaction with family planning laws.
According to state news outlet Xinhua News Agency, on Monday staff members at the Dongxing City Family Planning Bureau would not register the man's youngest child for an official resident's certificate, the all-important paper known as hukou, because he hadn't paid the mandatory compensation that is charged when the one-child policy is not followed. Xinhua's report did not confirm whether He had already made the payment, but such fines can range in cost, sometimes amounting up to 10 times a family's annual income, and vary with different family planning offices and cities. The following day, He returned to the office, breaking into the government building, leaving two dead and injuring four before being detained. An official with the Family Planning Commission said that He was certifiably mentally disabled.
Recently, a trend of violent acts to bring attention to personal grievances has plagued China. Last Saturday, a former motorcycle taxi driver who was reportedly left paralyzed after allegedly being beaten by officials detonated a homemade bomb in Beijing's Capital Airport to protest unfair compensation and denail of justice. An investigation into the claims was launched, creating a precedent that may suggest violent public acts are effective in attracting the attention of the government for personal petitions.
The societal effects that followed the one-child policy have been hotly debated by many Chinese, many of whom are hoping to eventually abolish the restriction. Social phenomena like creating male-gender preference, increased rates of abortion and infanticide and creating a new generation of single men are all effects of the One Child Policy.
© Copyright IBTimes 2023. All rights reserved.