Man In Coma After Mixed Breed Bulldog Bites Off Genitals
A man in Scotland is in a coma after a bulldog bit off his genitals, reports said Wednesday.
The incident happened Sunday in a flat on Haddington's High Street in East Lothian. When emergency services arrived at the scene, they discovered the man lying unconscious in a pool of blood. According to reports, it is believed that the 22-year-old lost his penis and both testicles in the attack.
Reports said the man was rushed to Edinburgh Royal Infirmary where he was induced into a coma. The Olde English Bulldogge, a healthier and more active mix of the English Bulldog, American Bulldog, American Pit Bull Terrier, and the Mastiff, responsible for the attack is being held in a kennel as the detectives investigate further into the incident.
"Police in East Lothian are investigating after a man suffered serious injuries, believed to have been caused by a dog, in Haddington on Sunday," a Police Scotland spokeswoman said, "Emergency services were called to a property in the High Street area at around 2.30 p.m. A 22-year-old man was taken to the Edinburgh Royal Infirmary by the Scottish Ambulance Service and later transferred to the Western General Hospital where he remains receiving treatment. Inquiries into the full circumstances are ongoing."
Other details regarding the victim were not made available. It remains unclear whether the dog belonged to the victim. Neighbors of the victim told the Sun Online they saw the man with the bulldog a few days before the incident.
"I saw him walking the dog a few days ago through the high street," a shopkeeper at Betty's of Haddington said.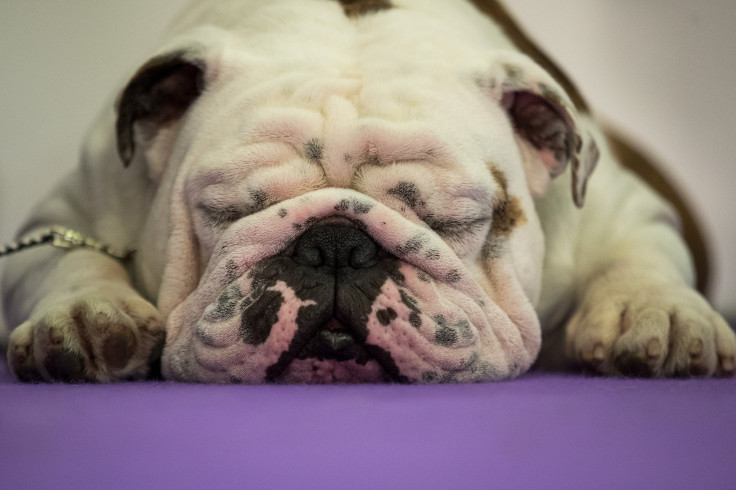 According to Daily Mail, Olde English Bulldogges were bred in the early 1970s as part of an attempt to recreate the historic Bulldog breed but with a less aggressive temperament. The original Old English Bulldog breed is extinct, with the current version being a mix of many different kinds of bulldogs.
Bulldogs were extremely popular until the 19th century, which was the peak of bull baiting, a practice of setting dogs to harass a bull which was a popular entertainment in medieval Europe. The specially trained dogs were selected and bred for courage, power, and ferocity.
Before that, bulldogs were used by butchers to immobilize animals so they could be slaughtered.
As the popularity of bull baiting pummeled after the Cruelty to Animals Act was passed in 1835 by the Parliament of the United Kingdom, the number of animals dwindled until they were finally extinct.
The Olde English Bulldogge, a modern descendant of the Old English Bulldog, was bred in the United States in an attempt to recreate the original muscular and athletic animals with large lower jaws but without their vicious tendencies or health problems, the Daily Mail reported.
© Copyright IBTimes 2022. All rights reserved.
FOLLOW MORE IBT NEWS ON THE BELOW CHANNELS