Manny Pacquiao Bares Ultimate Nemesis To Filipino NBA Prospect Kai Sotto
KEY POINTS
Manny Pacquiao offers advice for Kai Sotto
Pacquiao says Sotto's biggest enemy is himself
Sotto has decided to skip the NCAA to go pro in the NBA G-League
Manny Pacquiao shared what could be the greatest stumbling block to basketball prospect Kai Sotto and his bid to become the first homegrown Filipino player to enter the NBA. As he offered a piece of his mind, the boxing legend was straightforward, saying the young prodigy will have to overcome "himself" as he vies for a spot in the big league.
Having known that serving notice, let alone making a mark is no cakewalk in sports' biggest stages, the Pacman stressed the importance of character as Sotto braces for a daunting professional career.
"It's just all about hard work and discipline," the fighting senator told The Manila Times on Monday. "His only adversary is really himself, and he should not be lazy."
But despite serving an early and rather harsh reality check, Pacquiao hopes the grind would translate to success for the 18-year-old wunderkind, which he believes would eventually inspire more young Filipino athletes to follow his impending unprecedented feat of making it to the NBA.
"It will be an honor if he makes it to the NBA. It will be the first, and it will inspire the basketball youth," Pacquiao continued. "More will follow; Many will be inspired and pursue playing in the NBA."
Apart from the wise words, the 41-year-old, who used to be a playing coach in the Philippine Basketball Association, also delved on some technicalities in Sotto's game, more particularly the need to improve his outside shooting.
"He needs to develop his shooting skills because that's what is asked of tall players – (to) shoot (from) outside like Antetokounmpo. Antetokounmpo can shoot from the 3-point line," Pacquiao said.
As someone who has thrived under the pressure of an entire nation's hopes, Pacquiao is giving Sotto a shot in the arm.
"All he needs to is to remember not to allow himself to be discouraged, especially when times are rough — just focus and be determined," added Pacquiao.
Sotto has just recently announced his decision to skip the NCAA as he committed to play for a select team in the NBA G-League next season as part of his development program. Listed at 7'2 with an array of skills rare for a usual big man, Sotto has been able to exhibit his exploits since he started to train in the United States last year.
According to the latest data, Sotto is ranked 62nd overall and 11th among centers in ESPN's Class of 2020 rundown while being flagged as a four-star recruit.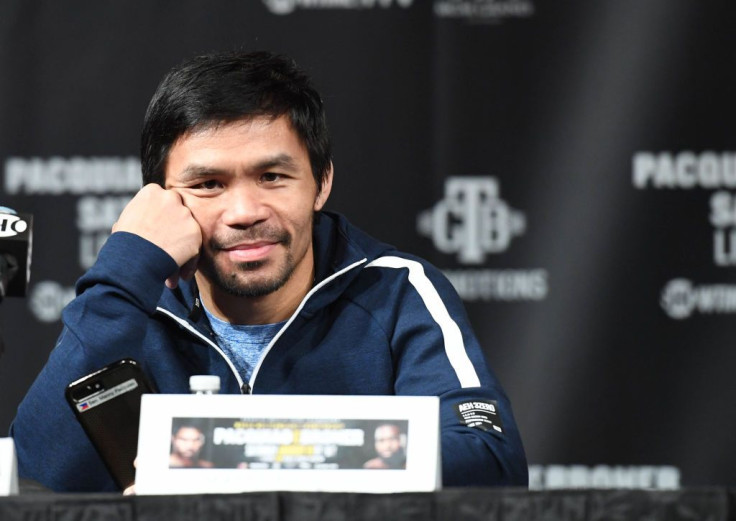 © Copyright IBTimes 2023. All rights reserved.