Manny Pacquiao May Use Son's Rap Song As Ring Entrance Theme For Next Fight
KEY POINTS
Manny Pacquiao's son said his father wants his song, "Pac-Man," to be the ring entrance theme for his next fight
Michael Pacquiao insists that his "Pac-Man" collaborator, Michael Bars, should also receive credit for its success
Freddie Roach said Pacquiao and his team have been considering Mikey Garcia as his next opponent
Manny Pacquiao's son, Michael Pacquiao, has revealed that his legendary father may be considering using his single, "Pac-Man," as a ring entrance theme.
Despite carving his name on the list of all-time boxing greats, Pacquiao previously stated that he's not encouraging any of his sons to follow his footsteps. And though his eldest, Jimuel, still chose to take up boxing, younger son Michael took his dad's advice and forged his own path.
Some fans already consider the 17-year-old a rap star in the making, but despite the amount of attention he has been receiving, Michael is well aware that he will continue to be linked to his famous dad. But the teen apparently has no problem with this.
After achieving success with his debut single "Hate," the younger Pacquiao talked about his dad possibly using his other track, "Pac-Man," as the ring entrance theme for his next fight.
"I think they're deciding to use that ['Pac-Man'] as the main song for when my dad comes into the ring," Michael said in a recent interview with MYX. "It's crazy. If that happens, we're gonna have to perform it. Me and my friend, Michael Bars."
Released July 5, "Pac-Man" is no doubt inspired by the legacy of his eight-division titleholder father. However, Michael said that the track wasn't just his work but a collaboration with his friend and co-artist on the track, Michael Bars.
The rapper hopes fans will also recognize his co-writer and give him credit for the single, saying, "People thought it was my song. It's not my song. It's Michael Bars and Michael Pacquiao."
Michael also acknowledged the overwhelming support of his parents, Manny and Jinkee, who were delighted over the success of his rap single, "Hate."
"They're really proud. They're happy," Michael said of his parents. "They congratulated me. It's really surprising how in a few days, it already reached millions."
This came after Michael went viral due to his song "Hate." His live performance of the song on radio station Wish 107.5 in the Philippines became a hit on YouTube, amassing nearly 12 million views so far.
While Pacquiao's ring entrance theme may have already been revealed, his next opponent remains unconfirmed. However, some hints have already been dropped as to who the Filipino boxer may end up facing.
According to his longtime trainer, Freddie Roach, he has been recently told that Pacquiao's team is considering Mikey Garcia as the best candidate.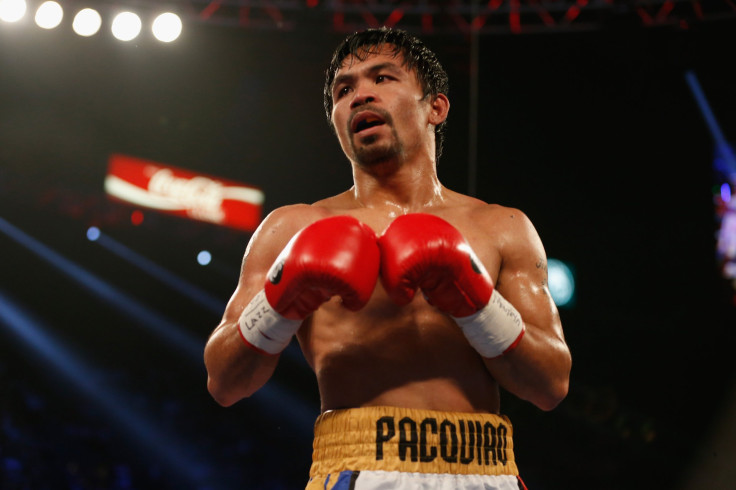 © Copyright IBTimes 2023. All rights reserved.