Manny Pacquiao Next Fight: PacMan Set To Fight Relative Unknown After Mayweather Announces Rematch With Maidana?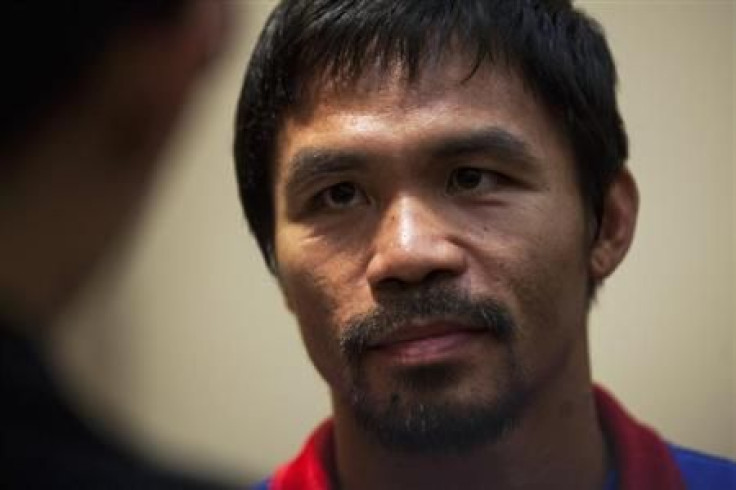 It appears that Manny Pacquiao has found his next opponent, as Pac-Man is looking to take on Chris Algieri. Top Rank promoter Bob Arum told ESPN.com that he's made an offer to Algieri's promoter.
Pacquiao vs. Algieri is not the fight that many expected to see on Nov.22 in Macau, China. When Juan Manuel Marquez defeated Mike Alvarado in May, it appeared that the two rivals would meet for the fifth time. However, Marquez has expressed no interest in another rematch with Pacquiao, and Arum says the Mexican is no longer under consideration to fight the champ. While Alvarado remains a possibility for PacMan, Algieri is his top choice.
"That's the fight I'd like to make and I think we're getting closer," Arum said Wednesday, via ESPN.com, before meeting with Algieri promoter Artie Pelullo. "Artie is here with me now and hopefully we'll be able to finalize everything."
Algieri is a relative unknown, who made a name for himself in his last fight. He defeated Ruslan Provodnikov on June 14, winning the WBO light welterweight title.
The decision to fight Algieri might be confusing to some, since much bigger names had been linked to Pacquiao. Amir Khan has mentioned getting in the ring with PacMan, and Pacquiao trainer Freddie Roach has expressed a desire to see the 35-year-old take on Danny Garcia. Even with other top boxers looking for an opponent at the end of 2014, Arum wants to see Pacquiao fight Algieri.
"I like the storyline with Algieri," Arum said. "Besides being a good fighter, he's a college graduate, a kid who wants to go to medical school to become a doctor in the future. He's articulate, good looking and we'll get a lot of backing in the promotion from the New York media because he's from New York."
Arum's comments come on the heels of Mayweather's announcement of his next fight. The undefeated boxer will take on Marcos Maidana on Sept. 13 in a rematch of their most recent bout.
It could be interesting to see what kind of pay-per-view numbers the fight does, since Algieri does not have much name recognition. Pacquiao's rematch with Timothy Bradley in April was considered a disappointment, as it produced less than 800,000 buys.
Pacquiao enters his next fight having won two consecutive unanimous decisions. Before beating Bradley, he took care of business against Brandon Rios in Macau.
© Copyright IBTimes 2023. All rights reserved.