Manny Pacquiao Open To Fight Amir Khan In Dubai Next Year
"Amir Khan wants to fight me. We will talk again," - Manny Pacquiao
Manny Pacquiao says that he is open to fighting Amir Khan in Dubai next year, just weeks after Floyd Mayweather Jr. teased an exhibition match against the Filipino pugilist.
Pacquiao was speaking at Dubai press in the City's Sports Council on Thursday in preparation for his amateur Basketball league. The 40-year-old WBA welterweight champ will play two exhibition games on Friday and Saturday for the MPBL.
A league that he founded in the Philippines highlighting teams from different cities and provinces across the islands. Pacquiao said that he is open to the possibility of fighting at the Coca-Cola Arena in Dubai.
"I'm planning for next year, trying to make it for next year... Amir Khan wants to fight me. We will talk again," quipped the Filipino fighting senator.
Manny shocked the world on July when he defeated former welterweight kingpin, Keith Thurman on the scorecards. The American boxer was previously undefeated before Pacquiao held his ground on a grueling 12-round championship match.
Pacquiao has said that he plans to fight on 2020, possibly against the winners of the Errol-Porter match on September 29. He has also hinted that he's interested in Fighting Danny and Mikey Garcia, but his main goal is to fight Floyd Mayweather Jr. before retiring.
Meanwhile, Amir Khan also came off a win on July against Australian Billy Dib in Saudi Arabia. The 32-year-old boxer has previously said that a fight between him and the Filipino superstar is a done deal, but Pacquiao's camp quickly refuted his claims.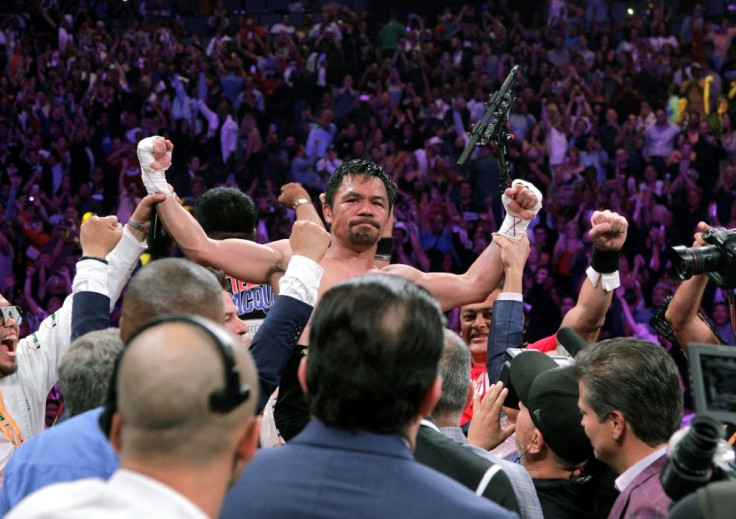 Khan did acknowledge that he was given the wrong information. The British boxer has previously said that a fight between him and Manny would sell, with "interest" reportedly growing in the Middle East, the US, and the United Kingdom.
A few days ago a Filipino journalist claimed that Pac-Mayweather 2 is already a done deal, but the rumor was immediately shot down by both parties.
On fighting Khan, 'Pacman' said that "we can discuss that, a fight between us." He added that he's committed to his next fight, but after that, they "can talk, no problem."
Pacquiao is still mum on his next opponent, saying that he does not know if the rematch between him and Floyd is in the pipeline. He appended that his camp was doing negotiations with TMT and insisted that he hasn't heard any updates.
© Copyright IBTimes 2023. All rights reserved.