Manny Pacquiao Talks Possible Outcome For Floyd Mayweather vs. Conor McGregor Fight
The anticipation among fans for the Floyd Mayweather vs. Conor McGregor fight is seemingly growing. The Aug 26 fight between juggernauts Mayweather and McGregor is a few months away and critics may have already named a victor. That included boxer Manny Pacquiao, who fought Mayweather in 2015.
Some already gave Mayweather the edge because he is a world champion boxer who has never lost a bout. McGregor is a decorated UFC fighter, but has never stepped foot in a professional boxing ring. Pacquiao is among those predictors who said Mayweather can walk away with the win against the UFC champion.
"I can say Floyd Mayweather will win because the fight is in boxing, not an MMA fight," Pacquiao told reporters in a June 19 interview from Brisbane as he readied himself for a fight with Austrian boxer Jeff Horn. "I don't think McGregor is compatible with boxing."
READ: Floyd Mayweather vs. Conor McGregor: Does Boxer Think UFC Fighter Can Actually Knock Him Out?
"I'm hoping it's not going to be a boring fight," Pacquiao told reporters of the Mayweather-McGregor battle. "I mean, both fighters are moving around. So we'll see."
Pacquiao is familiar with the 40-year-old's style. Mayweather never lost a fight (49-0) and may owe that to his defensive maneuvers. Mayweather is known to be evasive which has worked in his favor. He has never been knocked out during a fight. However, Pacquiao isn't the only boxer who gave Mayweather the edge against McGregor.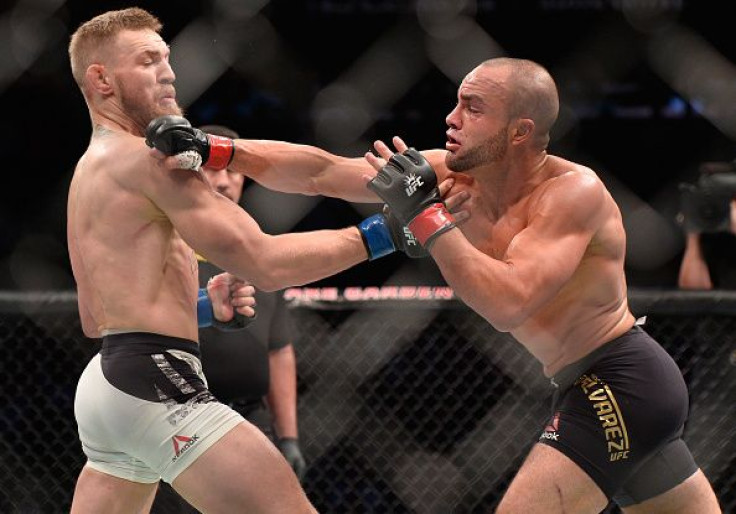 Jack Catterall, a super-lightweight boxer who worked out with Mayweather before his bout with Pacquiao, claimed McGregor is under skilled and will lose to Mayweather. He said, "Floyd [was] to win it 100 percent."
"I wouldn't say McGregor has earned his shot at Floyd. He has achieved a lot in the UFC but he is a celebrity more than anything, and it is his popularity that has given him his chance," Catterall told Press Association of Sports June 19.
READ: Conor McGregor vs. Floyd Mayweather: Betting Odds Shift As UFC Star Draws Support In Las Vegas
He added, "McGregor has a lot of confidence because of what he's achieved in the UFC but he's not getting in there with a domestic-level fighter, he's getting in there with one of the greatest fighters of all-time. He can study and practice and drill as much as he wants, but when he steps into the ring it will be totally different. Mayweather's cute little moves will make all the difference and it will be an easy fight for (Mayweather)."
Naturally, McGregor hasn't ruled himself out and is aware of his ignorance in the boxing ring. McGregor appointed Pacquiao's ex-sparring buddy Dashon Johnson to train with him. He is a former UFC fighter.
Johnson, took to Instagram Sunday to officially announce his alliance with McGregor. "It's official, I'm Team McGregor", he said in a caption under a photo that he posted. The fight is set to take place in Las Vegas at the T-Mobile Arena.
© Copyright IBTimes 2023. All rights reserved.