Manti Te'o Net Worth: Catfished Athlete Still A Millionaire, Earned $10M From NFL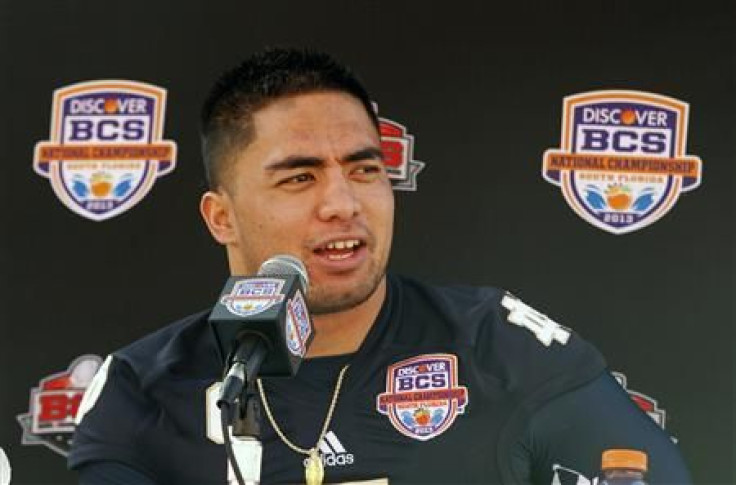 KEY POINTS
Manti Te'o played for several NFL teams, including the San Diego Chargers, the New Orleans Saints and the Chicago Bears
He left Notre Dame in 2012 as one of the most decorated defensive players college football had ever seen
A new documentary focuses on Te'o and how it unraveled that his supposed girlfriend, whom he thought died of leukemia, didn't truly exist
Former All-American football standout Manti Te'o made headlines this week after opening up about being a victim of a catfishing hoax a decade ago in a newly released Netflix documentary. Here's a look at his net worth and career.
The 31-year-old athlete, who was born in Laie, Hawaii, played college football at Notre Dame. He left the school as one of the most decorated defensive players college football had ever seen.
He was selected 38th overall by the San Diego Chargers in the second round of the 2013 NFL Draft. He signed a four-year, $5-million contract with the team, which included over $3 million in guaranteed money and a signing bonus of about $2 million, according to Celebrity Net Worth.
However, Te'o injured his foot during the preseason opener, causing him to miss the next several games. He eventually made his NFL debut in a week 4 matchup against the Dallas Cowboys and finished the 2013 season with 61 tackles and four passes defended in 13 games started.
In September 2014, Te'o suffered a fractured foot, further hampering his career. He eventually recovered by the middle of the season and started to record his first interceptions and sacks.
Over the next few years, he continued to record about 60 tackles per season, and in 2016, he was named one of the Chargers' team captains. But he suffered another injury – a torn Achilles tendon.
Te'o was then traded to the New Orleans Saints in 2017 and signed a two-year contract with the team. He eventually led the franchise in tackles for loss during the 2017 season. He was not re-signed when his contract expired.
After Te'o did not play for most of the 2019 season, New Orleans re-signed him in December 2019.
In 2020, Te'o joined the Chicago Bears' practice squad. He was added to the active roster of the team in 2021 and played against the New Orleans Saints. That practice squad contract with Chicago expired in January 2021, and he's currently a free agent.
Between 2013 and 2020, he earned $10.42 million in salary in the NFL, according to Spotrac.
Today, Te'o's net worth is estimated to be around $3.5 million, according to Celebrity Net Worth.
Before he joined the NFL, Te'o made headlines when it was discovered that he had been the target of a catfishing prank.
In 2012, Te'o announced that his girlfriend, "Lennay Kekua," had died after battling leukemia during his senior football season — only to learn she never existed.
The hoax came to light after Deadspin reported in January 2013 that it could find no record of Kekua existing — and that Ronaiah "Naya" Tuiasosopo was the suspected mastermind behind the fake girlfriend.
Te'o later admitted to ESPN that he had never met Kekua in person and that her picture was always blocked whenever they spoke over video chat. After being told of Kekua's death, Te'o said he felt uncomfortable telling the media he had never met her.
Ten years later, Te'o detailed his story in the new documentary "Untold: The Girlfriend Who Didn't Exist," which hit Netflix Tuesday.
Te'o has since moved on from the scandal. He married fitness enthusiast Jovi Nicole in 2020, and they welcomed a daughter last summer.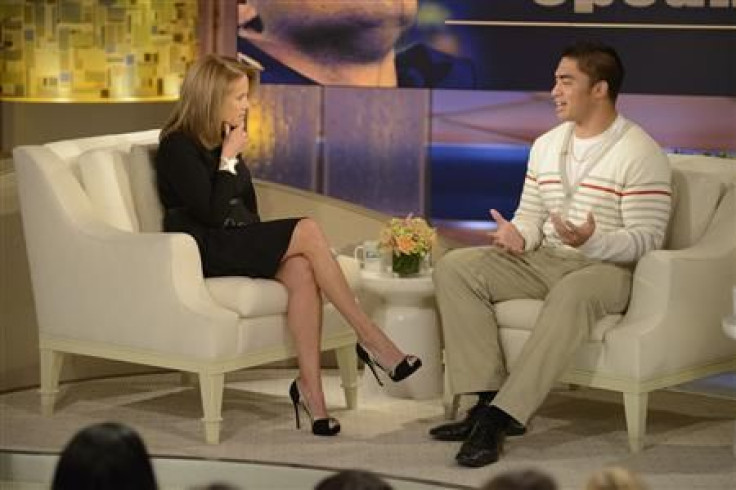 © Copyright IBTimes 2023. All rights reserved.