Manu Ginobili Retirement: LeBron James, Stephen Curry, Others React, Pay Tribute
Manu Ginobili announced he would be retiring Monday, putting an end to a career that saw him spend 16 seasons with the San Antonio Spurs.
There was speculation in the postseason as to whether the 41-year-old would potentially enter a 17th NBA season. His last game was on April 24 when the Spurs were eliminated in the first round of the playoffs by the Golden State Warriors.
After the defeat, Ginobili said he would make a decision after taking some time off.
"I've been contemplating retirement forever so nothing changed, I just don't know," Ginobili told reporters backstage at the time. "I'll let a month, two months go by and then see how I feel. I'm not the type of guy who makes decisions on the fly and when you're upset, hurt or whatever. I'll just let it sink in and see how it feels."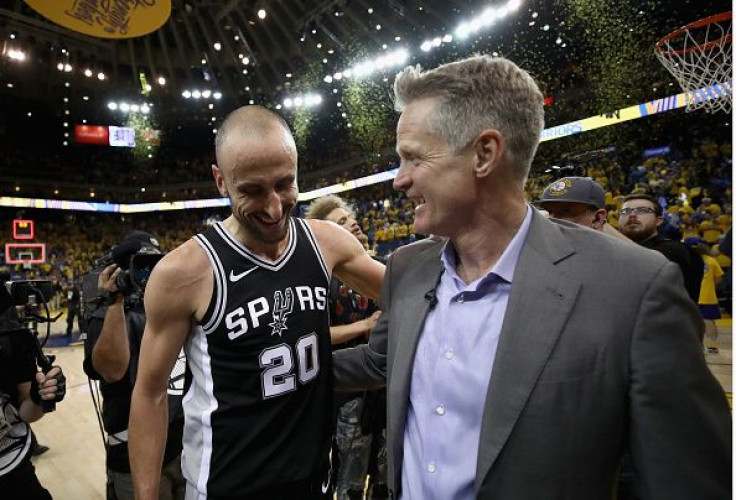 According to ESPN, the Argentinian was working out regularly at the Spurs' practice facility as he pondered retirement. His brother Sepo recently said a decision would be made soon as well.
But with his decision to retire now, Ginobili called time on a career that saw him win four championships (2003, 2005, 2007, 2014) with San Antonio, cementing himself as a future Hall of Famer.
The No. 57 draft pick in 1999 was also a two-time All-Star, named NBA Sixth Man of the Year in 2008, and is just one of two players to have won an NBA championship, Euro League title, and Olympic gold medal.
The Spurs were reportedly hopeful that Ginobili would return for the upcoming 2018/19 season but proceeded to thank him with a video. Ginobili averaged 8.9 points, 2.2 rebounds and 2.5 assists per game during the regular season.
"An NBA champion and All-Star, Manu Ginobili is also a pioneer who helped globalize the NBA," NBA commissioner Adam Silver said, according to ESPN. "He is one of basketball's greatest ambassadors who believes in the power of sports to change lives."
"And for 16 years, we were fortunate to watch a legend compete at the highest level. Thank you, Manu, for a career that inspired millions of people around the world," he added.
Ginobili was greatly respected by his peers, fellow players and coaches as well. Warriors head coach Steve Kerr was one who embraced him after the Spurs were eliminated, urging him to keep playing.
He along with others such as LeBron James, Stephen Curry and more all paid tribute to the Spurs veteran.
© Copyright IBTimes 2023. All rights reserved.