Manufacturing Did Not Contract In Spain For The First Time Since April 2011; Euro Zone Unemployment At Record High; Inflation Ticks Up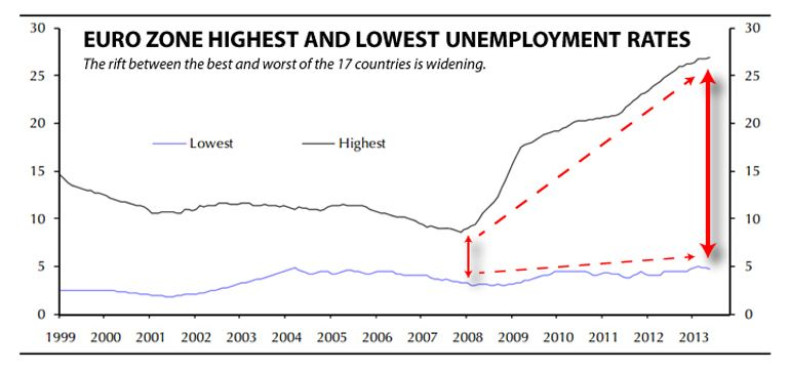 Is the Spanish flu coming to an end?
Maybe, maybe not, but a rise in exports helped Spain avert manufacturing contraction in June for the first time in 26 months, even while euro-zone unemployment hit a record high 12.1 percent in May, according to Eurostat figures released Monday.
Meanwhile, Markit's purchasing managers' index (PMI) -- a key monthly measurement of a country's manufacturing expansion or contraction -- for Spain increased to 50 in June, up from 48.1 in May, also marking the first time since April 2011 that Spain's industry did not contract.
"June provided further signs that the decline in the Spanish manufacturing sector is coming to an end," Markit said in its report released Monday. "New orders increased, driven by a marked rise in new business from abroad. Meanwhile, output, employment and purchasing activity all decreased at weaker rates."
Readings below 50 indicate fewer orders for manufactured goods. A reading of 50 means the sector was flat for the month, which in the case of Spain is good news considering the market PMI was well below 30 during the peak of the euro zone economic crisis of 2008-09.
Neighboring France is still in manufacturing-contraction mode, with a June Markit PMI rating of 48.4, up from 46.4 in May, a 16-month high but still in negative territory.
Inflation also ticked up in the euro zone last month, to 1.6 percent from 1.4 percent, which was in line with economists' expectations. Excluding energy, inflation is at 1.2 percent. But low inflation is being fueled by low demand for goods from cautious European consumers, according to Jonathan Loynes of Capital Economics.
The record-high euro-zone unemployment rate was widely expected.
"Nonetheless, the big story is still the continued divergence in unemployment rates between different countries, ranging from 4.7 percent in Austria to 26.9 percent in Spain," said Loynes in a Monday research note. "That widening rift continued in June. This rather undermines recent suggestions that economic imbalances within the currency union are narrowing."