March Madness Betting Odds 2016: Where Kansas, Kentucky, Duke, More Stand Before NCAA Basketball Tournament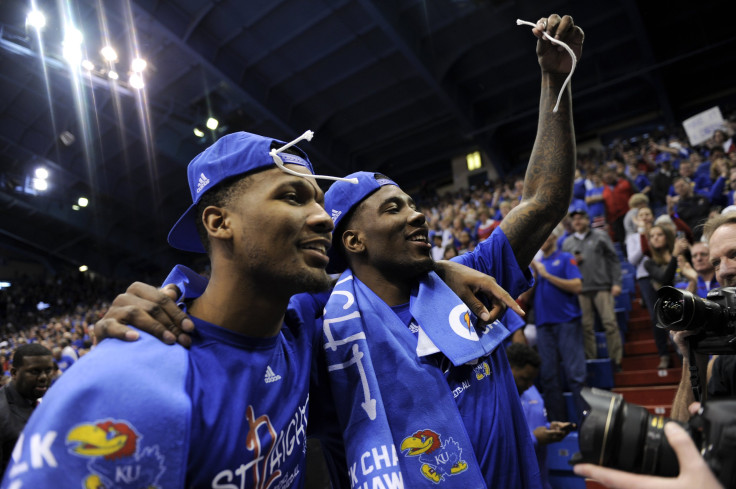 Selection Sunday is less than two weeks away, and two teams have separated themselves from the rest of the field. No.1 Kansas and No.2 Michigan State are tied for having the best odds to win the 2016 NCAA Tournament.
The Jayhawks have the best record of any team in the AP Top 25 Poll, and they took the top spot in the rankings after former No.1 Villanova lost last week. Michigan State has just one more loss than Kansas, and they are a perennial national title contender.
If there was any doubt whether or not Kansas was the best team in college basketball, it might have been erased on Monday night. Shortly after Bill Self's team received 63 of a possible 65 votes in the polls, the Jayhawks visited No.23 Texas and decimated the Longhorns on their home floor. The 30-point win was the 10th in a row for Kansas, during a streak that's seen the Jayhawks defeat five ranked teams.
The Spartans received two first-place votes, and they've been as good as any team in the country, aside from a three-game losing streak in the middle of January. Michigan State beat Kansas in their second game of the year, and they have marquee victories over Louisville, Maryland and Indiana. Tom Izzo's team is a fixture in March Madness, making the tournament every year since 1998 with Final Four appearances in three of the last seven seasons.
North Carolina and Kentucky are the only other teams with better than 10/1 championship odds. The Tar Heels have fallen since their preseason No.1 ranking, losing four of their last nine games. North Carolina, however, bounced back on Monday with a five-point win over Syracuse. Kentucky ranked No.2 in the preseason poll, and they've failed to live up to expectations with eight losses on the year. Seven of the Wildcats' losses have come against unranked opponents.
Kentucky is still considered to be among the most talented teams in college basketball, and John Calipari has never failed to take them deep into the NCAA Tournament when they've made the field. In five appearances with the Wildcats, Calipari has always reached the Elite Eight. Freshman guard Jamal Murray leads a talented group of underclassmen, who have wins over Duke and Louisville this season.
Villanova and Virginia are ranked third and fourth in the AP Top 25, respectively, but six teams have been given better odds than both of them. Villanova only has four losses, like Kansas, though they are just 3-4 against ranked teams, including a loss to Virginia. The Cavaliers have lost two of their last four games, though they have impressive wins against North Carolina, Miami, West Virginia and Louisville.
The defending champion Duke Blue Devils are ranked No.17 with two losses in their last three games. Eight teams have better title odds than Mike Krzyzewski's squad. Duke is led by sophomore guard Grayson Allen, and superstar freshman Brandon Ingram.
Odds To Win 2016 NCAA Men's Tournament [Bovada]
Michigan State +600, Kansas +600, North Carolina +800, Kentucky +900, Xavier +1200, Oklahoma +1200, Villanova +1400, Virginia +1400, Iowa +2000, Maryland +2000, Duke +2000, Wisconsin +2500, Wichita State +3300, Oregon +3300, Iowa State +3300, Arizona +3300, West Virginia +3300, Miami (Florida) +3300, California +3300, Texas +4000, Purdue +4000, Indiana +4000, UCONN +5000
© Copyright IBTimes 2023. All rights reserved.