March Madness Cinderella Runs Turn Upsets Into Enhanced Recruiting, Admissions, Business Ventures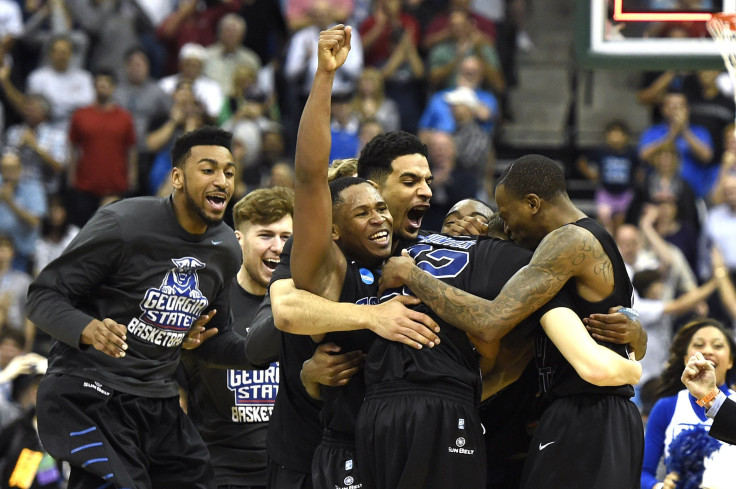 When Georgia State guard R.J. Hunter sank his game-winning 3-pointer Thursday to lead the Panthers past third-seeded Baylor in the NCAA tournament's round of 64, he did more than give his team a shot at a Sweet 16 berth. He may have set his entire college on a path toward national relevance, both on the court and in the classroom.
Georgia State's victory received an obligatory highlight package on "SportsCenter," but the effects a "Cinderella" run can have on a small university's growth are far less fleeting. Aside from an on-court boost in terms of budget increases and recruiting, surprise "March Madness" success can provide discernible benefits to the overall quality and quantity of school applicants, as well as business opportunities in the form of licensing deals and corporate sponsorships. Conversely, tournament victories can also bring the burden of impractical fan expectations and stiffer competition from opposing teams.
Florida Gulf Coast University experienced these effects firsthand in 2013, when the unheralded Eagles shocked the college basketball world with back-to-back tournament victories. "It was transformational for our entire school, not just our basketball program, not just for our athletic department," Ken Kavanagh, director of athletics at FGCU, said. "We literally had people who were coming here to campus to try to get a T-shirt before they all got off the rack."
When it comes to collegiate athletic programs, profit isn't a given. Of the 68 schools that participated in last year's NCAA men's basketball tournament, 23 saw their basketball programs either lose money or just breakeven for the 2013-14 school year, according to ESPN. In broader terms, there are only seven athletic programs in the country that don't rely in some form on state subsidies to operate, according to USA Today. Most draw funding from the university's central budget, with teams at smaller schools often reliant on shoestring budgets and barebones facilities.
Universities continue to invest in these fledgling athletic programs because conventional wisdom holds that success on the field of play will result in exposure on a national level, which leads to an increase in the quality and quantity of applicants and business opportunities, the money from which can then be funneled back into school projects. A notable 1987 study by sports economists Robert McCormick and Maurice Tinsley found athletic success led to an increase in applicant SAT scores.
Further studies have drawn mixed conclusions. It's often difficult to determine exactly how long the positive effects of a Cinderella run will last. Statistics suggest the benefits last for at least a year or two after the tournament run. Long-term success depends on how adept schools are at turning their athletic success into financial profit, as well as how well they balance new revenue against the increased expenses required to pursue growth.
'It Opened Doors In All Our Sports'
Florida Gulf Coast university saw a 39 percent jump in applications in 2014, one year after the Eagles' Sweet 16 run, as well as a staggering 68 percent boost to out-of-state applications. Moreover, the school's incoming class of freshmen that year averaged an additional two points on their ACT scores as compared to in 2013, Kavanagh said.
George Mason University in Fairfax County, Virginia, received similar benefits after the 2006 NCAA tournament, when the little-known Patriots defeated college basketball powerhouses Michigan State, North Carolina and Connecticut to become the first 11-seed ever to make the Final Four. The then-unprecedented run produced a 54 percent spike in out-of-state applications, according to a study performed by George Mason professor Dr. Robert E. Baker.
"Out-of-state students are required to pay much higher tuition rates," said Scott Bukstein, assistant director of the DeVos Sports Business Management program at the University of Central Florida in Orlando. "That's huge when we're talking about revenue coming in."
The national exposure that drives general admissions candidates to submit applications also makes it easier for a Cinderella basketball program to recruit new student-athletes. All of a sudden, a three- or four-star recruit who wouldn't give a small-time head coach the time of day before the tournament can't wait to pick up the phone.
In the year before its Final Four run, George Mason did not draw a commitment from a single highly touted prospect. But the Patriots landed a pair of two-star players and a three-star player in 2007, according to USA Today. The school didn't change the way it approached recruitment, Baker's study found.
Davidson College in North Carolina had similar recruiting success in 2008, the year future NBA star Stephen Curry put forth one of the greatest individual efforts in NCAA tournament history. The Wildcats, which hadn't advanced past the tournament's first round since 1969, made it all the way to the Elite Eight with victories over Gonzaga, Georgetown and Wisconsin.
"It opened doors in all our sports," Jim Murphy, director of athletics at Davidson, said "Rather than having to describe Davidson as a liberal arts college in North Carolina, the recruits and coaching [candidates], they knew where Davidson was."
Some of the financial benefits to a March Madness run are more obvious. Schools see increased sales for both tickets and merchandise. Florida Gulf Coast's high-flying style of play led basketball pundits to dub the team "Dunk City," a slogan that sold more than a few T-shirts. Davidson still sells plenty of No. 30 jerseys in honor of Curry, Murphy said. And George Mason saw its season ticket sales nearly double, from 1,262 for the 2005-06 season to more than 2,500 the next year. Increased season ticket sales attract corporate sponsors and licensing deals, and that's when the real money starts to flow.
After a successful postseason run, schools often partner up with firms like IMG College, a sports marketing company that works with nearly 200 universities to maximize their profits. The firm uses the school's newfound national exposure to build and maintain new business relationships.
IMG College worked with Virginia Commonwealth University in 2011, when the 11th-seeded Rams replicated George Mason's feat and entered the Final Four. VCU began the 2010-11 fiscal year with a total of 126 licensees. By the end of 2011, that number had jumped to 151, which more than doubled the school's licensing royalties. In the second fiscal quarter after the 2011 Final Four, the university produced its highest royalty total in institution history.
The financial windfall isn't limited to corporate endeavors. Universities often parlay their athletic success into alumni donation drives -- well-to-do boosters see their alma mater on the national stage and want to do their part to keep it there. George Mason saw its online registry of alumni increase by 52 percent, according to Baker's study.
As the money pours in, university administrators funnel at least part of it back into the athletic department. This allows for major upgrades to a small program's budget and infrastructure, which would have been impossible had the basketball team not entered the national consciousness. It's what convinced the powers-that-be at Florida Gulf Coast to create a director of corporate sales position and to fund a new scoreboard for the basketball team's arena, Kavanagh said. It also helped VCU land a brand-new practice facility, which is slated to open this year.
"With high visibility, not only does the business side grow, but people feel better about their school and they reach in their pocket," said Tim Pernetti, president at IMG College and former director of athletics at Rutgers University in New Jersey. "Giving numbers go up, donations go up and they're able to get critical projects like that done to try to sustain the success of their program."
Davidson's sustained success is a prime example of what can happen when a small school makes a commitment to an athletics program. The school has returned to the NCAA tournament three times since 2008, and a run of two conference championships in three years from 2012 to 2014 allowed the Wildcats to jump from the Southern Conference to the more prestigious Atlantic-10 Conference. Bigger conferences tend to have more lucrative television contracts and more national exposure, both of which benefit a school's overall brand.
"That's the great thing about the NCAA basketball championship. It's a monthlong branding effort for all of us that really is not equalized in any other athletic event," Murphy said.
The Burdens Of Success
At the same time, the legions of basketball viewers who adopt a previously unknown team like Florida Gulf Coast after a Cinderella run become less tolerant of failure. Fans suddenly expect annual NCAA tournament appearances, but the reality is that some of these programs experienced success that went far beyond their realistic capabilities.
Two years after their Sweet 16 berth, Florida Gulf Coast's athletic department remains outside the top 200 schools in the nation in terms of resources, according to Kavanagh. That didn't stop the school's newfound fans from expressing disappointment when the Eagles failed to make the NCAA tournament in each of the past two seasons.
"Now, when you start the year, everybody's hoping to go to the NCAA tournament," Kavanagh said. "But I think there's expectations now that far outweigh the resources that we currently have. … We very much outkicked our coverage when we went to the Sweet 16."
Moreover, tournament success removes the "underdog" label that allows small schools to surprise powerhouse programs. Rather than see the program as an easy victory, opposing schools circle a matchup against a former Cinderella on their calendars. A win over these schools becomes a point of pride. "We have a big ol' bullseye on our back," Kavanagh said.
In Davidson's case, the increased attention the basketball program now receives and the Wildcats' sustained success on the court has made it difficult to schedule games against larger schools, particularly those that have inexperienced rosters. Bigger schools will often pay smaller schools large sums of money to travel to their arenas in order to pad their records with easy victories, known as "guarantee games." But a university that plays in a power conference is less inclined to pay a school like Davidson if it thinks there's a chance it may lose.
"Our goal is really to become a good loss for schools with strong programs, where someone can look at losing a game to Davidson and say, 'Well, that's not so bad, because Davidson has a really good program,'" Murphy said. "We're making some headway there now, but what we're seeing as we look forward in the scheduling is that there are a lot of schools that say, 'Man, Davidson may be too good to play.'"
It can also be difficult to retain members of the coaching staff who led the school to the NCAA tournament in the first place. Major NCAA basketball programs often swoop in to offer big contracts to up-and-coming coaches at mid-majors. Former Florida Gulf Coast coach Andy Enfield was the breakout star of the 2013 NCAA Tournament. Less than a month later, Enfield was gone, hired to coach at the University of Southern California on a six-year contract worth more than $1 million per year, according to ESPN. Enfield had earned just $157,000 at FGCU.
Administrators at mid-majors face a difficult choice -- pay huge sums to retain their coaches' services after a successful run, or allow them to leave and lose the driving force behind the program. Coaching salaries are the top cause of bloated athletic department budgets, accounting for 32 percent of the average department's expenses, according to the Knight Commission, an advocacy group for college sports reform. The more money a small school has tied up in these salaries, the less it can funnel back into other university programs.
"Typically in college athletics, we see an emphasis on generating revenue versus managing expenses," Bukstein said. "Sometimes schools end up spending too much money based on the expectation or the hope that a successful athletics program is going to lead to increased revenue or an increase in enrollment. That's not always the case."
But once small universities have had a taste of national exposure and its benefits, it's hard to justify not making a run at sustained athletic success. There's simply too much money and exposure on the table. And the freewheeling nature of the NCAA Tournament allows for nearly any participant to catch lightning in a bottle, regardless of their ranking.
"The NCAA Tournament is the one event in college sports that really is about opportunity across the board," Pernetti said, "No matter who your school is, how big your brand is or where you're from."
FOR FREE to continue reading
✔️ Unlock the full content of International Business Times UK for free
offer available for a limited time only
✔️ Easily manage your Newsletters subscriptions and save your favourite articles
✔️ No payment method required
Already have an account?
Log in
© Copyright IBTimes 2023. All rights reserved.