Marijuana Banking: The Fourth Corner Credit Union Fights In Court To Become The World's First Cannabis Bank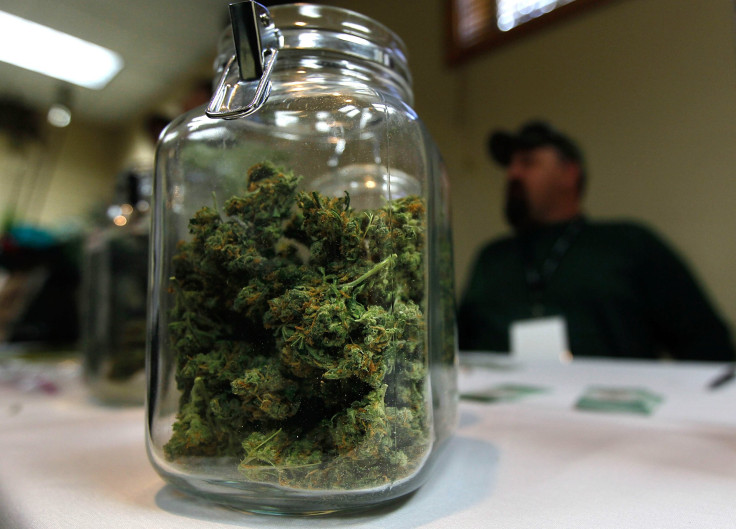 DENVER — At a U.S. District Court session Monday, Judge R. Brooke Jackson heard arguments related to the U.S. Controlled Substances Act, drug money and narcoterrorism. But he wasn't presiding over a drug-trafficking or distribution case. He was listening to oral arguments in a banking lawsuit.
While banking usually isn't the most exciting of legal topics — at one point during the hearing, Mark Mason, attorney for the plaintiffs, admitted to the judge that banking is "boring as hell" — this particular lawsuit is a high-stakes, carefully watched affair. "This transcript is going to be read around the world and your decision will have an effect around the United States in a major, major way," Mason said during his argument.
That's because the people behind the suit are the founders of the Fourth Corner Credit Union, which aims to become the world's first bank focused on the marijuana industry, and they're suing the U.S. Federal Reserve Bank for the right to do so. But there's more at stake than simply the fate of a new credit union: The results of the case could have far-reaching consequences for a nascent cannabis industry that experts of all political stripes agree is dangerously lacking in proper financial services.
"This isn't something that is going away," said Mason during his impassioned oral arguments for the credit union, whose founders include several members of his immediate family. "This is something that is going to be a part of the next generation and the future, and we need to get it right. And if we are not going to have banking ... and have millions and millions of dollars on the streets where bad things can happen, that is not responsible."
Cash-Based Industry
Banking has been one of the greatest obstacles facing the cannabis movement since Colorado became the first place in the world to launch a recreational marijuana industry in 2014. That's because no other wrinkle in the piecemeal U.S. legalization efforts better illustrates the clash between state and federal marijuana laws. Because marijuana is still a Schedule I narcotic, banks risk being prosecuting for aiding and abetting drug traffickers, or for money laundering, if they work with medical or recreational marijuana businesses, even in jurisdictions where those businesses are legal.
Last November, the U.S. Treasury Department's Financial Crimes Enforcement Network (FinCEN) provided some guidance on the matter, noting that financial institutions that provide services to marijuana enterprises should carefully track the businesses and file suspicious activity reports about their conduct. While some financial institutions have used the guidance to create innovative banking solutions for cannabis enterprises, the memo was far from a ringing national legal endorsement for marijuana banking, said Christian Sederberg, a partner at the Denver marijuana law firm Vicente Sederberg.
"We have moved from a situation where this can't be done, to a situation where we have received guidance from the federal government, but with each progression, we still have technical and fundamental difficulties," Sederberg said. His clients face monthly banking fees ranging from $500 to $5,000 per account to cover the extra diligence required by the FinCEN guidance, he added. All risk having their accounts shut down without notice.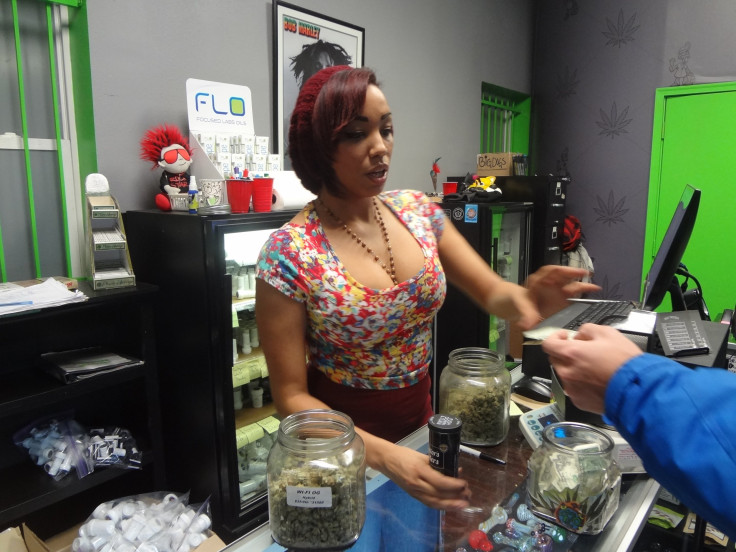 And those are the marijuana businesses lucky enough to have banking services at all. According to FinCEN, roughly 100 banks currently serve the marijuana industry and just a dozen of them are in Colorado, whose marijuana market is estimated to generate nearly a $1 billion this year. According to a recent Marijuana Business Daily poll, 60 percent of marijuana companies nationwide don't have bank accounts. That means the country's largest-growing industry is largely a cash-only affair.
In addition, few dispensaries and marijuana shops accept credit cards. Business owners pay employees in supermarket money orders and trade stories of opening -- and then losing -- dozens of bank accounts. Armed security companies ferry marijuana cash from one location to another amid scattered reports of armed robberies, and in Aspen, Colorado, sheriff's deputies double as security escorts for those in the industry making large financial deliveries.
"The federal government has taken a non-enforcement position for businesses that are operating under state and local law, but they have to look at federal enforcement priorities like making sure money laundering and crime is not involved," Sederberg said. "The irony of the interpretation is that they are requiring a largely all-cash industry, which entirely undermines the intent of the law."
A marijuana-focused credit union could offer a solution, realized 25-year-old Alex Mason, who moved to Colorado in 2012 to pursue wilderness emergency medical services training. While it would be bound by the same rules as other banks, by incorporating cannabis into its mission statement the credit union would assure its clients that it would weather the bureaucratic difficulties that have led other financial institutions to cut ties with the burgeoning industry. "Regular banks can do this, but it's a matter of the risks versus reward," said Mark Goldfogel, Fourth Corner's executive vice president. "Our member base effectively agrees to the risk and reward scheme necessary to follow the guidelines as they're written today and as they continue to change."
The state of Colorado liked the idea, granting Fourth Corner a state charter last year. "Both the governor and I thought it was a pretty good short-term solution to getting cash off the streets and bringing some measure of financial accountability to the marijuana industry," noted Andrew Freedman, Colorado's marijuana policy coordinator. "Secondly, as we talked to banks, a lot of them feel like they are getting yellow blinking lights when it comes to marijuana. The existence of a marijuana credit union would give more faith to other banks and credit unions that they are able to bank marijuana."
Alex's father Mark, a South Carolina attorney, and several other family members signed on to help. And with major players like Denver City Council member Chris Nevitt and the families behind the famous "Charlotte's Web" medical marijuana strain tapped as board members, Fourth Corner appeared destined for success. It even leased a prominent location across the street from the Denver Justice Center, one that boasts a sign out front reading: "The Fourth Corner Credit Union -- Coming Soon."
But that sign has been hanging there for months. And there's no telling when, if ever, the bank will open.
Legal 'Nothingburger'
In November 2014, Fourth Corner applied to the Federal Reserve Bank in Kansas City, Missouri, for a master account, which would allow it to deposit and transfer funds to other banks. Usually, Goldfogel said, the Federal Reserve grants the account in a matter of days, and he can't find any instances of a state-sanctioned bank being deprived of one. But after an eight-month delay, the Federal Reserve denied the master account after the National Credit Union Administration (NCUA) informed Fourth Corner it could not provide it with deposit insurance.
In response, the Fourth Corner sued both the Federal Reserve and the NCUA. While deposit insurance through the NCUA likely isn't essential for the credit union -- Goldfogel said the enterprise can obtain private deposit insurance -- Fourth Corner can't operate without access to a master account. And while some new financial institutions do so by creating a relationship with an existing bank that already has such an account, Goldfogel said Fourth Corner didn't want do that: "We didn't want anybody else's liability on the hook," he said. "We wanted to support this industry with our own member contributions."
According to Mark Mason's arguments in federal court Monday, Fourth Corner doesn't need to partner with another bank. Until now, he notes, obtaining a master account has simply been a formality for state-certified banks. To deny one to Fourth Corner because of its association with marijuana means the Federal Reserve is refusing rights to a social movement that has already been afforded to major banks around the country currently providing financial services to cannabis businesses, he argued. The State of Colorado banks with Wells Fargo, for example, meaning the nearly $100 million the state has collected in marijuana tax revenue this year is already in the Federal Reserve-backed system.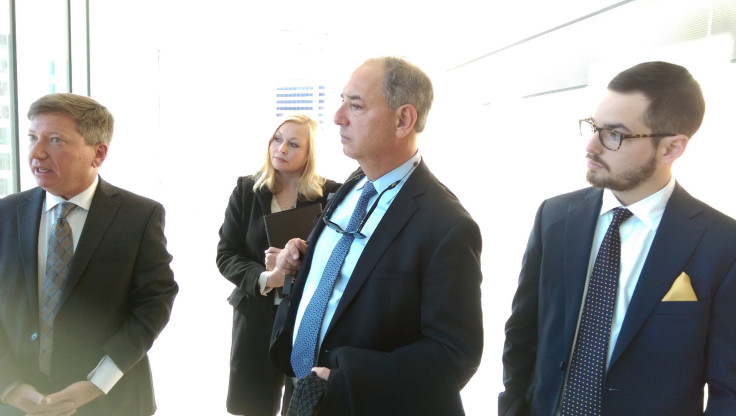 "The Federal Reserve is not the enforcer of drug laws," Mason said, noting that his case was bolstered by a Justice Department brief earlier this month urging the U.S. Supreme Court to dismiss a lawsuit filed by Nebraska and Oklahoma to invalidate Colorado's marijuana program. "This is the United States telling the Supreme Court that they aren't even sure [Colorado's marijuana regulations] are in positive conflict with the federal Controlled Substances Act," he said.
Judge Jackson empathized with Mason, saying, "I think there's a certain unfairness to allowing these big banks to serve this business and keeping you out." He also noted he "wasn't too impressed" with the Federal Reserve's other stated reasons for denying Fourth Corner a master account, such as its lack of deposit insurance and absence of a relationship with an established bank. But he suggested that his decision in the case -- which he hinted might be issued fairly quickly -- could hinge on the fact that marijuana is still prohibited in the eyes of federal law. (Jackson, clearly enjoying the novelty of the legal arguments at play, twice wrote off the FinCEN guidance's ability to solve the problem by calling it a "nothingburger.")
"The issue for me to decide is, do I force the Federal Reserve Bank to give you a master account?" the judge told Mason. "The problem I have with that is I would be forcing the Federal Reserve Bank to give a master account to an institution that has stated it will participate in an illegal activity."
Following that line of reasoning, Jackson wondered if the Federal Reserve would also have to issue master accounts to banks serving methamphetamine dealers or doing trade with North Korea, if a state deemed these activities legal.
Jackson could end up siding with Scott Barker, attorney for the Federal Reserve, who argued, "The solution to this clash between what Mr. Mason has indicated is a social movement and hidebound federal law that doesn't even recognize medical marijuana is found in the halls of Congress."
Bipartisan efforts are already afoot to pass such a federal bill. In the meantime, Jackson suggested he might grant Fourth Corner its master account, but with the requirement that the company doesn't serve any marijuana businesses until Congress or the federal government provides further clarifying guidance on the matter.
Depending on how such a decision is interpreted, that sort of stipulation could have major ramifications for banks currently doing business with marijuana companies. But even Mason conceded such a development could have a silver lining: "Perhaps there would then be a focus on the serious issue with the [FinCEN] guidance and it would put the federal government in a position to give better guidance," he said.
And then, once the banking conundrum is solved, "At least then we are there," Mason added. "We are at the table to serve the industry."
© Copyright IBTimes 2023. All rights reserved.
FOLLOW MORE IBT NEWS ON THE BELOW CHANNELS