Marijuana Stocks Got High This Week, But Regulatory Authorities Warn of Scams
Marijuana-related stocks are getting high amid news that more states are legalizing its sale and use.
New York Gov. Andrew Cuomo announced plans Wednesday for New York to allow medical marijuana, Illinois passed a new law, Florida has a petition to legalize medical marijuana, and marijuana-related companies are popping up in Washington and Colorado, the two states that have legalized recreational marijuana. Medical marijuana is legal in 20 states and Washington, D.C.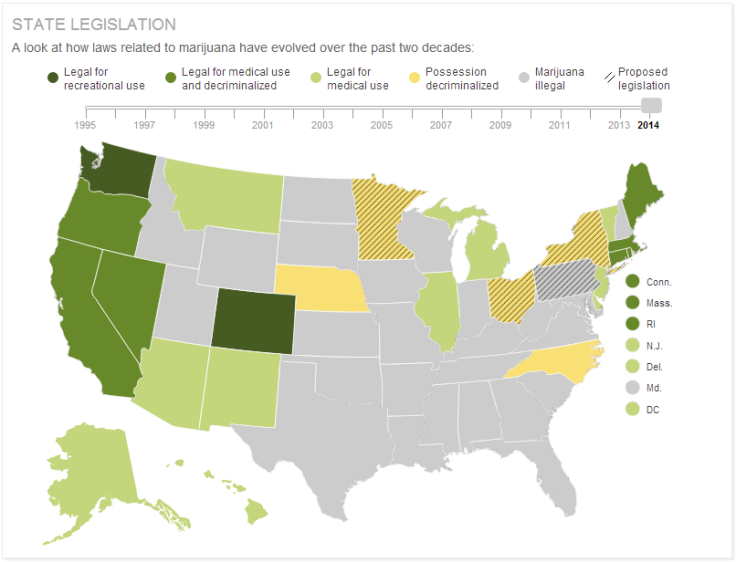 The demand for marijuana has fed a demand for marijuana stocks, with the largest percentage gains in penny stocks traded over the counter (OTC).
Take GreenGro Technologies Inc. (OTCMKTS:GRNH), which provides equipment and services to marijuana growers. Its shares nearly tripled Tuesday to reach 52 cents and the next day soared to 80 cents, a 1,714 percent gain for the penny stock. On Thursday, however, the share price fell from 85 cents to 38 cents.
Tranzbyte Corp. (OTCMKTS:ERBB), which sells pot in Colorado, gained 310 percent in 11 months, crossing above a penny this week but ending Thursday at less than a penny.
Mesquite, Nev.-based company Cannabis Sativa (XOTC:CBDS) announced plans last week to buy a pending patent on a strain of medical marijuana called CTA for $1 million from Kush Inc., a company that Cannabis Sativa would like to acquire. Cannabis Sativa president David Tobias said in a statement that he expects Kush's CTA to be the first patented strain of medical marijuana. Kush is promising a line of cannabis-based skin and beauty products on its website, and boasts a board of directors that includes former New Mexico Gov. Gary Johnson, former Sen. Mike Gravel of Alaska and Ed Rosenthal, author of "Ed Rosenthal's Marijuana Grower's Handbook."
Shares of Cannabis Sativa nearly tripled on Tuesday, reaching $11.25; sank to $8 on Wednesday; then climbed to $9.50 at the close of trading on Thursday.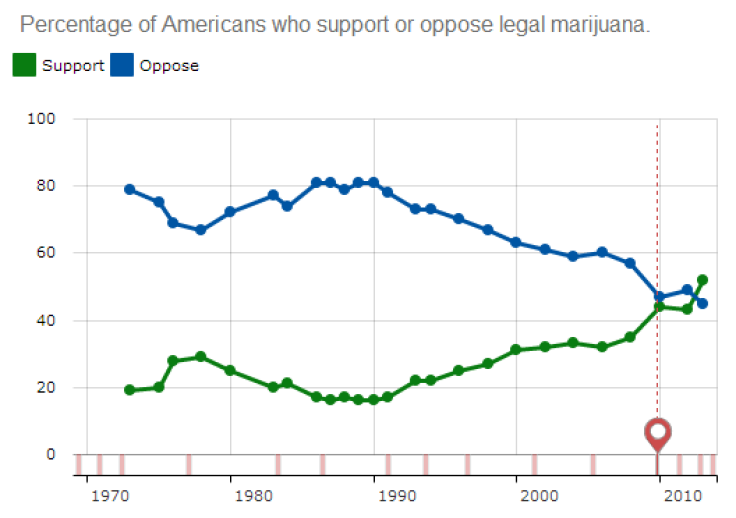 Medbox (OTC:MDBX) produces vending machines to dispense medical and recreational marijuana. After the company announced Tuesday it would add electronic and biometric locks to its machines, its shares rose from $33.95 apiece to $73.90. But by end of closing Thursday, they were back to $43.25.
Hemp Inc. (OTCMKTS:HEMP) gained 205 percent in three days this week, topping at 8 cents before ending just under 6 cents Thursday. The Las Vegas company owns several marijuana-related companies, including a media arm called Marijuana Inc. TV.
But Hemp's chief executive officer, Bruce Perlowin, has admitted to the press that he thought a regulatory warning—citing an unnamed CEO who spent nine years in prison for running a large drug-smuggling operation—referred to him. Perlowin said it's absurd to criticize him for his experience with marijuana.
The Financial Industry Regulatory Authority issued an alert in August warning investors of marijuana stock scams in which scammers lure investors with false or misleading information to "pump" up the stock, then "dump" the stock quickly once it peaks, leaving investors with the worthless stock.
"Investors should always find out whether the promoter is licensed using FINRA BrokerCheck, and check out the investment using the Securities and Exchange Commission's EDGAR database of company filings," said Gerri Walsh, FINRA's senior vp for investor education.
FINRA advises investors to research key officials in the company and major stockholders, be skeptical of companies that issue a barrage of press releases, know where the stock trades, and be wary of stocks quoted on an OTC platform, read a company's SEC filings, be wary of frequent changes to a company's name or focus, and check out the person selling the stock.
© Copyright IBTimes 2023. All rights reserved.