Maritime Piracy Declines Acrosss The World, Except Off The Coast Of West Africa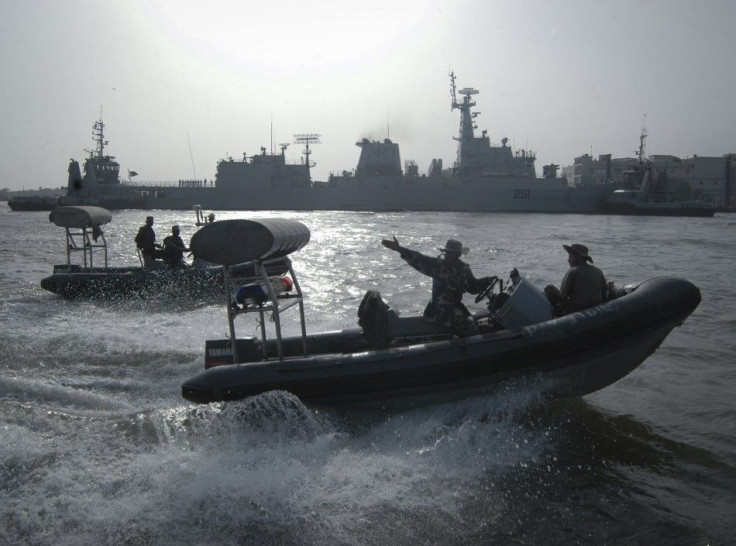 A Turkish cargo ship with a crew of 24 Indians was reportedly hijacked by pirates off the coast of Gabon in West Africa. However, since July 12 there has been no contact with the vessel, or reports of what ransom, if any, were demanded by the culprits. "The Turkish owners told us they have contacted the government in Gabon and are doing their best to free the crew," Captain Vaivab Dalvi, an official at the company that hired the ship's crew, told the BBC.
The incident in waters off West Africa occurred coincidentally as the International Maritime Bureau (IMB), a department of the Paris-based International Chamber of Commerce that seeks to fight crime related to maritime trade and transportation, issued a report saying that global piracy has actually been declining in recent years. According to its "Piracy Report" published last Monday there were 138 incidents of piracy in the world during the first six months of this year, compared to 177 for the corresponding time period last year, representing a decline of about 22 percent.
Moreover, according to IMB data, seven hijackings were recorded so far this year, down from 20 during the first half of 2012. The number of seafarers taken hostage by pirates has been cut substantially from 334 in the first half of 2012 to 127 so far this year (a 62 percent plunge). Since 2006, when global attention focused primarily on the violent piracy and armed robberies committed by Somali maritime criminals off the coast of East Africa, that region has also witnessed a dramatic reduction in such incidents, driving the global total downward.
The drop in acts of piracy off Somalia is attributed largely to efficient measures taken by international navies as well as preventive actions by merchant vessels. "The navies continue to play a vital role in ensuring this threat is kept under control," said Pottengal Mukundan, director of IMB, in a statement. "Denying the pirates any success is essential to a sustained solution to this crime."
All these data suggest that maritime security is improving -- except in one pocket of the world, the Gulf of Guinea off the western coast of the African continent, which has seen a rise in armed robberies and piracy. So far this year, the Gulf of Guinea has served as the stage for what IMB describes as 31 "incidents" on the high seas, including four hijackings, a "surge in kidnappings" and a "wider range of ship types being targeted." This development, IMB asserted, is a new cause for concern in a region that is already known for attacks against vessels in the oil industry and thefts of gas and oil from tankers.
"There has been a worrying trend in the kidnapping of crew from vessels well outside the territorial limits of coastal states in the Gulf of Guinea," said Mukundan. "In April 2013, nine crew members were kidnapped from two container vessels, one of which was 130 nautical miles from the coast." Mukundan added that pirates have used "mother-ships," some of which were smaller off-shore supply vessels hijacked by pirates, to conduct these attacks. "There continues to be significant underreporting of attacks," he noted, suggesting that the actual scale of maritime crimes in the region may be much higher. "This prevents meaningful response by the authorities and endangers other vessels sailing into the area unaware of the precise nature of the threat."
On the whole, weapons-bearing pirates in the Gulf of Guinea seized a total of 56 sailors as hostages and were responsible for all of the 30 crew kidnappings reported so far this year. In these incidents, one person died and at least five were wounded. Of those 31 aforementioned "incidents" recorded in the Gulf of Guinea, more than two-thirds (22) plus 28 crew kidnappings took place off the coast of Nigeria. The Gulf of Guinea is surrounded by eight oil states, including Nigeria, Angola, Gabon, Ghana and Equatorial Guinea, resulting in pirates attacking tankers to siphon off the oil from other vessels.
Seeking ways to combat this rising tide of piracy, a Central and West African summit convened last month in Yaoundé, Cameroon. During two days of sessions, 12 heads of state and officials discussed measures to end criminality in the Gulf of Guinea region. "Maritime piracy has already caused reduced visits to the ports in the zone," said Joseph Vincent Ntuda Ebode, a professor in political studies at Yaoundé University, who spoke at an international symposium held after the Central and West African summit.
According to Ebode, the countries of this region are losing more than $2 billion annually through piracy and are also threatened by political instability as governments are unable to control the seaborne rebels. In addition, although piracy appears to have declined off the coast of East Africa, IMB cautioned that as of June 30, Somali pirates were detaining 57 crewmembers for ransom on four vessels. "They were also holding 11 kidnapped crew members on land in unknown conditions and locations," the group said. Four of these crews have been held since April 2010 and seven since September 2010."
© Copyright IBTimes 2023. All rights reserved.
FOLLOW MORE IBT NEWS ON THE BELOW CHANNELS