Martin Salia, Ebola Patient In Nebraska, Has Died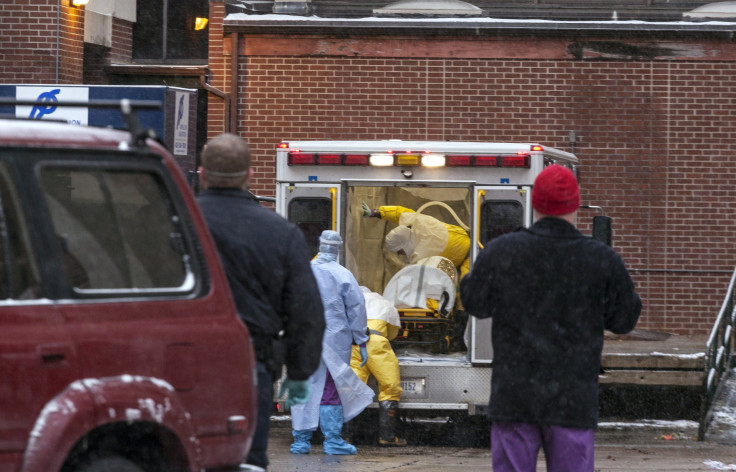 Martin Salia, a surgeon working in Sierra Leone, has died from Ebola in Nebraska, becoming the second U.S. casualty, Reuters reported. Salia was a permanent resident of the U.S. and contracted the virus while working at a Methodist hospital in Sierra Leone's capital city, Freetown. The surgeon's wife, a resident of Maryland, requested her husband be transferred to a hospital in America for treatment after he developed a fever last week.
Salia, 44, arrived in Omaha, Nebraska, at 3:45 p.m. EST on Saturday. He was unable to walk into the Nebraska Medical Center on his own and was said to be in "extremely critical" condition. Salia had been splitting his time between New Carrolton, Maryland, and Sierra Leone and was not specifically treating Ebola patients while in the country. Salia was experiencing advanced symptoms of Ebola, including kidney and respiratory failure, Nebraska Medical Center said on Twitter.
"Dr. Salia was extremely critical when he arrived here, and unfortunately, despite our best efforts, we weren't able to save him," Dr. Phil Smith, medical director of the biocontainment unit at the Nebraska Medical Center, said in a statement. Smith said Salia was treated with the experimental drug ZMapp as well as plasma from an Ebola survivor. Zmapp was used in the treatment of Teresa Romero, the Spanish nurse who contracted the virus, and Kent Brantly, the first person treated for Ebola in the U.S.
Nebraska Medical Center previously treated Dr. Rick Sacra and NBC freelance cameraman Ashoka Mukpo. The hospital is one of four in the U.S. that is equipped to handle an infectious disease outbreak and features a 10-bed isolated unit.
Thomas Eric Duncan was the first Ebola casualty in the U.S. The Liberian national had traveled to Dallas to marry his girlfriend and began showing symptoms within days after arriving. He was treated at Texas Health Presbyterian Hospital and died Oct. 8.
© Copyright IBTimes 2023. All rights reserved.