Second US Ebola Patient, Treated With ZMapp Experimental Drug, Leaves For Atlanta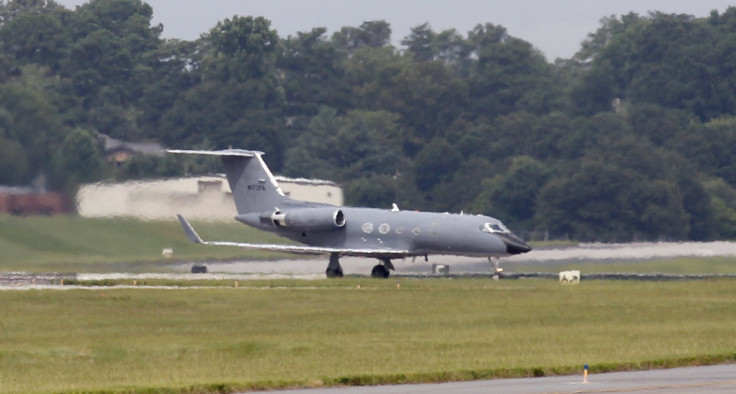 Dr. Kent Brantly, who is being treated with an experimental drug for the Ebola virus at Atlanta's Emory University Hospital, will soon be joined by the second American to have contracted the virus.
The drug ZMapp, made by Mapp Biopharmaceutical Inc., of San Diego, has been identified as a potential treatment for the disease but had never been tested on a human until now. The second patient, Nancy Writebol, who left for Atlanta from Monrovia, Liberia, on Tuesday, has started recovering from the disease after receiving two doses of the drug before leaving for the U.S., according to the Associated Press, or AP. ZMapp was developed by a long-running research program supported by the U.S. government and its military.
Writebol, who left Monrovia for Atlanta at 9:12 p.m. EDT on Monday, is expected to arrive in the U.S. on Tuesday on the same plane that brought Brantly to Emory. Brantly, who got the virus while he was working in Liberia, reportedly began recovering Sunday with the help of ZMapp, which boosts the patient's immune system to fight off the effect of the Ebola virus. However, doctors working on beating back the virus are only cautiously optimistic about the effectiveness of the new drug.
"Ebola is a tricky virus and one day you can be up and the next day down. One day is not indicative of the outcome," Bruce Johnson, president of SIM USA, the North Carolina-based group that Writebol worked for in Africa, said, according to AP, adding: "We're grateful this medicine was available."
ZMapp is made out of nicotine leaves and was tested on mice having the virus, of which 80 percent survived, according to AP.
Although there is no authorized drug to cure the Ebola virus, several experimental drugs are being created, including ones being developed by Tekmira Pharmaceuticals Corporation (NASDAQ:TKMR) of British Columbia. Over the past five days, the company's stock has shot up by more than 30 percent.
The U.S. Food and Drug Administration has to permit the experimental use of a drug on humans, but an FDA spokesperson would neither confirm nor deny that the permission had been granted for ZMapp, AP reported.
The current outbreak of Ebola is the worst till date and the World Health Organization, on Monday, reportedly estimated that the virus has so far infected 1,600 people and claimed 887 lives in Guinea, Sierra Leone, Liberia and Nigeria.
© Copyright IBTimes 2023. All rights reserved.
FOLLOW MORE IBT NEWS ON THE BELOW CHANNELS