May US New Auto Sales Forecast: SAAR Forecast At 16.1M Vehicles With Strongest Growth From Nissan, Chrysler And Toyota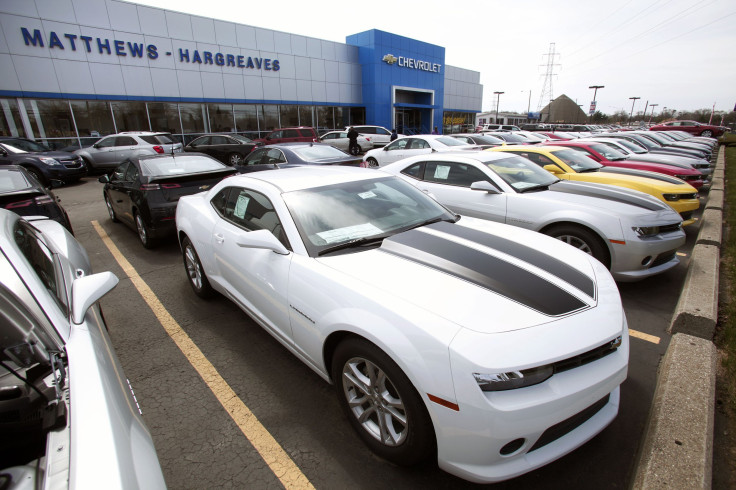 Americans likely bought as many new cars in May as they did at this time seven years ago before the global recession ravaged the industry and cut its contribution to the national economy by more than half.
And while the country has been on a yearslong buying spree, fuelled in large part by cheap credit, the number of U.S. workers used to make the vehicles has not rebounded at the same pace.
"May is typically one of the strongest months of the year, so we expect some strong numbers this month with a prerecession sales-rate," Jessica Caldwell, senior autos analyst at the auto information provider Edmunds.com, said.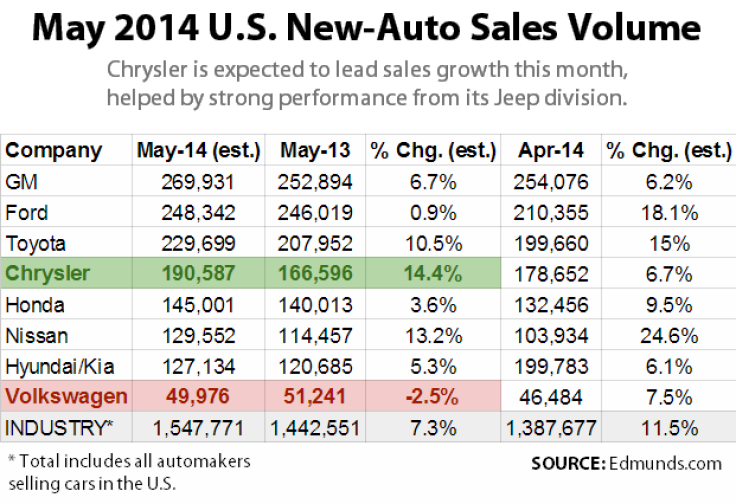 Analysts polled by Thomson Reuters expect automakers' reports on Tuesday to show a seasonally adjusted annualized sales (SAAR) rate of 16.1 million new cars, SUVs and pickup trucks for the month. The SAAR is a running monthly estimate of a full year of sales; the metric is often seen as a measure of the auto market's health.
The strong car-buying pace shows consumers more financially confident than they've been in years, but the sales rebound does not correspond with a rebound in jobs, or in how much auto manufacturing contributes to the national economy.
The U.S. Bureau of Economic Analysis says the manufacture of motor vehicles, trailers and auto parts contributed $122.41 billion, or 0.8 percent, to the U.S. gross domestic product (GDP). That's down from 1 percent in 2007 and 1.3 percent a decade before that, indicating that auto manufacturing is less of a contributor to the U.S. economy despite sales returning to prerecession levels.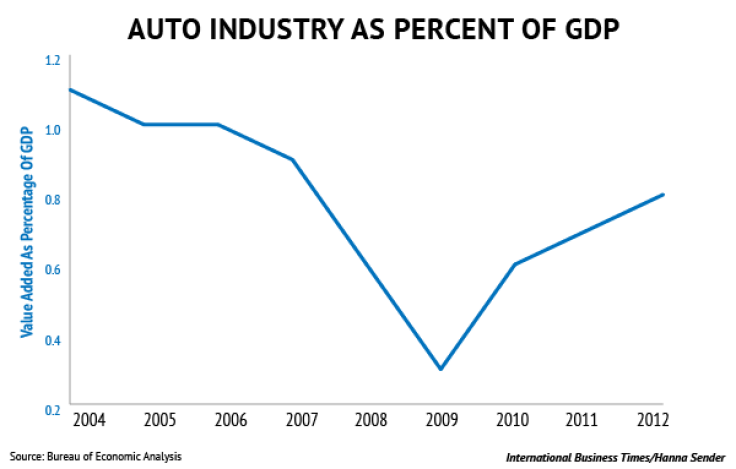 The manufacture of these cars is also requiring fewer American workers. The Bureau of Labor Statistics shows that making cars, SUVs, pickup trucks, trailers and auto parts employed about 850,000 Americans in April, down from just over a million in April 2007, or a 16 percent decline.
Industry forecasts estimate Americans bought about 1.54 million vehicles in May, a 6.9 percent increase from the 1.44 million vehicles bought in May of last year, helped in part by the extra selling day compared with last year and because the month's sales will include five full weekends of car shopping.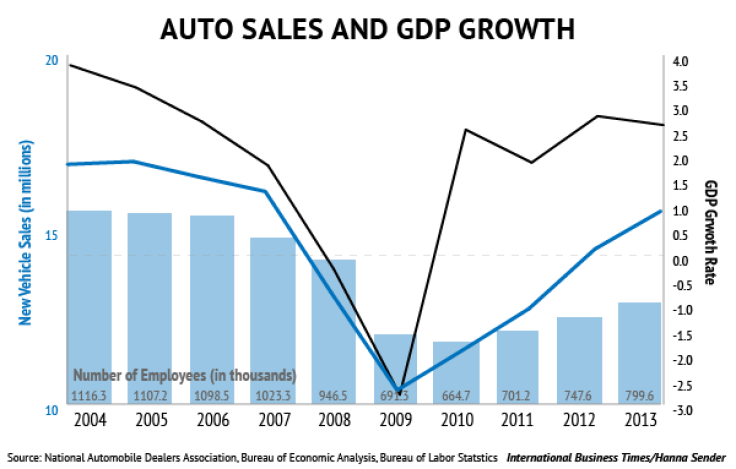 "Among major manufacturers, Chrysler had the most impressive performance with nearly 15 percent year-over-year increase in sales, largely due to the robust growth of its Jeep brand," Jesse Toprak, chief auto analyst for Cars.com, said in a forecast note.
Last month, Chrysler's Jeep Wrangler and Ram Pickup both broke all-ti sales records. Meantime, the Jeep brand has been on a tear thanks to the popularity of the new Cherokee that went on sale in the U.S. in November. Chrysler Group LLC, which is merging operations with its owner, Fiat SpA (BIT:F), could see an initial public offering later this year, and is expected by auto pricing and data provider Cars.com to be the only "Big 8" automaker to have grown market share this month.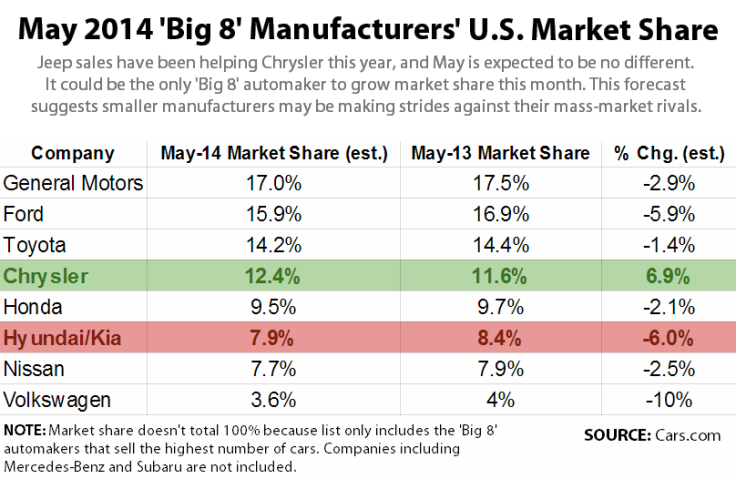 The top automakers have about 90 percent of the U.S. car market, so if this forecast turns out to be accurate – that only Chrysler grew market share – then it indicates that competitors with lower volume sales, such as German luxury carmaker Mercedes-Benz (FRA:DAI) and Japan's Subaru Co. Ltd. (TYO:7207), may be taking ground away from the high-volume auto sellers like Honda and Volkswagen AG (FRA:VOW), which owns Audi.
Joining Chrysler with expected double-digit sales growth is Nissan Motor Co. Ltd. (TYO:7201), which is benefitting from a strong shift in consumer preference away from midsize sedans toward crossover, small-engine SUVs.
The second-generation Nissan Rogue hit the U.S. market in November, which is helping Japan's third-largest carmaker boost U.S. sales.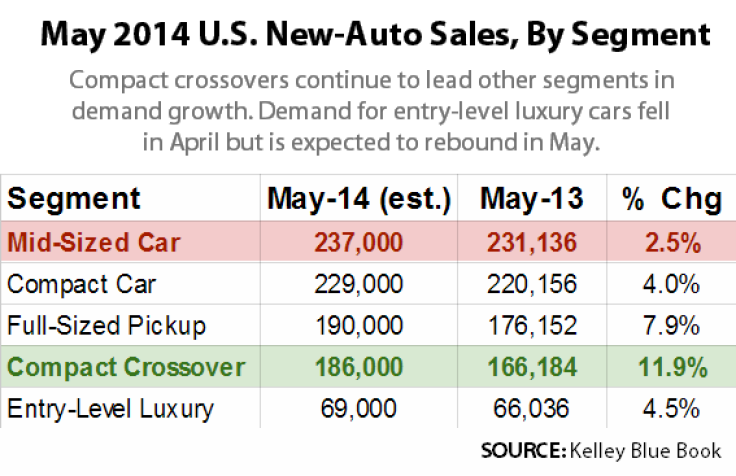 Toyota Motor Corp. (TYO:7203), the world's top automaker by sales, is also seeing strong sales growth this month, while General Motors Co. (NYSE:GM) is expected to come in below the industry average at 6.7 percent as it grapples with the highest number of recalls in a given year in the company's history.
"Toyota has a few things going for it," Caldwell said. "The Corolla is all new. Also, Camry incentives are really high."
All of the "Big 8" companies increased incentive spending in May compared with April as they try to make up ground lost to unusually cold winter weather that struck much of the country in the first quarter. Nissan and Toyota are expected to have boosted incentives, such as rebate offers, by upper-single digits, according to TrueCar.com. Three companies — Nissan, Chrysler and GM — have reeled back incentive spending compared with May 2013.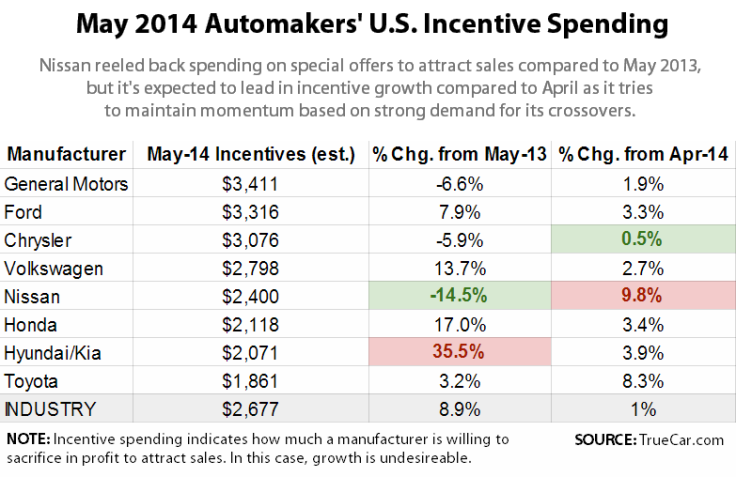 © Copyright IBTimes 2023. All rights reserved.