McConnell And Grimes Tangle Over Kentucky Senate Seat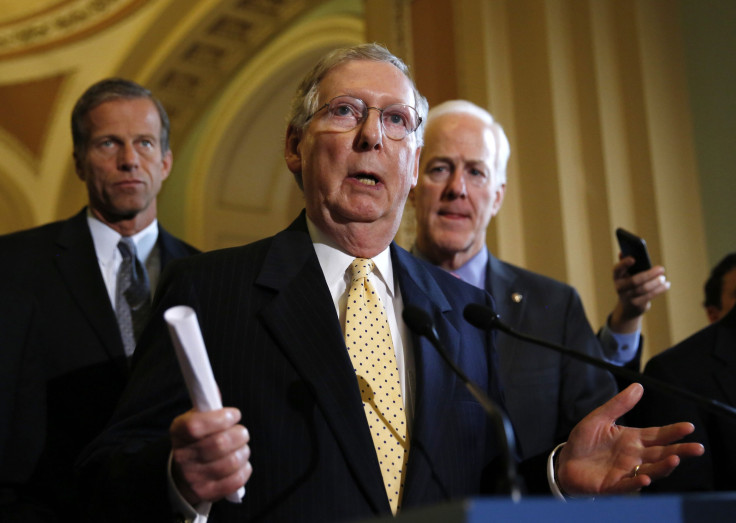 U.S. Sen. Mitch McConnell and Democratic Secretary of State Alison Lundergan Grimes appeared Monday evening in a televised debate to tangle over their issues leading up to their race for the Senate.
A recent poll showed Grimes with a 2 percent lead despite her famously refusing to disclose if she had voted for Barack Obama or not. McConnell said he had voted for McCain in 2008 and Romney in 2012, and was early to remind viewers that if he were re-elected to the Senate, he'd be setting the nation's agenda next year as the Senate majority leader.
Here's Grimes from tonight's debate, again declining to reveal the way she voted:
As much as Grimes wanted to tie McConnell to the Koch brothers — wealthy donors to conservative causes — McConnell wanted to attach her to Obama, as the President is very unpopular in Kentucky. "I'm not going to compromise a constitutional right provided here in Kentucky in order to curry favor on one or other side — or for members of the media," she said, regarding her continued silence on how she voted.
Grimes said that McConnell "has become a multimillionaire on the backs of hardworking Kentuckians," to which he responded that his wealth came from his wife's inheritance. When the issue of the minimum wage came up, Grimes said that it's not a truly living wage and it needs to be increased. McConnell said such an increase would cost Kentucky jobs and hurt its young people.
Non-partisan fact-checking site Politifact says the only entirely truthful claim either side has made so far in this election cycle is Grimes's assertion in March that McConnell is the number one recipient of lobbyist dollars. The site notes that "that claim was accurate in March when it was made, but it no longer holds water; McConnell is now fourth in that category."
© Copyright IBTimes 2023. All rights reserved.