McDonald's Wage Protest 2015: Workers Detail Struggles Of Living In NYC On $8.75 An Hour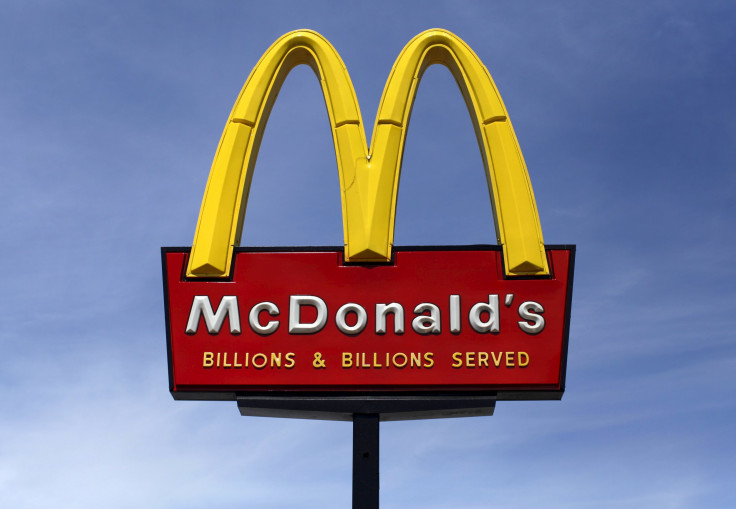 The phone bill or the baby sitter: Every month, Julia Andino has to decide which one doesn't get paid because her $8.75 an hour job at McDonald's isn't enough to provide for herself and her 3-year-old child. Andino was among a few dozen fast-food workers who protested Thursday at two McDonald's locations in New York to demand a $15 minimum wage and the right to unionize. The demonstration was one of several across the country in response to the fast-food giant's Wednesday announcement to hike some workers' pay to $10 an hour -- a wage that protesters said was still insufficient in part because it covers a small percentage of workers.
"It's miserable," Andino said, explaining that she makes $200 a week while her rent and MetroCard cost $900 a month. "I try as best as I can to manage. You pick and choose what bills you pay and what bill you don't for the month."
The 20-year-old said she doesn't qualify for housing assistance or food stamps. She sometimes has to walk 20 minutes from Brooklyn to her job at a downtown Manhattan McDonald's because she can't always afford subway fare. She said she tries to buy diapers and baby wipes in bulk to save money, but those items still cost about $70 a month.
The so-called Fight for $15 and a Union campaign has mobilized thousands of workers in hundreds of cities across the United States to protest their wages at McDonald's and other fast-food corporations. The movement is planning more massive demonstrations for April 15, when 10,000 people in 200 cities are expected to protest, according to organizers.
At the New York City protest, workers demonstrated outside a McDonald's on Fifth Avenue and 34th Street before storming into another location at Sixth Avenue and 35th Street. Police quickly arrived on the scene and ordered the protesters out of the restaurant.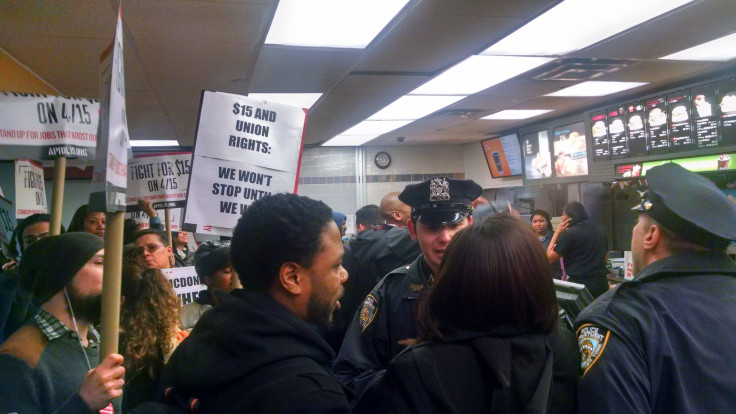 Jacqueline Martincic, a 41-year-old Wendy's worker, said she lives in a Bronx homeless shelter because she couldn't pay the $1,500 rent at her apartment. Martincic is the sole provider for her family -- her husband is sick and is applying for disability – and receives food stamps, but she said the assistance doesn't help because she can't make hot meals in the shelter. She survives on a daily diet of bologna and ham. The Ohio native, who has worked in fast food for eight years in New York, said she hasn't had a vacation during that time and can't afford to send money home to her children, ages 21, 16 and 11.
"It's very depressing having to work for $8.75" an hour, she said. "I can't even go to see my family because I can't afford to pay rent."
Jumal Tarber said he dreams of being able to afford an apartment so he can live with his two children, including an infant daughter, but he can only afford a room in Harlem from his $8.75 an hour job at McDonald's. "It's really hard because I'm basically living from check to check," the 36-year-old said. "Sometimes I have to borrow extra money from my mother for a MetroCard, so it's not easy."
Tarber said his pay also makes it difficult to provide for his children. He spent four months saving up for a bicycle for his daughter's sixth birthday, but can't afford new clothes or shoes for himself. "It's definitely a hindrance," he said.
If fast-food workers were paid $15 an hour in New York, they said, they would be able to live comfortably. Jorel Ware, a 33-year-old who works at the same McDonald's as Tarber, said the company was "playing an April Fools' joke on us" when it announced on April 1 that it would bump up pay for some employees to $10 an hour. The increase doesn't affect workers at McDonald's franchises, where the franchisees determine pay, not the corporation.
Ware said he pays $200 a week in rent to his mother while his paycheck comes out to $215 a week. If he got an increase to $15 an hour, he said, "It would take a load off my shoulders and a load off my mother's shoulders." That kind of raise would enable him to move out and celebrate his upcoming birthday.
"I'm going to love working," Ware said if McDonald's paid him $15 an hour. "I'm going to love serving America food. Now it's hard. Now I'm struggling."
FOR FREE to continue reading
✔️ Unlock the full content of International Business Times UK for free
offer available for a limited time only
✔️ Easily manage your Newsletters subscriptions and save your favourite articles
✔️ No payment method required
Already have an account?
Log in
© Copyright IBTimes 2023. All rights reserved.