McDonald's Workers Strike 2015: Employees Plan US Protests After 'Publicity Stunt' Wage Hike Announcement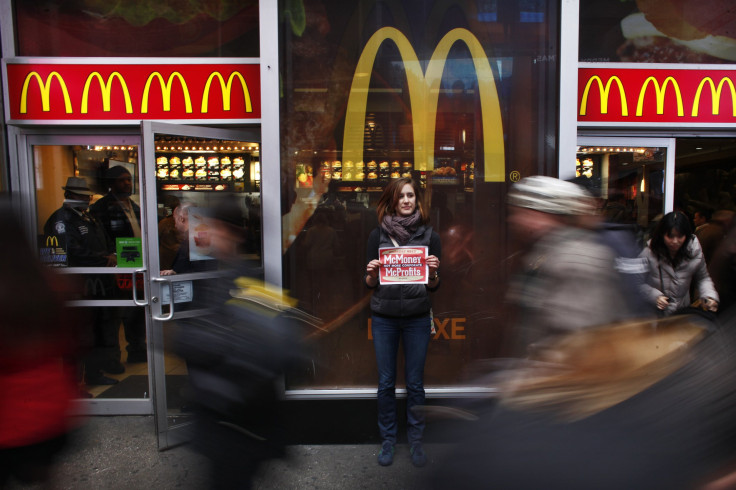 Fast-food employees are not lovin' McDonald's announcement this week that it will raise wages one dollar above locally mandated minimum wages. The pay hike, they say, doesn't cover the vast majority of minimum wage-earning employees in its 12,500 franchise stores. On Thursday, hundreds were expected to respond to the fast-food giant's announcement with protests at chain locations in more than two dozen U.S. cities.
The workers, who are part of the group "Fight for $15," a movement demanding $15 per hour for all fast-food workers in the U.S., will criticize McDonald's move and demand larger raises and the right to form a union without retaliation, said a spokesperson for the workers group. Many McDonald's cooks and cashiers make wages that put them at or below the poverty line, and many say they cannot support their families at the rates offered by McDonald's-owned locations and franchisees' stores.
McDonald's announced Wednesday that it will boost pay for 90,000 of 750,000 U.S. employees to $1 above the mandated minimum wages starting in July, reaching more than $10 by 2017. However, the pay hike applies only to workers at restaurants officially owned by McDonald's, or about 10 percent of the company's locations nationwide. Franchisees set their own wages.
According to Fight for $15, about 1.6 million workers worldwide will not see a raise at all.
"Nearly everyone who works at McDonald's will still get paid less than $10 an hour – not enough to pay the bills," said Emma Stieglitz, a representative of the protest group. "In many places, McDonald's workers earn the federal minimum of $7.25, which means even those who will see an increase as a result of Wednesday's publicity stunt will still be stuck trying to support families on $8.25 an hour."
McDonald's wage announcement came a day after workers announced they would stage the biggest-ever strike in the fast-food industry — a 200-city restaurant walkout on April 15. The wage hike also comes on the heels of pay increases in the low-paying retail sector: Walmart, Target and TJX, which owns T.J. Maxx and Marshall's, have boosted pay over the past two months.
© Copyright IBTimes 2023. All rights reserved.
FOLLOW MORE IBT NEWS ON THE BELOW CHANNELS