Measles Takes Over From Ebola As Health Care Threat In West Africa: Report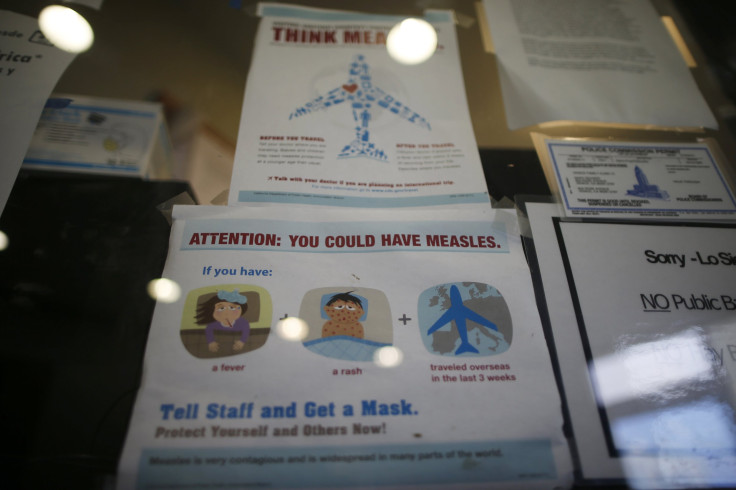 Even as West Africa struggles to recover from the deadly Ebola outbreak, which has so far claimed thousands of lives across the region, people in countries such as Liberia, Guinea and Sierra Leone are facing an even deadlier threat -- the measles virus.
According to a report by Agence France-Presse (AFP), experts believe that an outbreak of measles in these West African countries -- which were also the worst affected by Ebola -- could infect hundreds of thousands of lives, especially slum-dwellers, outdoing the Ebola epidemic's impact on the local population. Since the first confirmed case of Ebola was recorded in March 2014, the disease has reportedly killed more than 10,250 people in six countries, including Liberia, Guinea, Sierra Leone, Nigeria, the U.S. and Mali, BBC reported, citing the World Health Organization (WHO).
"We did a survey and we found out that measles is becoming a serious threat to the Peace Island community... So we decided to launch this campaign in response," a medical aid agency called Doctors Without Borders, also known as MSF, told AFP, referring to a region in Liberia. Measles causes fever and a rash, and complications can lead to pneumonia, blindness, hearing loss, or a fatal swelling of the brain.
Experts believe that a major consequence of the Ebola crisis has been a significant drop in vaccinations, which, along with overburdened and under-equipped hospitals, has left millions of children at risk of being affected by the measles virus.
According to MSF, people living in the slums of Monrovia, Liberia's capital city, and Peace Island, face the greatest risk. Researchers estimate that measles immunizations in the region fell by 75 percent because of the Ebola crisis, putting 100,000 more children at risk of getting measles. While Guinea, Sierra Leone and Liberia predict about 7,000 measles deaths, that number could grow up to 16,000 due to disruptions to health care facilities caused by the Ebola outbreak, according to the report.
The growing risk of outbreaks -- of measles, pertussis and other diseases that can be prevented by vaccines -- in Ebola-affected countries must be addressed by authorities with routine immunization drives, according to WHO.
"We are calling for the intensification of routine immunization services in all areas, and for mass measles vaccination campaigns in areas that are free of Ebola transmission," Dr. Jean-Marie Okwo-Bele, director of immunization, vaccines and biologicals at WHO, said in a statement.
© Copyright IBTimes 2023. All rights reserved.