Medvedev Attacks Romney As US-Russia Relations Wobble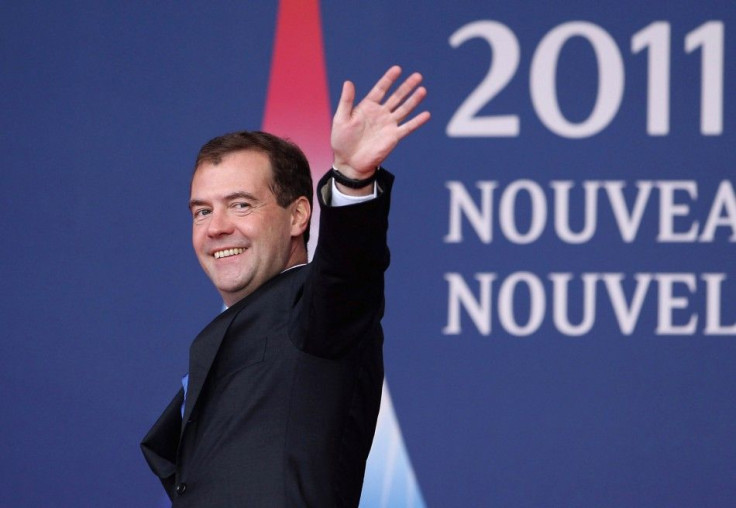 Russia's President Dmitry Medvedev criticized Republican U.S. presidential candidate Mitt Romney on Tuesday for resorting to Hollywood cliches.
Responding to Romney's assertion that Russia is the United States' number one geopolitical foe, Medvedev said at the conclusion of a nuclear-security summit in South Korea that the statement was very reminiscent of Hollywood and also of a certain phase in Russian-U.S. relations.
My first advice is to listen to reason when they formulate their positions. Reason never harmed a presidential candidate, Medvedev said, according to news reports.
My other advice is to check their watches from time to time: It is 2012, not the mid-1970s.
Romney's comments were directed at President Barack Obama, who on Monday was caught telling the Russian president, with an open microphone nearby, that Russians would need to wait until after November's U.S. election when a re-elected Obama would have more flexibility to discuss a missile-defense system that Moscow opposes.
(Medvedev responded with I understand. I will transmit this information to Vladimir, a message that was being mocked by Russians on Twitter using the hashtag #Vladimiru, or to Vladimir, as an example of Medvedev's subservience to his prime minister -- and, as of May, next president.)
In terms of a geopolitical foe, a nation that's on the Security Council, and is of course a massive nuclear power, Russia is the geopolitical foe, Romney said Monday.
The idea that our president is planning on doing something with them that he's not willing to tell the American people before the election is something I find very, very alarming.
On Tuesday, Obama also responded to Romney's allegations by defending and clarifying his remarks to Medvedev.
I think everybody understands -- if they don't, they haven't been listening to my speeches -- that I want to reduce nuclear stockpiles, Obama said. And one of the barriers to doing that is building trust and cooperation around missile defense issues. And so this is not a matter of hiding the ball.
I don't think it's any surprise that you can't start that a few months before presidential and congressional elections in the United States, and at a time when they just completed elections in Russia, he added.
After heated disagreements about the crisis in Syria and sanctions on Iran, the United States and Russia are trying to mend their fractured relationship. Obama and Putin will meet shortly after the Russian president-elect's May 7 inauguration for a discussion on the proposed NATO missile-defense system in Europe, which Russia had earlier threatened to counter with a new generation of rockets.
Before Obama and Medvedev's hot mic conversation, and before Romney's heated response, Russia was well aware that it could be dealing with a new U.S. president come January 2013.
Republican candidates have been actively using anti-Russian rhetoric in their campaign speeches. But we will judge the new U.S. leader`s policy toward Russia by his deeds, not by the rhetoric we hear now, Foreign Minister Sergei Lavrov said last week.
© Copyright IBTimes 2023. All rights reserved.