Medvedev Warns Against Dissent As Putin Prepares to Retake Russian Presidency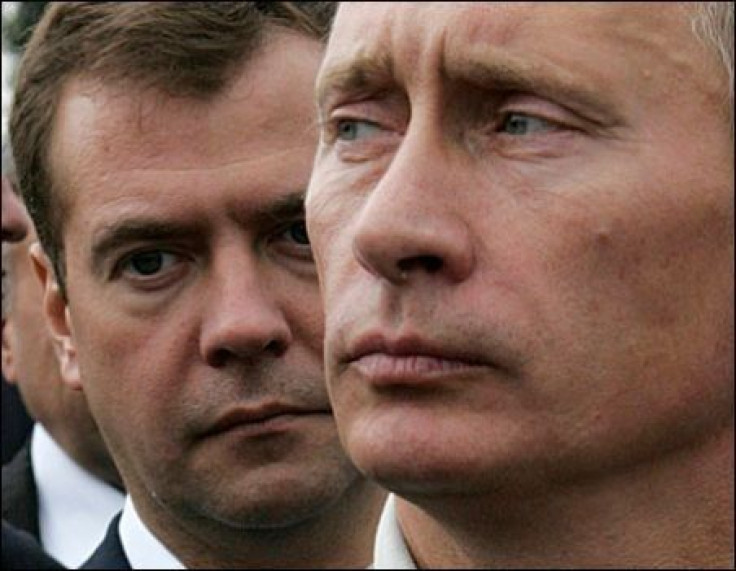 Russian President Dmitry Medvedev has warned opponents and government officials against dissent ahead of Vladimir Putin's plan to regain the presidency, one day after Medvedev fired finance minister Alexei Kudrin.
Last week, Medvedev agreed to swap jobs with Putin after presidential elections next March, spurring a wave of criticism against Putin having too much power.
Putin, who leads the dominant United Russia Party, is almost guaranteed of victory – which means that, as the presidential terms have been extended to six years from four, he could rule Russia until the year 2024.
Medvedev has also threatened action against politicians who oppose his program of increased defense spending. Kudrin was sacrificed after he openly criticized such expenditures.
"Russia isn't a banana republic," Medvedev told reporters after watching a counter-terrorism exercise in the Chelyabinsk region of the Ural Mountains today, suggesting that the country needs to maintain a modern army.
Kudrin, who had served for 11 years, was largely credited with supervising Russia's recovery from the 1998 debt default crisis by moderating public spending and later guiding the country through the global credit crisis.
Nikolai Petrov, a political analyst at the Carnegie Center in Moscow, told Bloomberg: "Medvedev made a show of firing Kudrin yesterday in a bid to restore discipline until Putin takes over in May [2012]. Putin sacrificed Kudrin for the sake of the tandem, even though the tandem doesn't really exist anymore."
Petrov added that: "Putin may make Medvedev the scapegoat for unpopular reforms and bring back Kudrin to replace him in a couple of years."
Indeed, Russia will likely enact a series of unpopular reforms on order to lessen the economy's dependence on natural; resources and deal with a budget deficit.
In an editorial in the Moscow Times, Petrov wrote: "The new Putin-Medvedev configuration would not be a repetition of the old one. This is because Putin would consolidate and perhaps strengthen his leadership as president, while the prime minister would be forced to take responsibility for budget cuts to the public sector and long-delayed pension and tax reforms. These decisions by the next government will be very painful for most people and extremely unpopular. Under such conditions, Medvedev will become a convenient fall guy and will probably not last as prime minister to the end of Putin's first presidential term."
Meanwhile, more high government officials may turn against the 'dynamic duo' of Putin and Medvedev.
Billionaire Mikhail Prokhorov, an opponent of Putin, warned that Kudrin's dismissal reflects a "polarization" of the Russian ruling elite and that the regime is on the brink of a "tectonic" change in ideology.
"We stand on the verge of very important changes," he wrote on a blog post. "There's no doubt" [more senior government officials will resign.]"
Earlier this month, Prokhorov resigned as head of the Pravoye Delo (Right Cause) party, citing that Medvedev prevented his party from preparing for parliamentary elections scheduled for December. Subsequently, the Kremlin deleted Prokhorov's name from a presidential commission formed to discuss ways to modernize the economy.
© Copyright IBTimes 2023. All rights reserved.