"Medvedev's Girls" Strip for Kremlin Head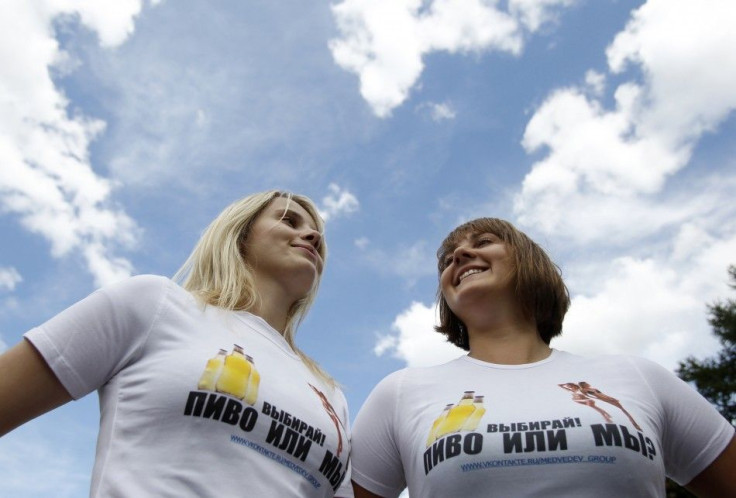 Three young women stripped down to bikinis on a chilly Thursday in central Moscow in support of Russian President Dmitry Medvedev and his anti-beer drive, in the latest racy campaigning ahead of 2012 elections.
The female flash-mob, apparently organized by a Medvedev fan-group on Russia's top social networking site Vkontakte, may have been inspired by a rival campaign urging girls to strip in support of Prime Minister Vladimir Putin.
Both leaders in Russia's ruling have said they will decide together which of them will run for president in March.
Medvedev's bikini-clad supporters, encircled by cameras and photographers, invited gawking onlookers to pour out their beer into buckets, stripping off an item of clothing when the alcohol sloshed up to marks drawn on the side.
"We do not want to interfere in their political affairs, we are doing what we want and what we want is to encourage young people to support our president," Veronika, a brunette who stripped to a hot pink bikini, told reporters.
It was unclear who was behind the group, with fellow activist Anna Sirotkina claiming it was a grassroots movement.
"We are not paid. There was an announcement online, and we decided to participate," said the blond-haired Sirotkina as she strutted about in black high heels.
Following the strip-tease the girls dumped the beer-filled buckets down the gutter and dawned T-shirts emblazoned with the slogans: "Choose beer or us!"
Some passersby -- nursing beers and enjoying a rare burst of sunshine in the nearby park -- were puzzled by the message.
"The girls are against beer so the girls are offering themselves in return for a promise from young men not to drink?" pondered a young student who gave his name only as Denis.
The group, calling themselves "Medvedev's Girls," denied competing with a rival pro-Putin Internet group called "I Really Do Like Putin" and said they planned a "tandem" bike ride together on Monday in a play on words on Russia's ruling tandem.
Putin -- who was president from 2000 to 2008 and barred by the constitution from seeking a third consecutive term -- helped usher his 45-year-old protege Dmitry Medvedev into office.
© Copyright Thomson Reuters 2023. All rights reserved.