Meet ChatWork: Japanese Startup Takes On Facebook At Work, Slack In Workplace Collaboration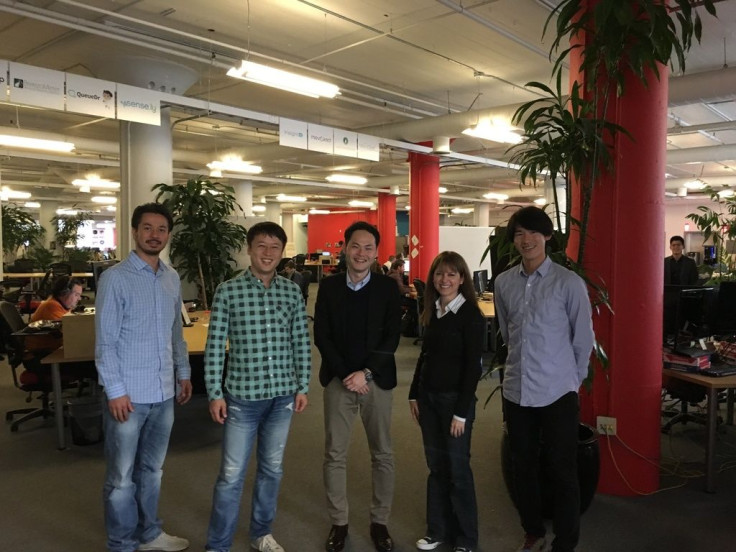 Worker frustration with the time-sink known as email is well established, and the need for real-time communication in today's digital workplace is growing. So it should come as no surprise that the market for workplace collaboration tools that facilitate instant communication among peers is buzzing.
Three-year-old Slack has become a go-to tool for Silicon Valley companies and major media outlets. Last year, Atlassian-owned HipChat doubled the number of messages sent, to 10 billion, compared to the previous four years combined. Microsoft's Yammer, Lync and Skype have grown more sophisticated as the tech giant builds out Office 365. IBM offers its Collaboration Solutions package. In the coming months, Facebook is expected to publicly release its professional network, Facebook at Work.
The industry of online communication may be worth $41 billion, Adam Preset, a Gartner analyst, estimated in December. The research company estimated the market would grow to $42.4 billion by 2019, with much of that coming in Asia and Africa. About 14 percent of employees listed communication and collaboration tools as their most desired tech in a survey released Tuesday by IT trade association CompTIA.
Now, a new entrant is expanding in the U.S. market. Meet ChatWork, a messaging platform out of Japan that formally launched in 2011 and is positioning itself for global growth. On Tuesday, the company announced $12.5 million in Series B funding that will be used for hiring and marketing with plans to add more features and attract more users.
ChatWork provides text messaging, video chat, task management and file sharing. The system currently supports 86,000 companies from 204 countries and regions, with Japan, Vietnam, Taiwan and the Philippines ranking as its top markets. ChatWork has been used by Kyoto University, Kuai Hospital and Japanese telecom KDDI. The customer list also includes the top five mobile gaming studios in Japan.
Last year, ChatWork opened an office in San Francisco, placing itself closer to the U.S.-based competitors. CEO Toshi Yamamoto said he views these other systems not as pure competitors but as proof there's a market opportunity. "Many companies are still using email and stringing together other tools. It's slow and frustrating. We want to show them an easier way," Yamamoto said.
Frustration in the lack of Japanese-based companies in the U.S. had partly inspired Yamamoto to launch ChatWork, or rather create the software that would later become his company. In the early 2000s, he took a year off from his job in Japan to visit Los Angeles. "I realized there were no Japanese software startups in the U.S.," he recalled.
With a team of engineers in Japan, Yamato built a system that would provide workers with one place to organize documents and complete assignments. ChatWork attempts to not only be an email-killer, as Slack has been described, but also to be the single application an employee needs to use for work collaboration. "ChatWork is for work," Yamamoto said. "Everything is organized in context and searchable. There is a real workflow."
Increasing the number of actions while maintaining simplicity within the system could decide who succeeds in the industry of work communication tools, said Sean Regan, HipChat's head of growth and product marketing. "The traditional chat experience has evolved beyond chat, where you can maintain the context and then actually do work directly within the system. Chats are becoming the browser."
Daniel Kastl, CEO of GeoRepublic, an open-source geolocation technology company based in Germany, chose ChatWork for his team of 10 employees. "I have a Slack allergy. The open-source community shouldn't use closed-source software source … and when you pay a high price per person you always have to think about if you should invite somebody else," Kastl said.
Both Slack and ChatWork charge customers per client if they wish to access all premium features. Slack's standard plan is priced at $6.67 per user per month while ChatWork's business plan sells for $2 per user per month.
The ChatWork system features a high-level of security. All data is encrypted at the same level as an online bank with SSL, or Secure Socket Layer, and is stored by Amazon. The company has not had a data breach thus far.
For GeoRepublic, the team has for the most part eliminated internal email communication. Since many team members work remotely, they also take advantage of video calling in the system.
<iframe src="//datawrapper.dwcdn.net/HQUhc/2/" frameborder="0" allowtransparency="true" allowfullscreen="allowfullscreen" webkitallowfullscreen="webkitallowfullscreen" mozallowfullscreen="mozallowfullscreen" oallowfullscreen="oallowfullscreen" msallowfullscreen="msallowfullscreen" width="548" height="520"></iframe>
Additionally, GeoRepublic's business aligns with ChatWork because of its ties to Japan and sophistication in using the language. The company has offices in Tokyo and Osaka. In some systems, "you type in two sentences of Japanese and the other person gets wrongly encoded text strings, so having a Japanese interface was important," Kastl said.
Language support differs across systems. ChatWork supports five languages: English, Japanese, traditional and simplified Chinese and Vietnamese. HipChat supports any language Unicode covers, which is almost everything. Facebook at Work will support the same languages as the standard Facebook, which is over 80. Slack only supports English, so far. With the new round of funding, ChatWork said the team will add more languages this year.
The design of ChatWork also caters to Japanese culture. Global Project Manager Hayato Ishida said the software shows users all systems at once instead of minimizing in tabs or requiring click-throughs to other sections. "Asian people want to have everything right there. If they cannot see everything, they will feel uncomfortable. I think, for Western people, if it's cleaner, it's better," Ishida said.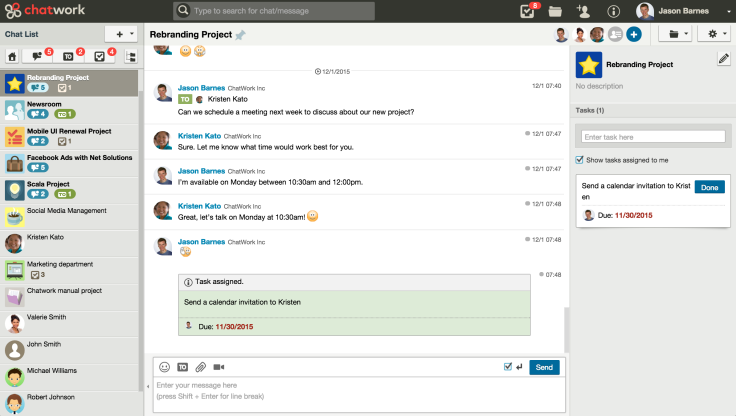 For expanding into Western countries, that may mean adapting the design. However, Ishida also cautioned that ChatWork wants the system to appear unified. "What we're trying to emphasize is to have a single platform unifying different types of cultures and generations into the design," he said.
ChatWork currently has 66 employees, double the headcount from its last funding round in April 2015. The team has less than 10 employees in San Francisco and two people in Taiwan with the rest in Japan.
The company's latest round of funding was led by JAFCO Co. Ltd., Japan's first venture capital firm. JAFCO has invested in 30 companies, with ChatWork as one of its largest investments. "We've been looking to invest in a company that meets the following criteria: provides a business critical tool to companies, has an established global customer base in a diverse set of industries and is making an impact," said Keisuke Miyoshi, a board member of JAFCO, in an emailed statement.
"ChatWork's offering, people and culture far surpassed our requirements. Their technology is changing the way teams work together, enabling companies to expand, compete and succeed in the global economy," he continued.
Now, ChatWork will be working to bring more users in the United States, Europe and Latin America and also build out more features that guarantee that current clients do not leave the system. While Slack and HipChat rely on integrations with third-party systems, ChatWork has built each tool in-house.
© Copyright IBTimes 2022. All rights reserved.
FOLLOW MORE IBT NEWS ON THE BELOW CHANNELS