Meet 'Eater X' Tim Janus, Competitive Eater And Nathan's Hot Dog Eating Contest's Most Mysterious Star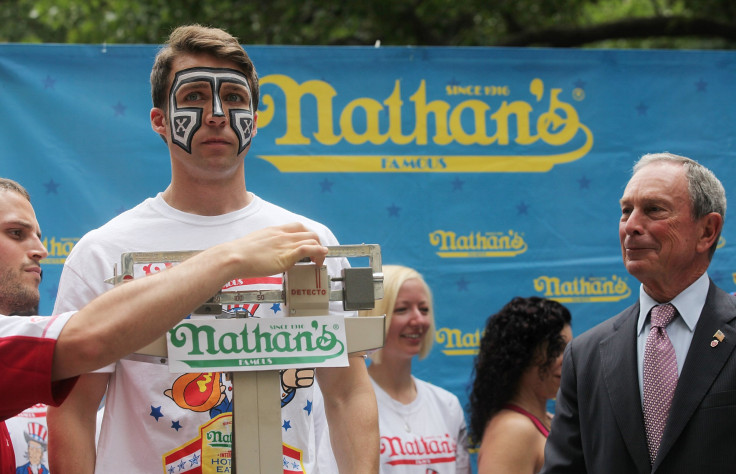 NEW YORK -- Tim "Eater X" Janus sat at a well-worn table at a vibrant taqueria in the city's East Village on a sweltering afternoon in late June. In just a few weeks, Janus would don his trademark face paint and challenge the world's other top competitive eaters at Nathan's Hot Dog Eating Contest in Coney Island.
But on this day, the world's No. 3-ranked professional glutton wasn't hungry. Janus picked at a small order of guacamole on a paper plate. Despite his nickname, Eater X doesn't like to overeat. When he isn't stuffing dozens of hot dogs down his throat in front of television cameras and screaming fans, Janus limits his portions.
Once a novelty event, the Nathan's Hot Dog Eating Contest attracted a record audience of 2.8 million viewers on ESPN in 2014. Major League Eating, which sanctions the contest, now hosts as many as 80 events per year in countries around the world. Some top competitors such as Joey "Jaws" Chestnut and Takeru Kobayashi have capitalized on their voracious appetites to become household names, with endorsements and wealth to match. But for most, including Janus, professional eating is more of a self-gratifying hobby than a vehicle toward long-term financial security.
Janus has been one of the Major League Eating's most recognizable stars for more than a decade. He owns world records for burrito, tamale, tiramisu and several other eating categories. He's finished in the top three at the Nathan's contest for five consecutive years. His stomach isn't any bigger than your stomach. During a contest, he feels full "almost immediately," just like anyone else would, he said. But he keeps going.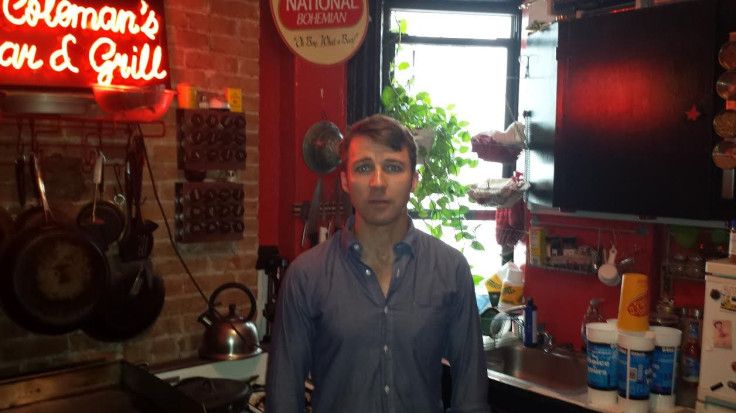 Given the amount of food he consumes, you might expect Eater X to be physically imposing. In reality, he's downright skinny. Janus said he works out five times a week to stay that way. Although he'll turn 40 next year, he looks no older than 25. If you saw him on a city street, you'd walk right past him.
But in a sport defined by superhuman feats, Janus has cultivated a larger-than-life presence. When dressed as Eater X, he looks more like a professional wrestler than a competitive eater. His trademark face paint is a mask, under which he devours obscene amounts of food. Most people are full after two or three hot dogs. Four hot dogs might bring on a wave of nausea. For Janus, that many hot dogs is just one mouthful, chewed and swallowed in seconds and washed down with lemonade.
Janus has donned many disguises during his time on the circuit. Aside from Eater X, his various personas include a former sailor-turned-eating superfan known as "The Whaler" and a jaded journeyman called "Invisible Man." He created the gimmicks out of a desire to have fun, but they've only added to his mystery. He's quietly charismatic, but his status as a beloved competitor is driven as much by public curiosity as it is by stage presence.
"Eater X is one of the most famous and accomplished eaters in the history of mankind. He has long been an ambassador of our sport and a legitimate force at any competition," said Richard Shea, a co-founder of Major League Eating. "Eater X is also a fan favorite and has long been considered a heartthrob by MLE's female fans."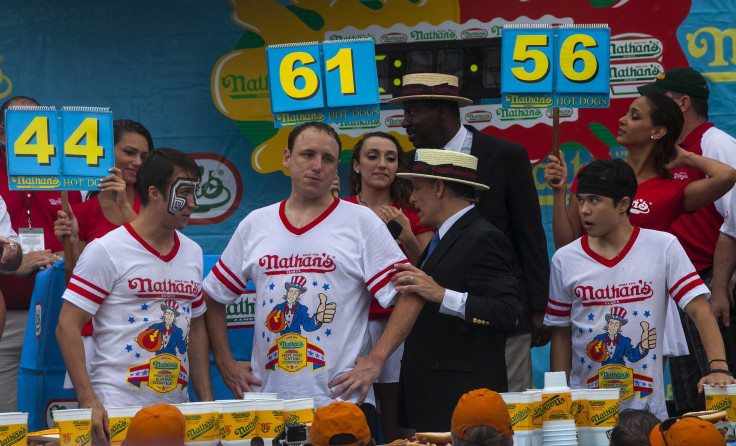 The East Village apartment he shares with Crazy Legs Conti, his friend and a fellow competitive eater, belies his mythical persona. Affectionately dubbed Coleman's Bar & Grill, with an eponymous neon sign to match, Janus' abode is equal parts stylish and humble. There's no cable television, and air conditioning is a newly acquired luxury. The fridge doesn't contain stacks of hot dogs or vats of chili -- just a bachelor's assortment of half-eaten leftovers and cartons. Numerous pots and pans hang on a rack in a well-maintained, brick-laden kitchen, where Janus and Conti frequently experiment with imaginative recipes. On one occasion, Janus rolled Oreo filling into a log, drizzled it with a wine reduction and served the combination to his friends.
When Janus speaks, he's pensive, measuring every word. He's calm, yet deadly serious about competitive eating. It's a far cry from where he stood in 2004 at age 27, shortly after he moved to New York to work as a day trader. A few years of the stock market's day-in, day-out grind left Janus burnt out and unhappy.
"I had no money. I had just enough to live on. I needed a vacation, I needed something to take the pressure, the stress out of my life. I needed a good day away from work," Janus said.
He read about a local corned beef and cabbage eating contest and decided it would make for a entertaining day away from the office. A newbie to the competitive eating world, Janus beat all his fellow amateurs and finished in the bottom quarter of the pros. He had so much fun that he entered another eating contest, and then another, his performance improving a little each time. By the end of 2004, he was Major League Eating's Rookie of the Year.
Janus had found his calling, the thing he could do better than just about anybody else. He made the decision to shed the aspects of his life that made him unhappy. In a society where financial status and career accomplishments define success, he chose to follow his own path. He quit the day-trading firm and took a job as a waiter at a pizza restaurant, so he could learn how to make dough and the ins and outs of running a business. In his spare time, he entered eating contests. It's what he's done ever since.
"Those three decisions -- to work in pizza, to compete in these contests and to quit day trading -- that was the first time I ever truly followed my heart when it came to direction in life. Before that, I did what I thought I should do," he said.
Janus views competitive eating as part of a selfish, solitary journey toward self-discovery and understanding his physical and mental limits. His family and friends, while supportive, are passive bystanders to his career -- and he prefers it that way. He's the self-described "most aloof" member of the pro eating circuit, despite his status as one of its most famous constituents.
He can count his friends in the sport on one hand. When other celebrity eaters hit on groupies or go out for drinks, Janus often sits in his hotel room, enjoying the air conditioning. He grudgingly participates in the sport's business side. Chestnut, the sport's top star, earns more than $200,000 annually in prize money and endorsements. From there, the earnings drop-off is significant -- most eaters have a day job.
Janus enters fewer events than he once did, but even at his peak, he didn't have the opportunity or the inclination to pursue six-figure earnings as an eater. Money and fame are secondary motivations. He's loyal and appreciative to his sponsors, but he preferred the tour's so-called Trophy Era, before events had cash prizes -- a time he views as more pure.
"We live in a world where we have to tell everybody else how important we are, or that our identity's attached to our job, or our fame, or our persona, whereas with Eater X, I've never felt that way," Conti said. "Somewhere, Tim's sensibilities don't match up with the modern world in a wonderful way."
In 2008, Conti and Janus appeared on NBC's "Today" show with Kathie Lee and Hoda to promote their appearance in Major League Eating's first video game. Conti recalled that Janus went the entire segment without saying a word. Years later, the pair met with Food Network executives to pitch a sort of "Demented Chef" television series, where they'd craft meals with unlikely ingredients and methods. Conti said the meeting went "horribly awry" when Janus floated -- with sincerity -- his idea to form tortillas out of chewed-up chips.
"I'm often oblivious to things. I wasn't trying to read faces. I was just surprised we were in a meeting with Food Network," Janus said.
Janus was particularly excited to compete in this year's Nathan's Hot Dog Eating Contest, which he described as "the truest test of an eater." Competitors have 10 grueling minutes to eat as many hot dogs and buns as humanly possible, while millions of television viewers and a 35,000-strong crowd of spectators observe. Top performers split a $40,000 purse. Chestnut has won the event for nine straight years.
The Nathan's contest is arguably Major League Eating's most exclusive event. Of the dozens, if not hundreds of competitors located around the world, roughly 15 men and 15 women qualify each year. This year, contestants had to win one of 12 qualifiers held nationwide to earn a spot at Coney Island.
Despite his strong performances, Janus hasn't trained for the event in years, partly because training expenses cut into his profits and partly because gorging on hot dogs is an inherently uncomfortable experience. He admitted he gave a mediocre effort at his June 14 hot dog contest qualifier in New York. Janus ate 36 hot dogs that day, six more than his nearest competitor. He could have eaten more, but he had to work that night and didn't want a few pounds of processed meat sitting in his stomach.
"I beat him by six because I chose to beat him by six," Janus said of his qualifying effort. "As long as I pay attention to the feelings and the disappointment, that becomes the training I need."
As he approaches age 40, Janus has felt the urge to step away from the hobby that made him famous and pursue his other dreams. His unlooked-for success in competitive eating has convinced him of their validity.
Janus plans to retire from the sport at the end of 2016 and move away from New York for the first time since his mid-20s. Association with Major League Eating has allowed him to travel the world, and he's developed a particular affinity for Australia and Asia. He took a rigorous, 10-week course to get certified to teach English abroad and discovered a natural talent for instruction. Eater X is ready for his next adventure.
"I know I have things to do," he said. "I have other dreams, and I have to go after them or else I'll be 50."
Until then, the field at Coney Island better watch out.
© Copyright IBTimes 2023. All rights reserved.