Meet The Gentoo Penguin Chicks Born At Scotland's Edinburgh Zoo [WATCH LIVE]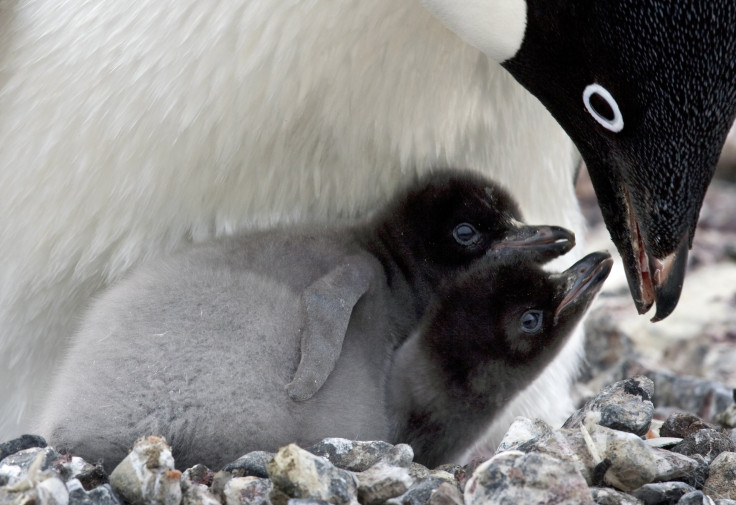 The arrival of the first furry Gentoo penguin chicks of the season at Scotland's Edinburgh Zoo has called for a celebration among the penguin keepers. The first chick reportedly arrived May 4, followed by a second May 7.
Zoo officials said another egg has started to crack, so a third Gentoo chick is expected anytime soon. In addition, several more eggs are expected to hatch this month. The initial two hatchlings were part of the same nest marked "C7," as seen via the zoo's penguin cam.
Senior penguin keeper Dawn Nicoll shared her happiness about the first arrival of the penguin chicks this season. "We are really happy that the first of the Gentoo penguin eggs have hatched," she said, reported the Irish Examiner.
Nicoll further explained how the breeding season for the penguins keeps zoo staffers on their toes. From incubation to hatching, rearing, to fledging of the chicks, the season has become really very busy for zookeepers. However, when the eggs hatch and chicks finally appear, the hard work of the zookeepers seems to pay off.
The breeding season for the penguins started in March, when the zoo officials started to witness penguins do custom flapping and squabbling to compete for the best available breeding ground and nest rings. The first egg was produced in early April; the penguins have laid nearly 40 so far.
Edinburgh Zoo has maintained a penguin nest map that depicts all the nest rings. The zoo keeps a track of all the penguins and eggs during the breeding season using the nest map. The officials use the numbers marked against each nest ring to refer to the eggs and the hatched chicks. The penguin cam offers a live view from the Penguins Rock, where the eggs are laid and hatched.
Contact the writer at: emailtoguneet@gmail.com.
© Copyright IBTimes 2023. All rights reserved.
FOLLOW MORE IBT NEWS ON THE BELOW CHANNELS