Memorial Day Confederate Flag Burning: Small Groups Gather In 13 States To Symbolically Bury The Dixie Flag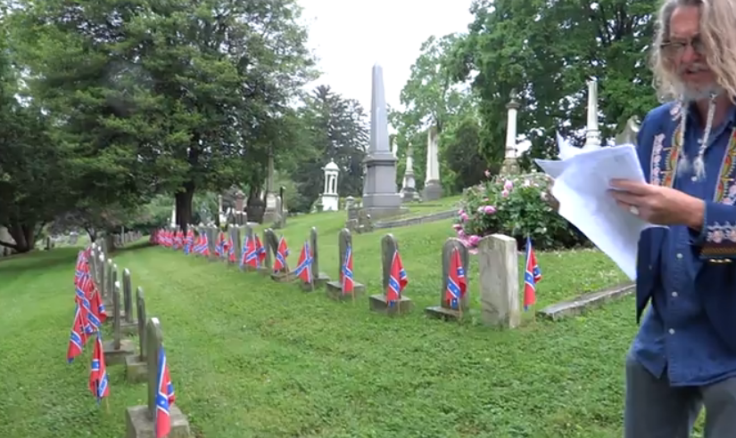 The events were small, but the symbolism was significant. Artists and locals in several southern states gathered Monday for a simultaneous "burial" of the U.S. Confederate flag on Memorial Day to raise awareness of the controversial symbolism of the banner -- and why they think desecrating and burying it should become an annual tradition.
"The confederate flag is the N-word on a pole," said Sarasota, Florida, artist John Sims, who coordinated symbolic burials of the Confederate flag on Monday in the 13 states represented by the stars of the flag, including Tennessee, Kentucky, Louisiana and Mississippi.
The banner used by Gen. Robert E. Lee's southern army during the American Civil War is still proudly waved by many Americans who see it as a symbol of freedom and state's rights. It can be found on bumper stickers or flying in front of homes in Virginia, South Carolina and other southeastern states. It's on the Mississippi state flag. On Memorial Day, graves of the southern soldiers are decorated with Confederate flags instead of American ones.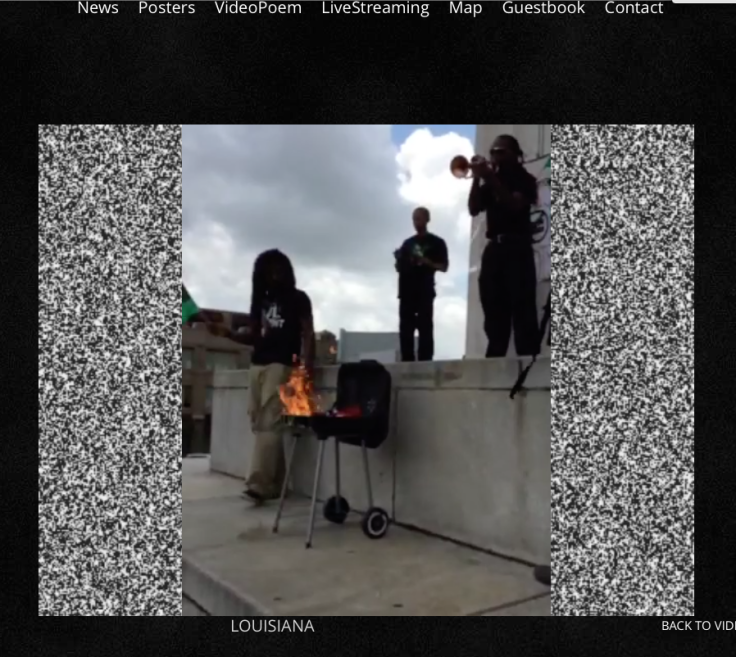 To many, especially African-Americans, the flag is nothing more than an in-your-face reminder of slavery, not freedom.
Sims, 47, has been playing with Confederate flag imagery for about 15 years, creating works of art and installations in New York, Virginia and other states. In 2004, one of his installations in Gettysburg, Pennsylvania, featured a Confederate flag hanging from a noose, eliciting angry calls to shut down the exhibition. Aside from the usual online chatter, Monday's "burials" went off without a backlash.
The events, which were simultaneously streamed online Monday, consisted mainly of artists and locals discussing the flag's symbolism. Images from the events were being uploaded Monday evening to this Facebook page. Sims also collected the 13 artists reading their 13 Confederate flag eulogies into a video montage.
In New Orleans, a group of locals burned the flag on a BBQ grill at the base of the Robert E. Lee monument, which towers over a popular intersection of the predominately African-American city. In Kentucky, local artist Ron Whitehead read a poem above a paper caricature of the Confederate flag as the paper disintegrated in water to reveal a quote from President Abraham Lincoln. In the background, dozens of graves of war dead were decorated with fresh Confederate flags put there by locals commemorating Memorial Day.
Stacey Winters, a Jackson, Mississippi, cafe owner and poet who goes by the name "Soul" in her performances, commemorated the event by putting a drawing of the flag into a miniature coffin. A small gathering of people added artistic tokens to the coffin to represent some of the state's lingering problems, including diabetes, HIV and sex trafficking. The box was then buried in an outdoor area of the cafe.
Winters says her state is changing demographically and that the Confederate flag shouldn't be part of the state's multicultural future. "People need to know why this symbol shouldn't be a symbol of the state anymore," she said. "I mean we've got a lot of Hispanics here now and they don't see the flag as a symbol of anything."
Setting aside the usual online chatter that erupts around topics like this, the highest pitch of criticism has come from the Sons of Confederate Veterans, the organization formed to honor the South's Civil War dead. The group issued a statement last week questioning the timing of the event.
"To me, it represents the flags my ancestors fought and died under the field of war," Tom Strain Jr., a lieutenant commander with Sons of Confederate Veterans, told WTOC in Nashville, Tennessee.
Sims says he hopes this could turn into an annual event. "I did this project to kind of conclude 15 years of working on Confederate flag imagery," he said. "We need a ceremony for this. The Confederate flag isn't going away anytime soon, is it? So we need an annual ceremony to reflect on this symbol of a very contentious and complicated past."

Watch John Sims' video montage of the 13 poets reading their works:

© Copyright IBTimes 2023. All rights reserved.