Memories Pizza Shop Says It Would Deny Same-Sex Service Under Indiana Religious Freedom Act, Backlash Follows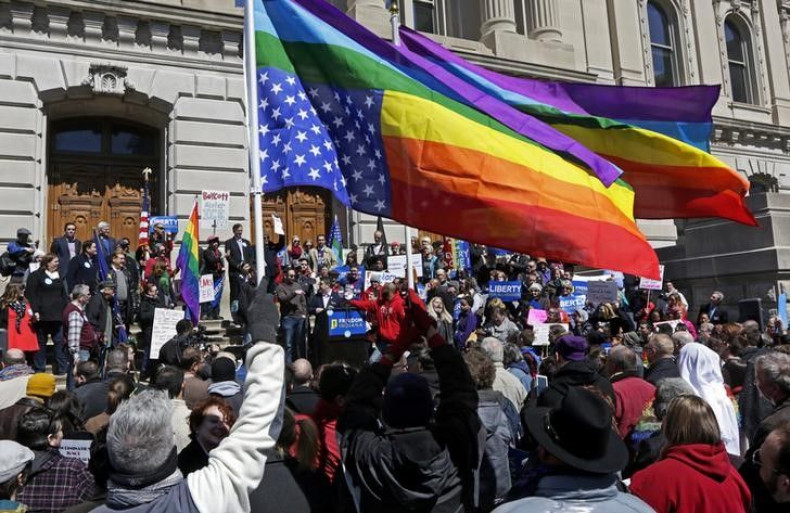 An Indiana pizza shop says it would deny service to a same-sex couple looking to cater a wedding, citing the state's new Religious Freedom Restoration Act, reports WBND (ABC57) in South Bend. The family-owned business said it agrees with Indiana Gov. Mike Pence's signing of the bill, which critics have denounced as allowing discrimination against LGBT people.
The O'Connor family, which owns Memories Pizza in the small town of Walkerton near South Bend, told ABC57 about their support of the controversial bill. "If a gay couple came in and wanted us to provide pizzas for their wedding, we would have to say no," owner Crystal O'Connor said.
She said the business is a "Christian establishment" that holds to its religious beliefs. The law, SB 101, says individuals and business owners don't have to comply with state laws that conflict with their religious views. Critics have stated that this would allow businesses to deny service to LGBT people.
"We're not discriminating against anyone. That's just our belief, and anyone has the right to believe in anything." O'Connor said.
Memories Pizza received a swift backlash on Yelp, where users posted negative reviews. The comments range from anger to sarcasm. But a few defended the pizza shop's decision.
Posted user Christine E. of New York wrote: "I do not support restaurants with unethical business practices. Statements made by the owners of this establishment are unthinkably backwards. America loves pizza, but hates bigotry. Please support a better America, and get your pizza elsewhere."
Indiana's religious freedom law triggered a national outcry after its passage last week, with numerous businesses boycotting the state. That led Pence to promise a "fix" to the bill to "clarify" it.
"I don't believe for a minute that it was the intention of the General Assembly to create a license to discriminate ... and it certainly wasn't my intent, but I can appreciate that that's become the perception .. and we need to confront that and confront it boldly," Pence said in a press conference Tuesday.
Crystal's father, Kevin, said the backlash to the bill was unfair. "That lifestyle is something they choose," he said, according to ABC 57. "I choose to be heterosexual. They choose to be homosexual. Why should I be beat over the head to go along with something they choose?"
© Copyright IBTimes 2022. All rights reserved.