Mike Pence Defends RFRA, Blames 'Mischaracterization' For Religious Freedom Law Uproar While Urging For 'Clarification'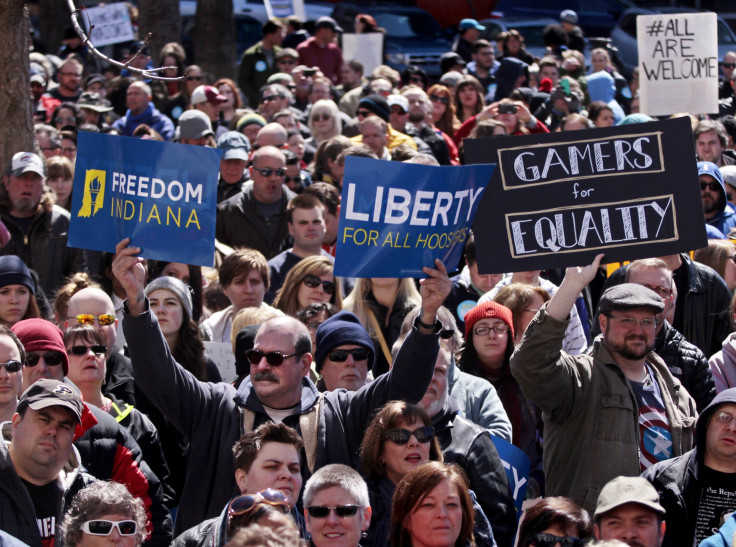 Indiana Gov. Mike Pence urged Tuesday that state lawmakers pass an amendment this week that "clarifies" the new Religious Freedom Restoration Act, which has been viewed by critics as legitimizing anti-gay discrimination in Indiana. Pence said "misunderstanding" and "mischaracterization" led to the uproar over the bill, which caused a number of organizations and business to threaten to boycott the state.
"We want to make it clear that Indiana is open for business," Pence said during a news conference. "We want to make it clear that Hoosier hospitality is not a slogan; it's our way of life. I believe this is a clarification, but it's also a fix. It's a fix of a bill that through mischaracterization and confusion has come to be greatly misunderstood and I'm determined to address this this week."
Language of the clarification to the bill is still being hammered out, the governor said, adding that the intent was never to allow for discrimination. "I don't believe for a minute that it was the intention of the General Assembly to create a license to discriminate ... and it certainly wasn't my intent, but I can appreciate that that's become the perception .. and we need to confront that and confront it boldly."
Pence said he was "taken aback" over the controversy the law caused.
"Indiana has come under the harsh glare of criticism from around the country, and some of us get paid to be under that harsh glare and that criticism, so we don't complain about it," he said. "But the things that have been said about our state have been at times deeply offensive to me."
The law, known as SB 101, has been denounced by critics who contend it allows discrimination against LGBT people. The measure says that people, religious institutions and businesses have a defense against state laws that conflict with their religious views if the law is considered a substantial burden to them. Those against RFRA interpreted the law to say that a florist could refuse service to a gay couple if gay marriage goes against the florist's religion.
A number of potential 2016 Republican presidential candidates backed Pence, including former Florida Gov. Jeb Bush, Sen. Marco Rubio of Florida and retired neurosurgeon Dr. Ben Carson, according to CNN.
Pence's appearance before the media Tuesday was his first since he went on ABC's "This Week" with George Stephanopolous Sunday. During that interview, he repeatedly refused to directly answer questions about whether the law allows discrimination.
The backlash over SB 101 prompted business, nonprofit organizations and government leaders to threaten to boycott Indiana and take their business elsewhere. Meanwhile, Indianapolis-based Angie's List canceled its $40 million expansion in the city over the law.
The outcry also led some Republican legislative leaders in Indiana Monday to urge lawmakers to clarify the law, although they didn't offer a concrete plan on how to go about doing it. They also said the law's intent wasn't to allow discrimination.
Democrats in Indiana, who are in the minority in both houses, said the only appropriate action is to repeal the law and add protections for gays to the state's civil rights statutes. "When you have a bill that is this tainted, this corrupted, there is no fix to it," said Senate Minority Leader Tim Lanane during a press conference Monday.
The NCAA, based in Indianapolis, said it was concerned over how college athletes would be treated after the law takes effect in July. Apple CEO Tim Cook said Indiana's religious freedom law and similar legislation in about 20 other states is "bad for business," while Yelp said it would not strengthen its business ties in Indiana as a result of the law.
© Copyright IBTimes 2023. All rights reserved.