Merkel, Hollande Statement On Greek Debt Crisis Live Update: German Chancellor And French President To Speak In Paris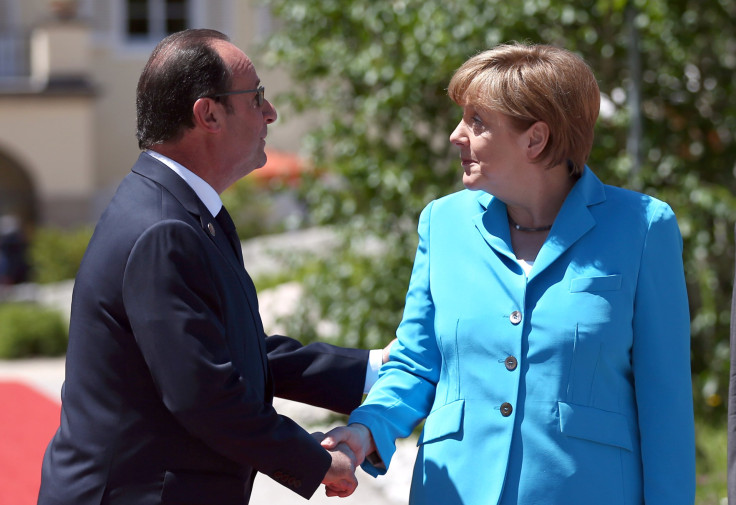 UPDATE 1:40 p.m. EDT: German Chancellor Angela Merkel met with French President Francois Hollande in Paris on Monday in a last-minute meeting to discuss what to do about Greece's heaping debt one day after the country rejected the bailout terms of its creditors. Greece's debt crisis has sharply divided the two European countries, with France being more open to considering debt relief for Greece than pro-austerity Germany.
In their first remarks since Sunday's vote, Merkel and Hollande said they respected the Greek vote but stressed the urgency of the debt crisis and called for solidarity among the 18 other eurozone countries in their response. "Let me insist we are running out of time," Hollande said Monday from the Élysee Palace in Paris. "It's about urgency for Greece, urgency for Europe." He added that negotiations with Greece would have to strike a balance "between responsibility and solidary. That should be our line of conduct for the days to come," he said.
France has argued that debt relief should be part of Athens' bailout program, while Germany has insisted Athens repay its debt or face being cut off from future eurozone lending. Both leaders said they were waiting for specific proposals from Athens for how to proceed with negotiations.
Merkel said the prerequisites for negotiations were not there yet. "The door is open to discussions," said Merkel. "Europe has to remain united. Together we must see what the reactions will be of the other 18 countries, that is also democracy."
As part of the fallout from Sunday's referendum vote, Greek banks would remain closed on Tuesday and Wednesday. Many around Europe and the world were awaiting a deal between Greece and its creditors, or whether such an agreement could be possible. The resignation of Greece's Finance Minister Yanis Varoufakis on Monday was seen as an indication of Athens' desire to find a solution with its creditors. A Greek official said the government was "moving immediately" to reach a deal "as soon as possible" in order to avoid total economic collapse.
Original Post:
German Chancellor Angela Merkel and French President François Hollande were expected to make a joint statement on Monday from Paris after Greece voted to reject the European Union's bailout terms, a move that sparked concerns that the country could be booted from the eurozone. Many around the world have waited to see who will make the next move in the crisis that has pitted Greece against its European creditors.
The joint meeting between Merkel and Hollande is slated to take place at the Élysee Palace in Paris. Hollande is expected to make a statement at 6:00 p.m. local time (12:00 noon EDT.) Holland and Merkel were expected to make a joint statement at 7:15 p.m. local time (1:15 p.m. EDT,) however there would be no closing statements, according to the Financial Times.
Officials have described the meetings as crucial for Greece as newspapers around the world were quick to say that Greece defied Europe. Many on the country's left celebrated the "No" vote as a victory for democracy. Prime Minister Alexis Tsipras described the decision as a "brave choice." Greece voted Sunday 61.3 percent to 38.7 percent against the referendum.
"The meaning of this referendum was to send a political signal to the rest of Europe," the European Commission's vice president Valdis Dombrovskis said during a press conference Monday, according to the Telegraph. If Greece were to exit the eurozone, it would become the first country to ever do so. Many feared the vote would result in the country's banks collapsing.
France24 has live coverage of the events unfolding in Europe. Click here to see a live blog of the Merkel and Hollande press conference. Watch live news coverage of the events here, via France24's YouTube channel.
© Copyright IBTimes 2023. All rights reserved.