Merkel Speaks Out Against Rising Anti-Semitism In Germany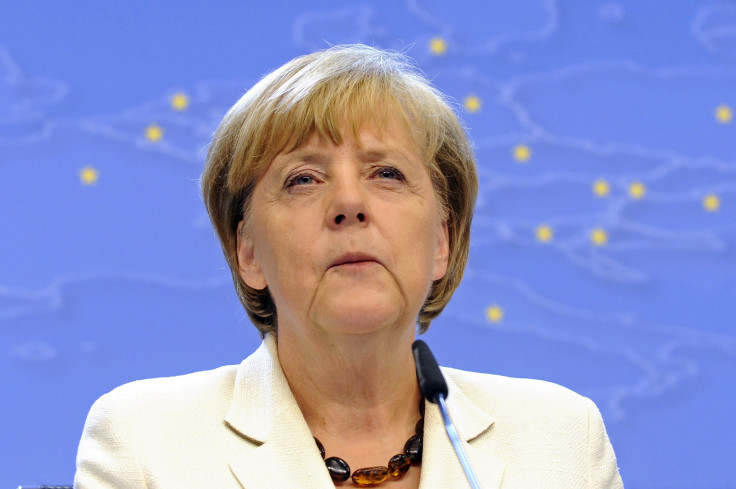 BERLIN (Reuters) -- Chancellor Angela Merkel said Saturday she would do everything she could to fight anti-Semitism in Germany, amid reports of attacks and a spike in anti-Israel sentiment since the Gaza conflict.
In her weekly podcast, Merkel said she was alarmed that Jewish institutions in Germany still needed police protection and called for a big turnout at a rally against anti-Semitism that she was planning to address in Berlin next weekend.
Authorities and media in Germany, ultra-sensitive about anti-Semitism because of the Holocaust, have criticized chants against Israel and Jews during rallies against Israel's conflict with Hamas in the Gaza Strip.
In July, firebombs were thrown at a synagogue in the western city of Wuppertal and a man wearing a skullcap was beaten up on a street corner in Berlin.
"I will personally do everything I can -- as will my entire government -- to ensure that anti-Semitism doesn't have a chance in our country," said Merkel, without referring to specific incidents or mentioning any new policies.
The chancellor noted the revival of Jewish culture in the country. "We're proud and pleased that it was possible for that to grow in recent years."
There were more than half a million Jews in Germany when the Nazis took power in 1933. That number fell to about 30,000 after the mass killings and emigrations, but the population has since grown to about 200,000.
Merkel said she hoped as many Germans would join her at Berlin's Brandenburg Gate on Sept. 14 for the rally organized by the Central Council of Jews in Germany.
"Hopefully there will be as many people as possible there to show that everyone who lives here will be protected," Merkel said.
"We've got a lot of work ahead of us," Merkel added. "We can see that there is not a single Jewish institution here that doesn't have to have police protection ... That's something that very much concerns me."
Jewish schools, shops, buildings and synagogues are regularly guarded by armed police.
German anti-racist laws forbid incitement to racial hatred such as anti-Semitic slogans, and outlaw propagation of the racist beliefs of the Nazis, whose emblems are also illegal.
(Reporting by Erik Kirschbaum; Editing by Andrew Heavens)
© Copyright IBTimes 2023. All rights reserved.