Surge In UK Anti-Semitic Attacks Following Gaza Bloodshed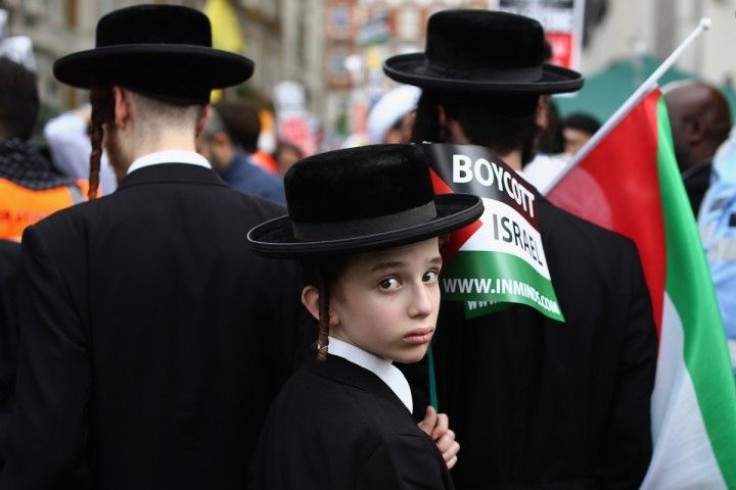 There has been a surge in violence against British Jews following Israel's bombardment of Gaza.
More than 100 hate crimes recorded by police and community groups this month, more than double the usual number.
Community groups believe it is the biggest spike in anti-Semitic incidents since 2009, when Jews were attacked and abused following the Gaza war.
In Gateshead, a rabbi was attacked by four Muslim teenagers outside a Jewish boarding school.
They have been charged with racially aggravated common assault.
Over two consecutive nights bricks were hurled at Belfast's only synagogue, smashing windows.
Groups of Asian men chanted "Heil Hitler" as they drove threw a Jewish area in Manchester, throwing missiles at passers-by.
In North London, a pro-Israeli organisation received a bomb threat by telephone, and a Jewish boy cycling had a stone thrown at his head by a woman wearing a niqab.
There has also been growing anti-Semitic abuse on Twitter, with the hashtag #HitlerDidNothingWrong trending.
Since the start of the month, more than 100 incidents have been reported to the Community Security Trust, a Jewish community safety charity.
In France, Jewish businesses have been attacked and synagogues besieged by pro-Palestinian protesters, and the CST stressed that incidents had not yet reached those levels.
Mark Gardner, of the CST, said the figure is "at least double" what he would expect to see, and were comparable to figures in 2009, when 1,400 Palestinians were killed in Israeli bombardments.
He said: "We have had at least double the number of incidents that we would expect, but the situation is not out of hand – as is the case in France.
"The community is aware and alert but not panicking and life continues exactly how it should."
Mr Gardner added: "In recent years, Jewish and Muslim communities have come together on issues of anti-racism, insecurity and it's very important that such progress is not derailed by overseas conflicts for which none of us bear any responsibility and over which we hold a variety of opinions."
More than 1,000 Palestinians, many of them women and children, have been killed in Israel's bombardment of the Gaza strip.
Israel said that 46 of its citizens have been killed.
© Copyright IBTimes 2023. All rights reserved.